You cannot mention tennis rackets without including the Wilson brand. It has been almost a century, but it still gets credit for the production of state-of-the-art equipment, like our favorite, the Wilson Pro Staff 97 V13.
The company has backing from some of the biggest names in the tennis world, a factor that depicts their rackets' high quality and performance.
A total of 20 pro tennis players who ranked in ATP 50 use Wilson tennis rackets, they are Stefanos Tsitsipas, Andrey Rublev, Roger Federer, Roberto Bautista-Agut, Pablo Carreno Busta, Alex De Minaur, David Goffin, Gael Monfils, Milos Raonic, Grigor Dimitrov, Karen Khachanov, Borna Coric, Dusan Lajovic, Daniel Evans, Filip Krajinovic, Ugo Humbert, Lorenzo Sonego, Reilly Opelka, Kei Nishikori, Guido Pella.
If you find it challenging to pick the most suitable one for you, read on as we review the best Wilson Tennis Rackets in the market.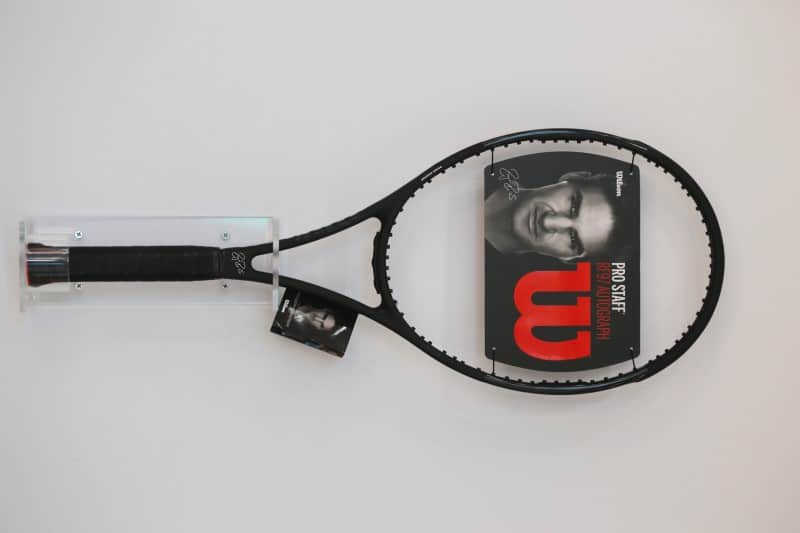 The Wilson adult recreational racket is a cost-friendly racket that comes with an incredible look. There are more than six color schemes to select from, but we are particular about the Federer-Version 2.
It has a vibrant red frame with a black handle, but you can always select other hues as you prefer. Besides, it is very affordable, and its performance level makes it one of the rackets on our list that allows you to maximize the value for money value.
The frame has BLX technology, where fibers weave around to reduce the effect of vibrations that course through the racket after impact. As a result, you get a muted performance and a soft feel to make gaming more comfortable. Most users find the racket forgiving due to the lightness that makes it easy to maneuver, even for first-timers. It comes pre-strung for your convenience and has a comfy grip to help in hours of use. 
The frame is also stiff, making it an excellent power equipment. If you want to learn how to play tennis, we recommend this racket as a good option to start with. However, it may not offer a top-class performance for the competitive level because it isn't potent. However, it is best for recreation, as its name suggests, and you can always use it to enjoy the game you love while improving your skills.
Pros
It is very affordable
It comes in different color schemes
It is lightweight; hence, easy to control
Cons
The grip tape may start coming off after frequent use
There are concerns about its durability
Like other Clash rackets, this option is flexible and stable despite the oversized head. This option is a go-to if you are a beginner with timing or accuracy issues or you love oversized-headed rackets.
Although it is 10.5 ounces when strung, this racket is surprisingly stable, ensuring that you have the proper control. When it comes to groundstrokes, the racket's wide frame comes in handy for a first-timer, as the sweet spot seems more comprehensive. 
Notably, if your shots are away from the center, you will still strike with the same power. One feature that we love about it is that it is potent, but your hits won't feel like rocket launches.
However, beginners may have issues with the high power given that the strings are very tight. The racket provides sufficient stability and is relatively comfortable coming to the volleys. The long handle makes it easier to reach for balls, enabling better responsiveness. 
Generally, you will find the racket maneuverable, but some experienced players may wish for more stability for powerful hits. Lastly, for the serves, the Clash 108 will provide the confidence boost you need to chase high balls, and the long handle makes it even easier. If you have sensitive wrists, you might appreciate that the racket is user-friendly for smooth gameplay.
Pros
It offers sufficient arm comfort
It utilizes the free flex tech
It is a powerful racket for its oversized head
Cons
Some users are skeptical about the large head size
It may take a while to get used to the feel
Any beginner would love this racket because it has all the forgiving features of a starter kit but is still top performance. For one, its head is bigger than the standard alternatives to improve accuracy, thanks to the V-Matrix feature. The large sweet spot also offers a chance to play a decisive game without exerting a lot of force. Moreover, its size doesn't take away its power or stability. 
It may not be the best for pro players but is satisfactory for beginners and intermediate-level players. It also features a Volcanic Frame tech, Power Strings, and Shock Pads for more control and enhanced performance. First-timers love it because it is kinder to the wrists since it is comfortable and lightweight. Given that it comes pre-strung, the racket has the correct tension level to ensure maximum force as it contacts the ball. 
One of the things we love most about this racket is the excellent Stop Shock cushioning near the racket's throat. First, it lowers the vibrations typical in rackets due to the brutal impact force with the ball when playing. With these vibrations significantly reduced, you have the freedom to strike however you like, as it provides a comfortable grip and easy gameplay. 
Pros
It has shock pads for reduced vibrations and comfortable gaming
It has more power thanks to the Volcanic Frame Tech
Cons
The grip may be slippery
It may not be the best for highly competitive games or doubles matches
Wilson hardly misses, and this racket is a clear indication. From the Burn franchise and an upgraded version of the Burn 100S, the Wilson Burn 100 Series is more maneuverable, spin-friendly, and lightweight. This racket uses the Spin Effect tech for the groundstrokes, which offers net clearance up to 12 inches into the baseline. 
This equipment comes fully loaded with power and spin, making it a top choice for advanced players. You will find it firm on your volleys and easy to maneuver regardless of it weighing11.3 ounces.
It will be effortless to generate spins, and with a slight adjustment of your strikes, you can easily exert power into your performance. As a result, you will hit the ball harder and incorporate speed but certain that the ball will be within the court. 
If you have reservations about your racket's look, you will love the excellent aesthetics in this edition, as it blends yellow, orange, and black colors to make you stand out on the court. The only downsides are that the paint job may start peeling off after a while of use. Secondly, some players don't find it comfortable as it is stiff, escalated by the rigid recommended polyester strings.
Pros
It offers effortless spin and power
It is a powerful racket
Cons
Users complain that it is too stiff and painful on the arm
The power may be overwhelming to inexperienced players
If you are an Intermediate or beginner tennis player who requires maneuverability and control, this may be the right racket for you. It offers precision and lightness to help you play faster and always keep your opponents on their toes. Pro Staff Team is a rare model that most tennis racket brands may find challenging to construct. 
The frame remains comfortable to its esteemed users, thanks to the stiff string patterns that allow you to feel more comfortable and play without restrictions. Pro Staff Team has a broader head at 100 sq, for which beginners and intermediate players find it easy to locate the sweet spot with minimal chances for errors. Therefore, it makes tennis fun across all boards, even when you are only playing recreationally.
This racket will enhance performance at the serves, groundstroke, and volleys with its superb blend of power, spin, and control. Moreover, the racket's shaft is a graphite compound with Kevlar that makes it featherweight and enhances comfort by reducing the impact from striking the ball. Also, the String Mapping technique improves the string density, which increases feel and precision. 
However, there are concerns about its durability; thus, it may not serve you well if you are an advanced player who uses it for hours each day. The equipment may only fully serve recreational users who use it sparingly.
Pros
It consists of ergo technology in the handle for a better grip
The string design on this racket allows for increased spin
Cons
It is one of the most expensive Wilson tennis rackets
It is challenging to play angles and drop shots using it
If you have used a Pro Staff racket previously, you must tell that this will not disappoint. This one is a lighter version of Roger Federer's RF97 version from the same line but is more user-friendly and maneuverable. It also features more improved techs since it has a Braid 45 creation where all the fibers are at a 45-degree pattern for a better feel and added stability. 
This design makes the strings denser, leading to higher tension and responsiveness. Additionally, it has an ergonomic butt cap that ensures the user has a comfortable grip. Ultimately, this racket entails the best features of a modern tennis racket while at the same time retaining the original intention of the Pro Staff line. 
All these come together to ascertain that you get nothing but exceptional precision, high response, and a great feel. Compared to the classic version, the 97 V13 is slightly more accurate due to the improved control of the groundstrokes and volleys. If you are a beginner who has never tasted the greatness of the Pro Staff line, you can find this version a worthy entry point. 
Pros
It has a notable spin
It has a comfortable feel
It offers effortless gaming
Cons
It may not work well for fast-paced advanced players 
It is a bit lighter in the volleys
Professional tennis players are always at the heart of Wilson tennis equipment; therefore, Clash 108 is a unique construction that works for them. Given that the design is of advanced level, beginners find it too overwhelming to use. Therefore, we only recommend it if you are confident that you have the relevant experience. It is more powerful, has a smaller head, and offers unmatched control, perfect for competitive tournaments.  
This racket has a reduced head at 98 sq, making it ideal for individuals with experience playing tennis, but the size offers accuracy since it is more forgiving. Similarly, the frame manufacturer molded this racket with a light head and a heavy shaft. This balancing design effectively enhances your control on the court by minimizing the force of the racket's swings. 
The Clash 98 frame usually bends at an angle due to incorporating the FreeFlex technology to improve its flexibility. The feature will reduce the effort you apply to hit the ball and increases the feel. Moreover, you will appreciate that the strings are also responsive, providing an impressive ball pocketing. Therefore, the string formation allows you to place the ball exactly where you need it. 
Despite the racket being flexible, it still maintains its high power levels with every shot you make. The Clash 98 is a modern lethal frame that suits both intermediate and pro tennis players. Therefore, the Wilson Clash 98 should be your first choice if you seek to control, spin, flexibility, and comfort in a racket.  
Pros
Compared to other rackets in the Clash line, the 98 version focuses more on control.
The StableSmart technology makes it stable despite the lightweight head
The FreeFlex feature makes it suitable for players with arm issues
Cons
The lightweight head reduces stability on the court
It isn't the right choice for beginners
Wilson Blade is a common household name among many tennis players currently and over the past few years. There are various rackets by Wilson to choose from, but your preference is always the deciding factor in selecting the perfect frame for you. However, the Blade Team has some of the most remarkable features that most tennis players would love. 
The racket's head measures 99 sq, which isn't too expansive for professionals or too tiny for beginners. Therefore, the frame will offer you a combination of control and power, aspects which a skilled tennis player and a newbie would adore. Many hail it as a racket that pays attention to its users regardless of their play level or skills. On the contrary, weight affects its overall performance. 
While lighter frames will offer you impressive control and maneuverability, heavier ones tend to give more stability and power on the court. The good thing is, at 10.9 ounces, it isn't too heavy for intermediate players, but it may be a concern for first-timers.
Being that Blade Team shares the best of both worlds for intermediates and experts, you will find that it has good playability from any part of the court, from groundstrokes, serves, and volleys. 
Pros
It works for both professional and intermediate players
It is the right balance of power, stability, and control
Cons
Its strings are less durable than most Blade rackets
If you are looking forward to taking your gaming to another level, try the fantastic Ultra Team racket. It is lightweight, powerful, and maneuverable, with enhanced playability to play on any part of the court. You will love how the Ultra Team can adapt to your different playing styles to offer you the best shots and place the ball exactly where you need it. 
The racket is pre-strung with Wilson's high-end technologies to make it more comfortable on your hands no matter how intense the ball impact is. You wouldn't feel the uncomfortable vibrations coursing through the racket, which may cause soreness or joints problems. The racket's head also plays a vital role in giving you adequate power and forgiveness. 
Therefore, the bigger the string bed, the larger the sweet spot; hence, increased power. Such features are best for beginners, but pros prefer a standard head measuring 98 inches. For veteran players, this racket possesses less power. However, other players of lower levels love that it is more accurate and has a high control even in a fast-paced tennis game. 
Pros
It is an affordable racket considering its value
It is ideal for intermediate tennis players
Cons
Some customers complain that the racket isn't as forgiving as expected
The large head denies it a level of power
The Decision
We have reviewed different Wilson rackets based on their playing level and style to allow you to pick a viable option.
However, we find the Wilson Pro Staff 97 V13 a top choice since it has all the qualities of a dream tennis racket. It is user-friendly, maneuverable, responsive, and comfortable to use. It also incorporates the latest tech, such as Braid 45, for high power and accuracy.
.An alternative with almost the same features is the Wilson Clash 108, as it offers stability, control, arm comfort, and an enhanced sweet spot for first-timers.
However, you can also go for the Wilson Blade Team if you want versatile equipment that cuts across all player levels and styles.
Read more: