Head is a world-leading manufacturer of great tennis rackets that cut across all player ages, levels, and playing styles. They produce such high-quality equipment that they have credit from the world's best like Zverev, Sharapova, and Djokovic.
Therefore, we went on to find out what users say about them and found top-notch options like the Graphene 360+ Speed Pro that help improve a player's gaming.
A total of 12 pro tennis players who ranked in ATP 50 use Head tennis rackets, they are Novak Djokovic, Alexander Zverev, Matteo Berrettini, Diego Schwartzman, Christian Garin, Taylor Fritz, Jannik Sinner, Jan-Lennard Struff, Nikoloz Basilashvili, Aslan Karetsev, Marin Cilic, Richard Gasquet.
Read on as we look at the best Head tennis rackets to help you find one that suits your specifications.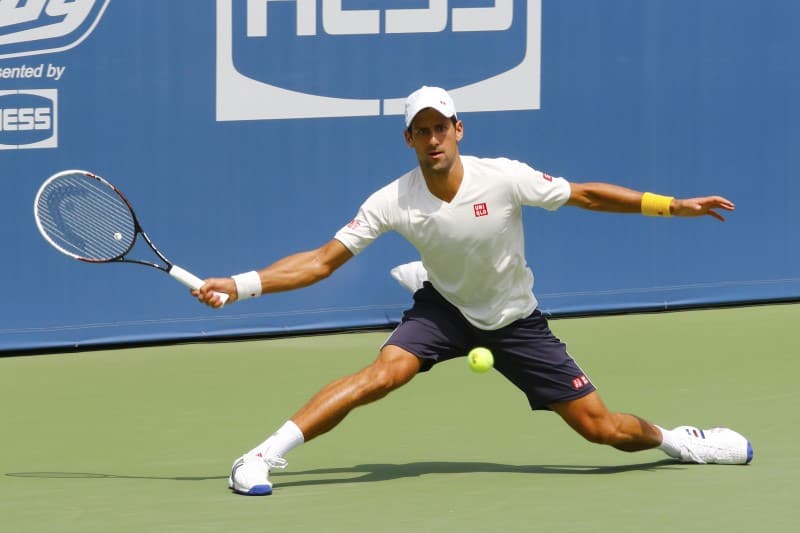 The Ti Radical Elite is a unique design targeting recreational players who need an affordable yet valuable racket. It has a simple design but is very effective on the court, especially for newbies. It has a broad head at 107 inches, while most standard rackets stand at around 100. The racket features a delicate balance that lowers the vibrations after impact and keeps the player grounded the entire session. 
Beginners love it because it is easy to hold and maneuver. If you are a trainee, this is an exceptional racket to start with since you will have better chances of getting to the ball, even when the timing is an issue. This racket also serves aging or budding players, as it isn't cumbersome on the arm. It is average weight equipment of 10.6 ounces; therefore, it balances stability and lightness.
Thus, experienced players will love the sturdiness while beginners will appreciate its easy swing and manageability. If you have concerns about heavy rackets that are tasking to maneuver; then, this may be the right racket for you. We also love that it doesn't discriminate the user or the playing style, meaning that you can play regardless of your skill level or abilities in tennis.
Pros
It has the Extreme Grid tech that improves stability
It has a massive head that favors beginners
Cons
It may not be the go-to racket for professional gaming
Some users are concerned about its durability
The reason behind this exceptional racket's design is to make upcoming tennis players comfortable and stable while on the court. It delicately combines high-performance and manageable weight to ensure that you get the best out of your gaming experience. The best aspect of the equipment is that it accounts for all the great features a tennis player would love instead of maximizing on a few.
Given that its target consumers are beginners, the racket has to be easy. Therefore, the design is a broad head of around 105 inches while it is almost 28 inches long, making it effortless to hit the sweet spots. Similarly, the racket is of medium weight at 10.4 ounces; hence, not too dragging or unstable. 
Besides, you will appreciate how forgiving it is to your wrists if you still learn the ropes. Users love the tight strings that effectively deal with the impact to prevent vibrations from reaching your arm, enabling you to swing the ball confidently. The racket also boasts outstanding specs you will hardly find in other equipment. 
For instance, it has a geo power tech that factors aerodynamics, weight, and force to exert energy on the ball during impact. It utilizes the shaft geometry to ensure that you get the power and control you need. You will also appreciate the cushioned grip, which maximizes comfort.
Pros
It is quality equipment for players across all levels
It has a user-friendly design due to the comfortable grip and length 
The broad head improves the player's accuracy
Cons
It is only perfect for entry-level gaming
The grip tape may come off after regular use
Another outstanding product from Head is this Ti. Instinct racket. The company has modernized it to meet the needs of the everyday player thanks to the advanced technology systems in manufacturing. For one, it has the Head Light feature that gives you balance to remain stable as you hit the ball and effectively distributes vibrations passing through after impact.
This racket is a go-to for beginner players due to the large head size that expands the sweet spot to make tennis more fun. It is a top choice among casual and recreational players, as it is easier to master the skills and learn the styles. If you are skeptical about buying low-quality equipment, his racket guarantees long-lasting performance thanks to the Nano Titanium design.
Therefore, not only do you get an effective racket, but it is also a worthy investment. It further helps that it is one of the most affordable in the market, great if you want a cheap gadget.
The racket will offer you great control and spin due to the graphite construction, and you will find it more convenient as its strings are in place. You will also appreciate the racket's stability, given the Extreme Grid tech.  
Pros
It is effective if you are a learning player with an inside service style
It is surprisingly very stable
It has Nanotech for durability
Cons
Some users find it relatively heavier than other Head rackets
It may be harder to maneuver 
Head works tirelessly to provide tennis players in all categories nothing but the best tennis rackets with exemplary performance. Ti S6, for instance, is taking over the market by winning the hearts of great tennis players with its unquestionably fulfilling features. Ti S6 is a lightweight tennis racket with a large head and is relatively more powerful to assist a player with enough energy to strike the ball.
The large head measuring 115 inches provides a wider sweet spot that gives you the perfect groundstroke and serves. Besides, the racket's head is heavy to offer you stability and control while getting the best shot, especially if you are a beginner. The equipment utilizes two main compounds, titanium and graphite, which play a significant role in making it stand out more. 
For one, the titanium provides strength and lightness for improved spin and control, while the graphite components enhance durability for a great feel and effortless hitting of the sweet spot. The handle is also of comfortable impact-relieving material with a dampened butt to prevent excessive vibrations.
Unfortunately, this racket may be initially heavy, causing strains on your joints, especially if you are a beginner, but with continued use, you will get accustomed to it, 
Pros
It offers maximum control and stability for beginners
The graphite fiber technology enhances its durability
It has a broader head for better ball accuracy
Cons
It doesn't provide the best spins
It isn't best for elite players
Tennis pros prefer using robust and stable rackets for maximum speeds while maintaining control on the court. They need an ideal option like the 360 Speed Pro, built for the ultimate top-level performance. Some of the greatest tennis players have tested it and confirmed that it is one of the powerful tennis rackets for a competitive advantage. 
Although professionals are its intended consumers, intermediate gamers may also find it rewarding. However, the racket may be challenging to beginners who may encounter problems accurately hitting the sweet spot due to the small head. Ultimately, the Speed Pro has an impressive control that allows you to balance while on the court and confidently make your serves. 
Additionally, the racket delivers a unique spin and maneuverability when in your hands. We also have to mention the notable feel during impact while it possesses impressive shaft dampening. As a result, it prevents the vibrations from reaching the hand and instead concentrates them on the head to push your serves with maximum pent-up energy from within the racket. 
Unlike its predecessors, the modern Speed Pro has a reduced weight; therefore, comparatively of exceptional performance at the net. Even so, the new version is also outstanding at the volleys, serves, and groundstrokes. Generally, this racket remains essential on the court because it emphasizes the basics such as control, spin, power, and easy maneuver, all essentials for excellent tennis gaming.
Pros
It is durable and lightweight, thanks to its graphene components
It offers a top-notch performance
It has an 18/20 string pattern for great control 
Cons
First-timers find it challenging to use
Tennis racket brands are in stiff competition to offer the best equipment to their client base. Fortunately, HEAD is one of the best among them that still works hard to provide the best frame for all player groups. Like most HEAD product lines, Radical Midplus has encompassed numerous significant technologies in construction to give tennis players an unmatched gaming experience.
It features a carbon fiber material and the MicroGel technique embodiments that ensure that impact from the hits spread equally throughout the frame. The reduced shock creates a comfortable grip with an impressive feel at every pressure point on the racket. Furthermore, the MicroGel Radical generation comes in three main categories, differing slightly on string patterns and weight issues.
On the other hand, the shaft is large enough, measuring 4 ⅜; hence, suitable for different age groups. It is also pre-strung, convenient for immediate use. For the groundstrokes, playtester and certain users confirm that the racket is powerful at the baseline with solid control and a good spin, without compromising the great feel and feedback.
Radical Midplus also performs impressively at the volleys since it is stable and balanced, enabling you to maneuver well on the court.
Pros
It is of durable carbon fiber components
It has a great feel without affecting stability
It uses MicroGel tech for shock absorption
Cons
It is only best for professional gameplay
It is relatively heavier
If you need a more stable and powerful swing, the Head Tour may be the equipment you need for exemplary performance on the court. It has Nano Aluminum technology for durability and is featherweight for fast responses to give you the upper hand over your opponents. Overall results also show that the Tour Pro is a game-changer whether you play close to the net when serving or for the groundstroke.
With this racket, you are confident of maximum power generated from within the device; therefore, you can play effortlessly and save your energy during the sessions. The frame also offers extra stability and exerts more force at every strike. Interestingly, this racket is very versatile; thus, you can use it at an intermediate, beginner, or professional level.
The oversized head is a loved feature for entry-level individuals because it provides a wider sweet spot always to keep the ball within your reach. This way, you will have ample time to improve your skills and learn new styles. At first, the racket may feel a bit out of place in your hand, but with time, you will soon adapt to the swing weight and the shaft. 
Pros
It has a perfect string pattern suitable for most players 
It is long-lasting due to the Nano Aluminum tech
Cons
It has lower maneuverability
It is a bit pricey
Many tennis equipment manufacturing companies are gradually turning to technology to make their product stand out in the market. Head is also working tirelessly to incorporate the latest racket designs to ensure that they have a modern touch, perfect for their players.
They match up with this new racket, Instinct S, as its design incorporates some of the best techs you can find. For instance, the Graphene XT system improves the player's speed to shoot off the baseline. It involves enormous molecules that help in weight redistribution alongside the entire racket from the hoop to the bottom of the handle. 
This system ensures that you get the speed you need, especially if you are playing competitively. Secondly, the racket has Piralfiber tech on the frame to guard the racket's structural integrity for uninterrupted gaming. Additionally, it features Aphene and Graphene, aiding in maneuverability and smooth energy flow, respectively. 
Besides all these incredible techs, the racket is one of the very user-friendly devices as intermediate and first-timers incline to the ample 102 and 27 inches headspace and length, respectively. Most find it smooth on the court, given how easily it generates spins and accelerations. You won't feel the strain on your wrist, and you will love how comfortable it feels in your grip.
Pros
It is easy to maneuver due to Graphene and Aphene tech 
It is user-friendly thanks to the broad head and length
Cons
It isn't potent; hence, not ideal for professional level players
It is generally lightweight, thus depends on the player for power generation
The best way to wrap up our list is with this high-quality tennis racket from Head's Instinct line that Maria Sharapova endorses. If you are aging or have weak elbows or wrists, this stick may be your go-to. You can play for hours without feeling an extreme weight, and it helps that it offers relatively smooth gameplay. 
Your serves will be easy as the racket will have a muted impact with the ball, and you won't feel the strong vibrations on your hand. Like other rackets in the Graphene line, this stick also features advanced tech in the frame for more power. Another admirable characteristic is the lightness and comfort when you hold it, allowing you to spend hours on the court without straining.
Beginners will also adore the large head and long handle for better ball reach, enabling fast learning. It is the right equipment for a starter since it has a manageable weight but still stable enough to give you enjoyable gameplay. Thanks to the tight string pattern, you will also have topspin, power, and smooth swings. 
Pros
It has a uniquely stylish design
It is excellent for first-time and intermediate players
Cons
It may need more swings on the volleys
It isn't very stable for proper ball control
Final Take
Settling for a racket can be tasking, especially if you have many high-quality options. However, there are a few extraordinary selections like the ones we have listed.
We particularly find the Graphene 360+ Speed Pro an outstanding choice, especially for professional players. It is powerful, stable, easy to maneuver and control, and offers high-performance levels. On the contrary,
if you are a stater in need of a more toned-down alternative, the HEAD Geo Speed is a worthy option. It is user-friendly, of manageable weight, comfortable grip, and a broad head for accurate shots.
Read more: