One essential feature to look out for in a tennis shoe is weight. Athletes always go for lightweight shoes because they are easier on the feet and help in acceleration when in motion. Undoubtedly, the lighter the shoes, the better your performance, but as much as you need lightweight footwear, you still need a pair that focuses on other great features of tennis shoes like the New Balance 996v4.
With hundreds of shoe brands in the market, we aim to narrow down your search to a few selections that will work for you regardless of your preferred court.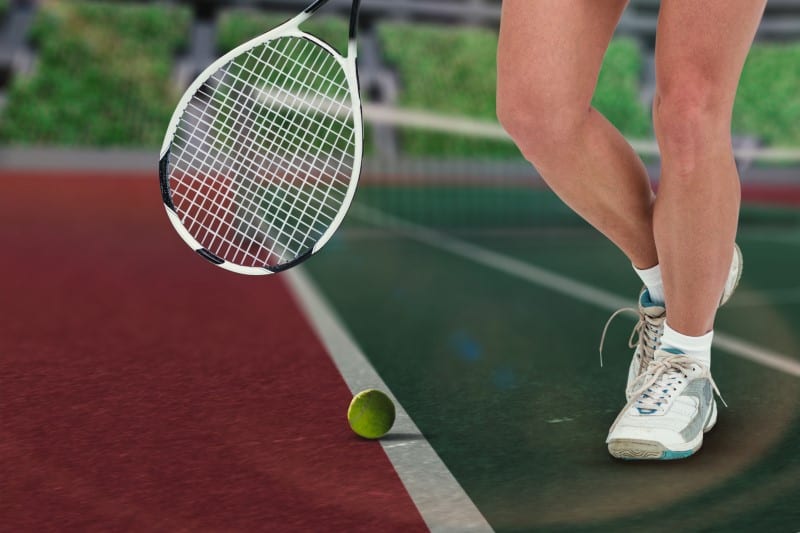 5 Best Lightweight Tennis Shoes Reviewed
Having lightweight shoes means shedding off the extra weight and maintaining the support and comfort you need to play on your preferred court. We considered stability, durability, and cushioning when selecting some of the top lightweight shoes in the market. Take a look at what we found.
Every tennis player needs a well-fitting, comfortable, stable, and lightweight shoe like the La Moster. They are attractive, and you can use them off the court too or as casual wear. The closure system is a pull-on design without laces, making them easy to wear.
La Moster shoes are adept at high adrenaline games due to their high traction, which also helps you increase your responsiveness. Additionally, its elastic sole allows maximum foot movement as you sprint and jump, and the outstanding feature is that they bounce back effortlessly. 
The shoes are surprisingly affordable, and you can buy a pair to try out. Furthermore, they are stretchy with high breathability on the upper parts to minimize sweating and cool your feet. Their stylishness is particularly attractive to most prospective buyers, especially recreational tennis players and starters.
Ultimately, if you are yearning for an impressively light, feather-like feel, comfort, glove-like fit, durability, and stability, you can think of La Moster.
Pros
The sneakers are stretchy and can fit players with high arch feet
It's versatile; hence, you can wear them off the tennis court
The shoes are very affordable and excellent money value 
Cons
The shoes aren't a well-known brand, especially among pro players
Another great buy is this imported trainer that is lightweight but still serves you on any tennis court. Nike is a famous brand that emphasizes on quality, and they don't disappoint in this product either. The pair weighs around 13 ounces for a standard men's size or 11 for women's, making it a great choice if you need a super light shoe. The design looks similar to the previous Vapor line but in a more lightweight and more breathable version. 
Compared to its predecessors, this choice is cheaper but has a more straightforward design. The great thing is it still doesn't compromise on quality and performance. You can use it when training for the game, keeping fit, or as running shoes. They also come in various designs and colors to fit any personality, gender, or court material. 
You can go for a dull-colored pair unless you like the outstanding shades or if your preferred court is clay or grass. It is particularly exceptional for athletes spending a lot of time on their feet. They have enough room for your toes, and with a great fit, they are one of the most comfortable pairs ever. They are also pretty stable, and the grip is relatively firm.
Pros
They come in different designs and shades
They are affordable
Cons
The pair doesn't offer a lot of support for high arch feet
Some buyers complain of getting extra-large or small sizes
New Balance is among the companies slowly shifting to lightweight tennis shoes, with the current versions weighing less than the older generation sneakers. In addition, an introduction of the FUELCELL technology makes the footwear more feather-like and performance-enhanced. According to shoe testers, these new-model sneakers are the lightest and most comfortable footwear for tennis sportspeople. 
Besides, the shoes also come in various colors and widths. Furthermore, the manufacturer boasts of numerous technological advancements in the 996 shoe line. First, the upper is HYPOKNIT-powered, enhancing its breathability, and the perforations allow air to cool your feet and minimize profuse sweating. Finally, you can also use them for long hours without exhaustion, thanks to the midsole's FUELCELL for high performance and stamina. 
NDURANCE offers durability to the outsole and gives you the confidence you need to play on any court. Furthermore, the shoe's technology features LWSR on points receiving less pressure because the material is exceptionally light. It also has a glove-like fit with adequate toe tip space. Generally, the 996v4 series may be a game-changer if you have trouble finding your dream tennis shoes; whether you are a pro or a beginner.
Pros
The shoes have a soft collar, easy on the achilles' tendons 
It comes with a six-month guarantee
The shoes have excellent traction on the tennis court
Cons
Initially, the shoe's toe box may be a bit stiff. 
The Mizuno brand is slowly gaining popularity among tennis players and trail runners. The previous versions have a tight-knit upper, but this one has WAVEKNIT technology making it lighter and more breathable.
The pair may not look like our other options due to the extra rubber sole, but it is pretty lightweight at around 10 ounces. We particularly love that it is an excellent fit for most buyers, and some say that it is one of the smoothest pairs from the brand. 
The footwear has a great design such that it is loose and tight in the right places. For instance, the toe box is flexible, while the heel has a more snug fit. As a result, wearers attest that it promotes a smooth changeover from the heel to the toe, which is good news for heel strikers. In addition, this option has superior cushioning to your feet, thanks to the flexible and comfortable inner lining material. The carbon rubber outsole also significantly increases the shoe's durability. 
Furthermore, this sneaker's midsole is smooth and gives your foot a springing effect, plus reliable cushioning for enhanced performance. Energy foam and Mizumo technologies have primarily contributed to the shoes' lightness since it weighs about ten ounces making them more feather-like. You will also love that the sneakers are steady and hug your feet nicely without harming the Achilles tendons.  
Pros
It uses advanced technology in construction such as WAVEKNIT
It has a spacious toe tip
The shoe size mostly fits the exact dimensions 
Cons
The shoes may not be very durable
Playing tennis is usually vigorous; therefore, you need a light shoe to enhance your performance without dragging your feet. Fortunately, ASICS has manufactured a solution, speed FF, to ease your movements across the court. Besides focusing on weight, this shoe also has excellent stability, traction, breathability, cushioning, and responsiveness.
The sneakers are a significant change for tennis players from bulky shoes that compromise on speed. Additionally, the shoes are quite affordable despite the unrivaled technology incorporated in the design. The Solution Speed FF weighs about 12 ounces for men's size eleven, making it more feathery than most tennis gaming shoes. 
This shoe owes its lightweight features to the FLYTEFOAM-powered midsole, which plays a significant role in your bounce-back and alertness. The rearfoot and forefoot rest on a GEL-inspired cushioning system for a smooth landing; furthermore, it absorbs shock and allows comfortable toe movements during twists and turns on the court. 
Imagine having lightweight tennis shoes that firmly hold your feet and offer maximum stability. You will automatically gain control of every step you make, and your speed will significantly increase. The ASICS High Abrasion Rubber adds durability to the outsole, while the Speed FF design includes sock liners that manage foot perspiration.
Pros
It is exclusively lightweight
It doesn't have clicking sounds on the toe area like other shoes
It offers unrestricted foot movement in different planes
Cons
It can wear out quickly on a hard court
It has thin shoelaces that can wear out quickly
Advantages of Lightweight Shoes
Some players look at the shoes' weight first before any other cool features. They would instead find an alternative regardless of the brand or price if they are too bulky. For instance, those playing at professional levels are particularly keen on the footwear's weight, and we will tell you why.
Breathability
Considering you spend a lot of hours on the court, you need a pair that facilitates air circulation in and around your feet. Lightweight shoes have a unique design where their uppers are of light material with this aspect in mind. The top and the surrounding material are usually thin to ensure that air can seep through to prevent profuse sweating. They can be mesh or waterproof, depending on the design. If you live in a hot climate area, the shoes will help you keep your feet fresh at all times. 
Support
Lightweight shoes are often snug and well structured to ensure that they provide enough foot support. As a result, you can walk, run or play in them without feeling the excessive weight on your toes. Therefore, most manufacturers usually focus on making the sole thick but soft, meaning that your midsole, arch, and heel will have enough cushion for maximum support.
Comfort
Nothing to an athlete feels more comfortable than a light shoe. Not only is the material soft, but you won't feel the pressure on your feet with every movement. Miles will feel shorter when you are running, and it will be effortless. It explains why long-distance runners or those who love to exercise always go for them. The soft interior also serves as a cushion in case of impact to provide a soft landing.
Design
The great thing about these tennis shoes is that the manufacturers are still keen on creating unique designs while reducing the weight. Besides, given that they are pretty minimalistic and multi-purpose, the makers can play around with the construction to make a stylish product. Therefore, you can use them for any sport or surface, and we guarantee that you will love the different makes currently in the market.
Acceleration
Like in any other high adrenaline sport, your responsiveness and speed matter a lot in tennis. Wearing a bulky shoe will only drag you down, and, in turn, affect your performance. Therefore, it is necessary to invest in a lightweight pair that feels like you are on your bare feet. The shoes will exert slight pressure on the ground, meaning that you can accelerate whenever you have to. In addition, some designs focus on improvement in heel-toe changeover, meaning significant enhancement in speed. 
Endurance
All fast-paced games are a test of the athlete's endurance. Tennis can be punishing to your feet unless you have the right shoes. The initial stages may seem kinder, but as the game progresses, you strain, knowing that giving in will interfere with your performance. Notably, being fast on your feet boosts your confidence and positively impacts gameplay. Assurance coupled with endurance will make everything smooth sailing for you. Only a lightweight shoe can help maintain your stamina even when you are exhausted. 
Disadvantages of Lightweight Shoes
Runners and athletes are particular about the shoes' weight; however, there are some disadvantages to consider before making your purchase. Although the modern lightweight shoes have many technological improvements, the manufacturers reduce materials in the construction, leading to the following setbacks. 
Durability
The greatest challenge with lightweight shoes is that most aren't as long-lasting as the standard options. Hence, for more durable alternatives, the creators incorporate more high-quality material to the shoe to make it more durable, which leads to the added weight. In addition, they usually have a close-knitted upper and heavy rubber in the outsole. 
Consequently, the pairs end up being dense, and the shoe takes a while before it starts wearing out. On the contrary, lightweight shoes do away with these extra materials, leaving the product vulnerable to wear and tear. Therefore, it is crucial to consider the shoes' material first to ensure that they are of high quality before buying. 
Some companies have warranties to ensure that their customers get the best products. Besides, your court type also matters in this case since lightweight shoes tend to wear faster on hard courts, unlike other types. Similarly, they will not serve you long if you are a professional player who spends hours daily playing and training on the court; if so, you will spend a lot of money frequently replacing worn-out shoes. 
Support
Other shoes are more stable in most cases due to the extra material on the upper part and around the shoe. In contrast, lightweight options have less material meaning that they may not offer you a firm foundation while you play. 
Additionally, typical shoes incorporate the most advanced technologies in their midsole materials for added cushioning. Although some lightweight designs are comfortable, they are not as soft as other shoes with foam or more modern features.
Injury
Most lightweight shoes don't offer all the cushioning you need to brace for high impact. In addition, they are pretty minimalistic; hence, may not focus a lot on protecting your feet from injuries. Therefore, unless you get a pair with a lot of cushioning, you risk fractures and other impact-related severe injuries. Also, since there is less material around the shoes, it is easier to get bruises, especially when playing on rough courts. 
We usually advise beginners or athletes with previous injuries to avoid them unless they get great alternatives that offer unmatched cushioning for the entire foot. For one, beginners don't have advanced foot control on the court, while injured players are at greater risk of recurring injuries.
Parting Shot 
Lightweight shoes are worth investing in since they are forgiving to your feet and help with your performance. Considering all the factors we have discussed, the New Balance 996v4 is one of the best options for any pro or beginner. The shoes are comfortable, feather-like, breathable, and durable, thanks to the use of the latest technology in its production. Not only do they help improve your acceleration on the court, but they maintain your stamina. Coming in second due to similar features is the Mizuno Wave Rider 24 (WAVEKNIT), with its latest tech, great fit, and a smooth heel-to-toe changeover.
Read more: