Tennis shoes come in various designs depending on the target customers' needs and preferred court surfaces. However, as an avid or pro tennis player, there is a high chance that you will play on different courts; both soft and hard courts.
The good news is, finding an all-purpose shoe like the Wilson RUSH PRO 2.5 can help save you money and the hassle. Given how tasking it is to find such versatile footwear, read on as we tell you about the best products in the market and how to make informed decisions when selecting an all-court option.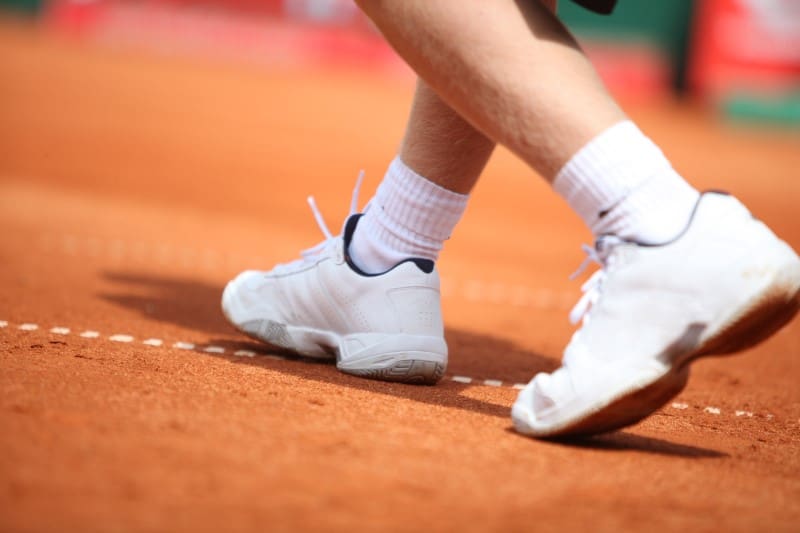 5 Best All-Court Tennis Shoes Reviewed
Using a versatile shoe is convenient and cheaper than buying different shoes for various courts. Therefore, you need an alternative to wear to games without worrying about the courts nature. Take a look at some of our top picks to spare you the brutal search of hundreds of options in the market. 
One of the dearest New Balance high-performance shoes is the Fresh Foam Lav 1. Tennis star Milos Raonic designed it with the company dubbing it Lav, meaning lion in Serbian, as his father referred to him. It is one of the best shoes in the tennis shoe market that you would love to take out on the concrete, clay, or grass court, and love every second of it. It has a bootie design for a perfect fit; hence, you don't need to worry about slipping on smooth grass. 
You will also find it stable, given the firm outsole and strong grip on the ground. These shoes are comfortable, and it helps that they don't need any break-in. Therefore, you will feel great wearing them and enjoy the comfort in each step. They incorporate the latest technology in the design, such as kinetic stitching, foam midsoles, and NDurance, for flexibility, cushioning, and durability. 
Regardless of the court type, the flexible mesh uppers with kinetic stitching will support your feet and allow free movement. If you are worried about grip on slippery surfaces or hard court, the shoes have intricate tread designs for grip and support on any ground. The traction is sufficient for the concrete and grass court, and the treads will prevent excess clay from sticking on the bottom. 
Pros
It has a six-month guarantee.
The midsole is fresh foam for comfort and cushioning
The upper has flexible kinetic stitching
Cons
Some users are skeptical about the shoe's durability
The heel may be slippery for some athletes
The Wilson brand is synonymous with great tennis products, and this footwear is a testament. The creators understand all the needs of the player and use that to design this exceptional all-court shoe. It meets all your needs in terms of durability, stability, lightweight, breathability, and responsiveness. You will enjoy the support on each part of your foot, especially on the uppers, which are comfortable, flexible, and of high-end quality material.
Unlike its predecessors, the PRO 2.5 has upgraded looks, breathability, and flexibility. Although the footwear is durable, the weight is still in check to allow you to accelerate on the court and make any movements without any drag, all thanks to the Pro Torque design. Stepping into the pair is also comfortable due to the superb cushioning and smooth interior. One feature we love is the shoe's breathability, which lets you stay cool and fresh even when the hardcourt gets too hot. 
We are particular about this pair due to its versatility since it can work on any court surface, thanks to the treads on the outsole and support even when the ground is slippery. Additionally, the shoe accommodates different foot types; hence, you don't need to worry about foot complications. Besides, there are minimal chances of abrasions due to snug-fitting.
Pros
The shoes are specifically designed for all court types
The shoes are breathable
It has little if any break-in period
Cons
The shoes may be too broad, especially in the toe box
If you are an avid player wishing to gain a competitive edge against your opponents, these shoes will give you the edge you need. Mizuno is a growing brand with remarkable technological advancements to ensure that its footwear improves athletes' performances on various courts. 
Mizuno's technology in the shoe's development makes it fit perfectly in any court type, as it emphasizes on cushioning, stability, comfort, and maximum traction with improvements on the previous models. One technology is the POWNCE, which offers a featherweight sole that is comfortable and robust, making your shoes durable for use even on a hard court. 
Additionally, the MIZUNO WAVE plate cushions your feet against any impacts, while the midsole has SR-TOUCH, a light material that improves cushioning and absorbs shock. The D-Flex Groove at the midfoot also helps you make turns, shifts, and accelerate.
Also, the MIZUNO WAVE has made a soft collar that is easy on your ankle with a 3D-Solid upper that is durable, comfy, and breathable to keep your feet cool and dry. Finally, the outsole is wear-resistant and has treads to offer you maximum traction on any tennis court.
Pros
The upper layer is firm enough for a snug fit, and lateral support
The 3D-Solid upper is solid and durable
Cons
It isn't suitable for athletes with wide feet
The MIZUNO brand isn't common
Asics is one of the most high-quality shoe brands among professional tennis players. Gel-Resolution 8 is particularly ideal for concrete, clay, or grass courts. We appreciate that the shoes have the latest technology in design to cater to the player's needs while offering foot support, durable outsole, comfort, lightweight, stability, traction, responsiveness, and cushioning. 
This ASICS generation is exceptional, from the firm upper layer supportting your feet to the soft and comfortable cushioning. They will also serve you longer, even on punishing courts, thanks to the Flexion Fit technology. Besides, the forefoot and the rear have GEL-Cushioning to absorb shock and allow a smooth transition even in slight movements. 
Additionally, the midsoles have SOLYTE for cushioning, durability and featherweight. Note that SOLYTE is lighter than other midsole materials synonymous with cushioning, such as EVA and SpEVA. Additionally, lightweight shoes improve the player's performance by accelerating responsiveness to run, turn and twist to reach for the ball. 
Another technology that makes this footwear featherweight is TRUSSTIC that doesn't compromise stability and design. Finally, the outsole has AHAR for remarkable durability, a close-to-the-ground feel, and unmatched traction perfect for use on different court surfaces for maximum grip and support.
Pros
The shoes are suitable for both beginners and veteran tennis players
The shoes are versatile to use on different courts or off-court as casual wear
Cons
The shoes aren't suitable for individuals with very high feet arch
Almost every athlete is familiar with the brand name Nike as an outstanding manufacturer of top-notch sports gear. It has been in the market for decades, and the firm knows how to satisfy its current and prospective customers. These sneakers, for instance, boast unrivaled support and durability alongside other features like comfort, cushioning, and stability. 
Similarly, they are highly treaded for maximum traction on every terrain used by tennis players. Its sole is entirely rubber, while the upper is a mixture of leather and synthetic, while the closure system is lace-up that you can adjust as you please. The upper materials may seem rigid for added durability but are comfortable on the feet, and you can play longer in the shoes without the worry of blisters.
Moreover, the tongue has mesh for extra aeration to keep your foot dry, as the outsole is GDR-inspired to enhance traction and durability. The midsole, on the other hand, has PHYLON technology that offers ultimate cushioning and lightweight. However, this type is a bit bulky for more stability than other tennis shoes, but it helps that the shoe has additional layering in the toe region for traction between the shoes and the ground. 
Pros
The shoes last longer than most tennis footwear
The sneakers offer maximum lateral feet support
It is true to size
Cons
Some users complain that they are too tight in the toe box
Selecting Tennis Shoes Based on the Court Surfaces
The most critical consideration before purchasing a tennis shoe is the court surface you frequently use. There are three main court types; clay, hard, and grass, each with unique challenges. Unless you meet the particular shoe requirements based on the surface, you risk injuries or below-par performance. Before new technology set in, you had to use different shoes for each court, but, currently, different companies have designed versatile shoes that cater to any surface you use. 
Hard Court
The hard court is one of the most used surfaces in the tennis world, and most love them because they are low-maintenance and the least expensive of all courts. However, this surface presents its hurdles; it is the most punishing and most likely to cause severe injuries. Moreover, the outsole bears a grinding burden during slides and twists, leading to accelerated wear and tear. 
Therefore, the shoe you choose has to address all these issues to make the landings softer and protect you from injuries. First, hardcourt shoes are often comfortable with soft material in the exterior for added cushioning. Secondly, they have a thick and high-quality outsole to enhance stability and durability.
Read more: Best Hard Court Tennis Shoes
Clay Court
The second most popular tennis surface is the clay court. If you play on it regularly, you will find it relatively slower because the ball tends to decelerate and bounce higher off the ground, unlike on hard courts. Moreover, the loose debris tends to stick to the outsole reducing the treading and traction. Designers of these surface shoes know the court's slippery nature and the need for extra stability. 
They emphasize the herringbone tread beneath the shoe to prevent excessive clay fixation by releasing the debris when the player makes twists. Secondly, the clay court shoes have a closely-knit upper to protect the athlete's feet from the dust that splatters during gameplay. Last and most importantly, these shoes are keen on ensuing stability on the court when you make sudden sideways movements. 
Read more: Best Clay Court Tennis Shoes
Grass Court
Unlike the hard courts, grass surfaces are more tasking to maintain and are comparatively more expensive. However, the surface is usually smooth; hence, easier on the player. Besides, the grass is faster to play on since the ball tends to bounce off closer to the ground. Luckily, given that the court is slicker, you don't need to worry a lot about the shoe's durability. 
The only concern among grass-court users is traction and stability. Consequently, footwear for these surfaces usually has bumps or tiny treads all over the outsole to maximize traction. The shoes are also more stable to improve the user's support while playing. 
Three Main Factors To Consider When Choosing an All-Court Tennis Shoe
Although most courts are hard, you can still get an invitation to a clay or grass court. Thus, to get a competitive advantage over your opponents, it is wise to understand how different court types work. Knowing what to expect maintains great performance regardless of the game setting. 
Having an all-court tennis shoe not only keeps you prepared, but it is also more convenient and gives you value for your money instead of buying different pairs for each tournament. Great brands create these versatile shoes to cater to the demand for all-purpose footwear. One feature to look out for is the herringbone-like design, a replica of the original technology for clay court shoes. Although it doesn't function like the actual herringbone for clay surfaces, it will still work for different courts.
In most cases, players find it more convenient to use hard court shoes on different surfaces since they offer traction and stability. However, before you wear any shoe type on different grounds, it is best to seek guidance from the organizers first. In some cases, tournaments have strict rules against wearing certain footwear to prevent damages to the court. Ultimately, the following are the three main considerations before selecting the most versatile pair of tennis shoes.
Stability 
You may need stability to play on any court surface. Support on the hardcourt prevents injuries and helps you play better since gameplay on these courts is relatively slower. Without it, you can slip off the court, and unless you have enough cushioning, your chances of severe injuries will also increase. Stability also comes in handy for the clay and grass courts. 
The surfaces are typically slippery, and you are subject to unnecessary sideways movements unless you have a firm hold of the ground. Therefore, the most stable shoes should be snug-fitting, and the materials in the upper and outsole should be firm and of high quality. Some shoes also have a little extra weight to offer the athlete a closer-to-the-ground feel for more control.
Weight
Every player loves wearing lightweight shoes since they are more minimalistic and easier on their feet. However, there are some downsides to using thin-soled and feather-light shoes for any tennis surface. For instance, such shoes aren't durable and don't offer you the balance you need to support you on the court. As much as you may feel more responsive, we usually recommend shoes with extra weight to ground you better as you make your turns, jumps, and twists. Therefore, it is best to avoid regular trainers or sneakers and instead go for tennis-specific shoes regardless of the court surface, even if it means a little more weight. 
Durability
This feature comes in handy for the hardcourt. Despite clay and grass surfaces not subjecting the player to fast wear and tear, it is still assuring when you find an option that will serve you for longer. In addition, if you frequently play on a hardcourt, your shoes are exposed to excessive friction and abrasions. 
Therefore, you may need a thicker and more durable heel to make the shoe last longer and protect your feet from injuries; fortunately, grass and clay surfaces aren't as punishing. Before you settle on a pair of shoes, it is best to research more from previous users or look out for guarantees to be certain.
Final Word
Each court type has its requirements; therefore, an all-court shoe is an excellent investment. If you want an affordable and convenient pair for use on any surface, we recommend the Wilson RUSH PRO 2.5. It is durable, stable, and offers all the support you need, even on slippery courts. We also love that it is breathable, has a flexible upper, and helps you accelerate better while you play. However, if you cannot find it, Asics Gel-Resolution 8 is a viable number two that has the same great features thanks to the latest technologies.
Read more: