As a tennis athlete, you understand how demanding the sport can be. Your feet take the most significant share of the stress due to hours of maneuvering on the court while playing or training.
Therefore, unless you have a firm and comfortable insole like the Superfeet Green Insoles, your feet will be at significant risk of severe injuries.
Read on as we advise you on the best products in the market, tell you why you need a great insole, and further inform you of the critical factors to consider when you go shopping.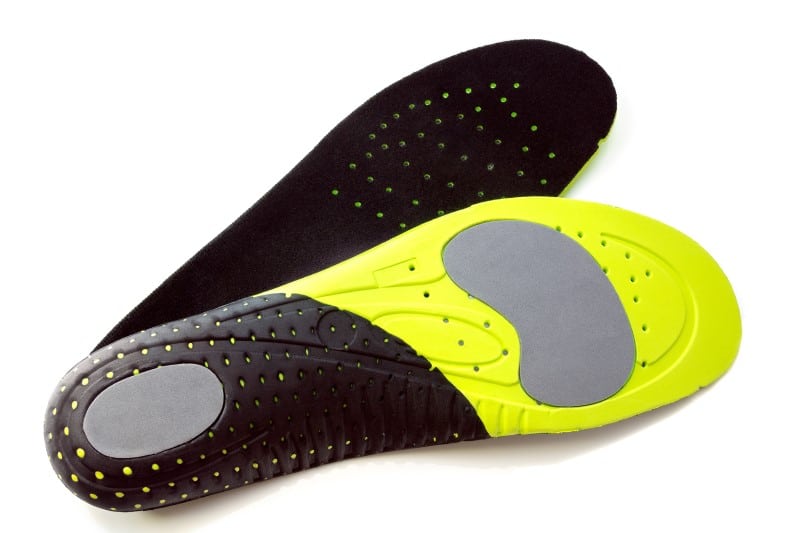 5 Best Insoles for Tennis Shoes Reviewed
Looking for the best insole can be overwhelming, especially for a first-time buyer. Therefore, we have come to your aid by selecting some fantastic options in the market that are high quality and offer comfort and stability. Take a look at what we found.
Tennis is one of the active sports that can cause a significant impact on your feet, resulting in various joint complications. Therefore, Sofsole comes in handy to solve these issues with the AIRR inner sole.
They will give you a more comfortable ride while on the court, unlike other regular insoles. The advantage is that it uses impressive tech in construction to ensure that they serve their purpose.
The rearfoot encapsulates an air chamber, while the forefoot features GEL cushioning for maximum shock absorption. Additionally, Skydex air bubbles on the heel and foot arch help reduce the impact on the foot.
Similarly, covering the sole's top layer is the COOLMAX fabric that manages sweat to keep your feet dry all through the day. The construction material is also quite durable and will help you save a lot instead of regularly buying new inserts.
However, their lifespan will depend on the weight you exert, frequency of use, and your shoe type. We particularly love that other than dispersing impact, the GEL and the air bubbles make the shoe more comfortable and improve stability. If you intend to improve your performance, especially as a professional tennis player, Sofsole may be your ultimate choice. 
Pros
The Skydex technology improves comfort.
The top fabric wicks away sweat from your feet.
It is impressively durable.
The soles are true to size and hug the underfoot.
Cons
The sole only supports the low and medium-foot arch.

Just like the outsole and the midsole, the inner sole also plays a vital role in ensuring your feet' well-being while on the court. Generally, this inner lining offers maximum support and comfort to your feet. Superfeet has various Insole designs to fit different foot types, from medium to high foot arches. If you prefer less cushioning on the forefoot or a slightly thicker heel, then Superfeet has you covered. 
The insole is featherweight and isn't unnecessarily bulky on the feet, easing your jumps and turns as you reach out for the ball. The sole also offers adequate toe space allowing flexible toe movements.
It also fits perfectly, especially in the right shoes, adding to your foot support and stability. The stabilizer cup supports the heel and offers additional support to the layered foam sole. Its deep heel cup also cushions and absorbs shocks that tend to occur in that region.
The sole is orthotic-shaped for maximum stabilization with your foot support in mind. The dense, high-quality foam is durable, enhances comfort, and maintains the shoe structure. Additionally, the Superfeet insole is latex-free and has an anti-bacterial layer for healthier feet.
Pros
It is easily removable from the shoes.
It helps reduce pain in the foot joints.
It has bacteria-resistant properties.
Cons
The soles may take a few days to break in.

If you need a versatile insole that will not only work for your tennis shoes but also as casual footwear, this sole is the product you need. It offers stability and maximum foot support that every player requires and is ideal for any high adrenaline activity. You don't need to worry about any complications such as pains and intolerance on the arch, plantar fasciitis, toe joints, or general foot aches when wearing it. 
The inner sole owes its maximum cushioning to EVA foam at the base and PLUSH technologies at the top, both resulting in ultimate comfort. The arch support is impressive since the insert design can support low, neutral, and high foot arches.
The sole's arch support system is robust yet flexible, while the heel cradle is deep enough to hold your heel firmly. Consequently, all these technologies give you control to help you make calculated motions on the court.
Unlike some tennis shoe insoles, Powerstep Pinnacle has a unique layer to keep your feet dry and free from infections while eliminating any foul odors. The top fabric also reduces abrasions on your feet, which may cause painful blisters that can affect your overall performance. In case you need ideal orthotics that fit most shoes with a removable insole and prevent foot pain, then Powerstep Pinnacle may be your go-to.
Pros
The soles effectively prevent plantar fasciitis and other foot conditions.
Its sturdy arch gives unmatched support to your feet.
Cons
Some customers complain that the heel cup protrudes, making their feet sore.

This insert design is one of the most competitive in the insole market. Generally, Ailaka constructed a breath-taking sock liner to improve your performance and check your feet' well-being. It is porous to ensure breathability and keep your feet cool and dry the entire gaming session. This epic ventilation system makes the inner sole ideal for high activity and intense sports like tennis. 
Together with the natural fabric layer, the honeycomb ventilation system will keep foul odor at bay and enhance your feet' health. The elastic rubber is also specially designed to disperse all the shock from every impact resulting from your landings. It also releases stress on the foot and alleviates exercise-related ailments. 
The insole is super comfortable, lightweight, and comes with excellent cushioning, enabling you to get the perfect stability you need. The heel cup also assists in stabilizing and supporting your foot. You will appreciate that the product comes in different sizes to give you the best hugging fit, and these inserts will never disappoint if you decide to use them on hikes, for work, or for leisure shoes.
Pros
It increases the player's height due to the thick heel.
It reduces muscle fatigue.
Podiatrists highly recommend the insole.
Cons
The insole isn't best for high-heeled shoes.

When you hear New Balance, you already know that the product will be of high quality. Besides fantastic tennis shoes, the company also constructs great insoles; therefore, you don't need to worry about your inserts wearing out. Sportspeople will love the New Balance inner soles since they will improve your performance on the court and help reduce the stress on your feet.
Furthermore, these sock liners are suitable for most footwear with a removable insole, including casual footwear. The cushioning structure on this sole will give your underfoot a spring-like feel in every move, thanks to the double layer PLUSH foam on the entire sock liner for maximum comfort and to reduce fatigue significantly.
The top layer has exceptional engineering to eliminate sweat and keep your feet dry, simultaneously reducing friction between your foot and the inner sole. Interestingly, this insert is SUPERFEET inspired, an orthotic design approved for providing the support, comfort, stability, and cushioning to keep your feet safe from sport-related health issues.
Pros
The soles have a springing effect to enhance your movements.
The insole has a SUPERFEET design for orthotic purposes.
It has a PLUSH double layer for lasting comfort and protection from impact.
Cons
Some clients complained about the sole arch being too high.
The insole isn't ideal for users who sweat excessively.

Importance of Quality Insoles for Tennis Shoes
Insoles are a necessary addition to your tennis sportswear and are equally important in determining your performance on the court. Some shoes don't have the right insoles; therefore, you may need an extra layer for more support and cushioning. The truth is, there is more to the insole than some players believe. 
The right product will make it easier for you to play, reducing excessive fatigue and the pain from long hours of exercise. Your feet will have the protection you need to keep you as comfortable as possible, and, as a result, your confidence will shoot up as your gameplay will improve. You will also find them an excellent remedy to revamp old and worn-out shoes.
If you have issues with your feet, the pads will effectively cover them up and align them by firmly holding them up. Insoles are particularly great for players with flat feet, joint pains, high arches, or other foot complications. Many doctors will recommend a change in the insole to relieve pain or keep the leg in check. 
Alternatively, the insole comes in handy when your tennis shoes aren't the perfect fit. If your shoe is too big, an insole will significantly reduce the extra space to prevent your toes from excessive wiggling. The pads will also warm your feet up since they will add an insulation layer to your shoes. Lastly, insoles are a tennis player's companion to keep the shoe snug and, in turn, prevent abrasions and blisters.
What To Look for in Tennis Shoes Insoles
Tennis can be punishing to your feet unless you have the right shoes and the perfect insoles. However, some players find it hard to select the right products given their flooding in the market. Therefore, we compiled the most vital considerations before making your purchase. 
Type of Insole
Manufacturers design every insole with its purpose in mind. While some focus on the wearer's comfort, others have a unique design to relieve foot pain, especially after an injury. Therefore, it is an important factor to consider before you settle on an insole because the two types are different. Most importantly, if you need one for medical reasons, it is best to consult your doctor for the best option for you. 
Otherwise, if you want a product that offers extra cushioning, you can always find a comfortable insole in the footwear market. The key is to find a product that provides robust arch support, preferably one that matches your feet contours and arch. It should also hold your feet, particularly at the heel, to prevent slipping while playing, and it should be durable enough to serve you longer. 
Type of Court
One important consideration is the surface you often use while playing. When on a hard court, you are more likely to get injuries due to the rough nature of the court. Therefore, you need an insole that helps you make soft landings when you jump and secures your feet from the unnecessary sideways movements. Your best bet will be a thick and soft insole for maximum cushioning also to prevent any injuries. Fortunately, clay and grass courts aren't unforgiving; therefore, the essential insole aspect will be stability. 
Insole Material
Different insole makers use various materials in their construction, aiming to offer maximum support and cushioning to the players' feet. They may be in plastic, foam, gel, cork, or combine all of them. The best way to go is to understand what you need the insole for since each material has its intended purpose. 
For one, a foam or plastic insole is more flexible and fits like a glove better than a plastic alternative. In most cases, the foam also stands out as the coziest material since it is softer and encloses the entire foot, making it a fantastic option for players with past injuries. On the contrary, it doesn't offer as much support as the other materials.
Versatility
Investing in a high-quality insole can be an expensive investment. Therefore, if you find an option that you can use in different shoes and for various purposes, you will save a fortune in the long run. It is more economical to find an insole that you can use on or off the court and effectively work in different shoes. You will also find it cheaper and more convenient to reuse a quality insole instead of having many options playing different roles.
Volume
Given the purpose, different insoles usually have specific volumes. For instance, if you need one to provide maximum cushioning and shock absorption for soft landings, you would want a high-volume product. Therefore, players who frequently use hard courts would need these insoles for maximum cushioning due to the punishing surface to prevent injuries. 
Frequently Asked Questions
Having the correct insole is a crucial part of tennis. However, players buying them for the first time often have some burning questions, and we are here to help with all that. 
How Do I Take Care of My Insoles?
Insoles are subject to long hours of use; hence, absorb the sweat from your feet, which makes them smelly. Fortunately, cleaning them is simple, and there are odor-resistant alternatives in the market. After use, you can take them off and clean them using a washcloth and soap or detergent. 
Most conveniently, you can use a toothbrush to scrub off stains but avoid thorough brushing, which can tear the material. Afterward, rinse with clean water and air-dry. Note that the best care is hand washing, and it's best to remove them from your shoes as long as they are not in use to let them aerate.  
How Do I Wear Insoles?
Manufacturers usually design insoles in different sizes and thicknesses depending on particular customers' needs. You can tell the right one for you by looking at the original insole in your shoes, whether it is slim or removable. If your tennis shoes already have a thin detachable insole, the best way to go is to remove it and replace it with a thicker and better insole. 
Otherwise, if it is thin but fixed onto the shoe, the only option is attaching the new insole on top of it. If you have issues selecting the proper size, you can find an adjustable product using the old ones to guide you in trimming it to your preferred size. 
Final Verdict
All our options are great, but the Superfeet Green Insoles stand out and ticks all our boxes. The insoles are comfortable, lightweight, and offer unmatched cushioning to your feet. It comes highly recommended by experts as a sole for foot pain relief, and we love that it has anti-bacterial properties. The closest alternative is the Ailaka Sock Absorbing Elastic Insole that has similar qualities to offer support and cushioning to your feet. It comes in different sizes for each player's needs, and it helps that doctors highly recommend it.