I have been playing tennis for several years now, and you know what everyone says, "If you want to get good, you have to practice, practice, practice."
Well, there are several ways you can put in some good and high-quality practice, one of which is by training with a tennis ball machine.
There are several different manufacturers of tennis ball machines that you can choose from, with one of them being Lobster.
Lobster tennis ball machines are worth buying as they offer one of the best values for the dollar. They are well-built and are capable of delivering highly-customizable training routines. The Lobster tennis ball machines are definitely worth considering as they can meet the needs of tennis players from all skill levels.
Lobster has separated its machines in several different categories aimed to meet the requirements of different players.
Lobster, as a company, places great value on how satisfied the customer is. Everything from their customer support to their products is designed to be very customer-oriented.
Continue reading below, where I share with you more information about Lobster as a company and their products.
All About the Company
Lobster was founded in 1970 in the USA.
It all started when the founder Harry Giuditta purchased an old bankrupt tennis ball machine manufacturer. The quality of the machines they were producing was nothing impressive. But Harry saw the opportunity and went for it.
He decided to issue a recall on all the machines—something unheard of even today—fully repair and redesign them. (All that was done at no extra cost for the customers.) 
This marked the beginning of a company that was destined to become one of the leading tennis ball machines manufacturers.
The company's humble beginning started in New Jersey, but since then, it has moved to North Hollywood.
Lobster produces high-quality tennis ball machines that will leave tennis players pleasantly satisfied. No wonder why Lobster is the most popular brand of tennis ball machines being bought in Australia.
Lobster tennis ball machines have become so popular for several reasons:
Portability. One of the things that make those machines the go-to option for many is how light and portable they can be. The ball hopper can be flipped upside down as it has been designed to fit the machine's body. This makes it very compact, as it takes very little space.
Inexpensive. We all know that tennis machines are not cheap—in fact, they are not viewed as a tennis accessory, but rather an investment in most cases. The good thing is that this is where Lobster machines' quality really shines through, offering some of the best features for the dollar.
Lots of features. The neat thing about Lobster machines is that they are not only fairly inexpensive but also offer a lot of adjustability and features. Even the more expensive models hold up their own pretty well against other similarly priced machines. The higher-end machines offer very high adjustability levels, allowing the training to be adapted to your personal needs.
Learn more about Average Tennis Ball Machine Cost.
Top Products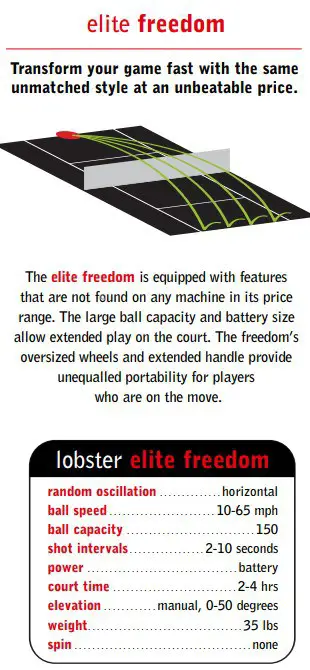 The Elite Freedom is one of the two entry models Lobster sells. (The other being the Elite Liberty, about which I will talk a good bit in a moment.)
The Elite Freedom provides horizontal oscillation, and its battery offers between 2 to 4 hours of playtime on the court.
This machine holds about 150 balls and can shoot the balls at an elevation of up to 50 degrees. The neat thing about this machine is that it can still shoot the balls at very high speeds of up to 65 mph (or 105 kph). The shot interval can be adjusted between 2 and 10 seconds.
It is a very basic model that definitely does not have all the bells and whistles. 
For example, it cannot apply any spin to the balls.
Overall, it is an affordable and inexpensive option for beginner tennis players that do not want to break their bank by buying a tennis ball machine.
This is the second entry-level battery-powered tennis ball machine by Lobster, which is suitable for 2.5 to 3.5 players.
It takes about 3 to 5 hours to charge fully, and the battery will provide you with 2 to 4 hours of continuous playtime. On the panel, you will find indicators showing when the machine is fully charged, or the battery is running low.
What you will love about this machine is that it is very user-friendly. With some other tennis ball machines, you may need some time getting used to the controls, but here things are pretty straight forward.
It is also very compact and lightweight. It weighs just 35 lbs (15.9 kg).
The ball capacity is 150 balls, and after you switch it on, it will start feeding you balls after 15 seconds.
On the machine, you will find a very diverse set of controls and dials. You can fully customize
the oscillation.
the feed rate or how fast the machine is shooting the balls.
the speed at which the balls are shot can be set between 10 to 70 mph (16.1 to 112.7 kph).
the spin of the ball. You can add topspin, underspin, or leave it flat.
On the side of the machine, there is a knob that you can use to adjust the elevation of the balls.
Lobster also offers a faster charger, additional batteries, a two-function remote, and an AC module, which can all be bought separately.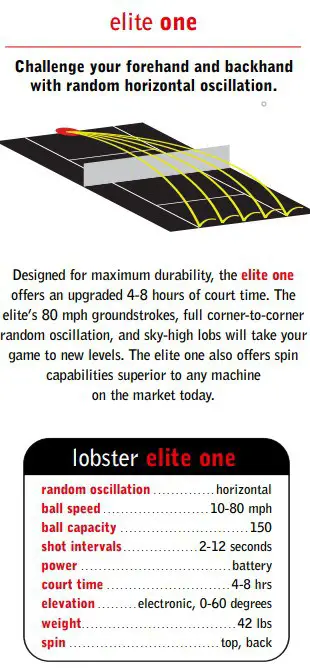 The elite 1 takes all the features the Elite Liberty has and builds on top of them.
It improves ball speed. Now the machine can deliver balls at speeds of up to 80 mph (129 kph). 
It has a battery with a bigger capacity, which lasts up to 8 hours on the court. 
And it can shoot the balls at an elevation of up to 60 degrees.
It is slightly heavier though—42 lbs (19 kg).
The build quality of the machine is excellent, and it is made to last.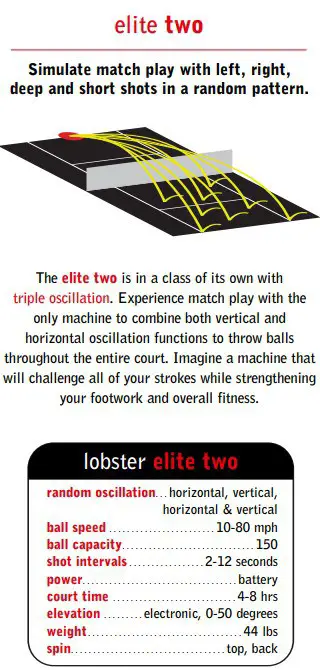 The Elite 2 is a little more advanced and suitable for 2.5 to 3.5 tennis players.
The Elite 2 builds up on top of the Liberty Elite. You will find many of the same features that the Liberty Elite but with some improvements.
The ball speed is increased up to 80 mph (or 128.8 kph).
The battery will last up to 4 to 8 hours on the court.
The elevation option allows the machine to shoot the balls at up to 60 degrees.
And the best thing it offers is the triple oscillation. A triple oscillation means that the machine can shoot the balls at random horizontal oscillation, vertical oscillation, and both combined. This will simulate a more realistic game with a wide variety of left, right, short or deep fully randomized shots.
This machine, too, has a remote control. It is a slightly more advanced one with ten functions. And the cool thing about the machine is that you can also control it using your smartphone.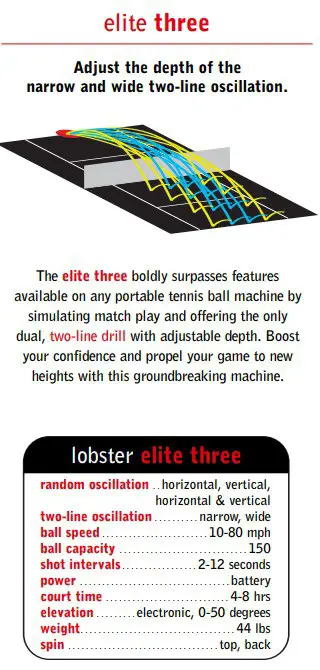 The Elite 3 is very similar in how it performs to the Elite 2 but with one small difference. 
The Elite 3 has two line function—offering narrow and wide two-line oscillation shots—whereas the Elite 2 does not. 
Everything else is identical.
This adds another layer of adjustability, which can be used to practice more specialized shots.
Depending on the preferences of the different tennis players, the Elite 3 may be worth buying.
The Grand 4 is designed to meet the needs of 3.0 to 4.0 players as it offers a wider variety of features and training drills.
The Grand 4 rocks all the features that the Liberty Elite and the Elite 2 have, including some neat extras. It comes with
a random horizontal and vertical oscillation.
playtime of up to 8 hours.
a larger 150 ball capacity.
up to 60-degree elevation option.
adjustable top and back ball spin.
The Grand 4 also has a see-through ball hopper, which allows tennis players to easily see how many balls are left in it. It can be controlled by a remote or by a smartphone.
It is also a slightly heavier model weighing about 44 lbs (20 kg).
The Lobster Elite Grand 5 LE is taking things one step further as it has all the features you can find on the previous machines. But the difference is that you can fully personalize your own training drills.
In fact, you can adjust where the ball falls on the court choosing from 18 different locations, while fully customizing how the machine feeds you the balls.
You can preset and save up to 12 different six-ball training drills.
The next thing worth noting—and by far one of my favorite features—is the ability to fully randomize each and every shot. This little feature is something that will keep you always guessing and on your toes. It also offers a narrow, medium, and wide two-line oscillation.
This machine is an excellent addition to any tennis player's practice routine because it can be used to work on so many different patterns and improve specific areas of your technique.
The machine has an optional 20-function remote, but it can also be used with a smartphone.
The machine is slightly heavier, weighing about 44 lbs (20 kg); nonetheless, it remains very lightweight and compact.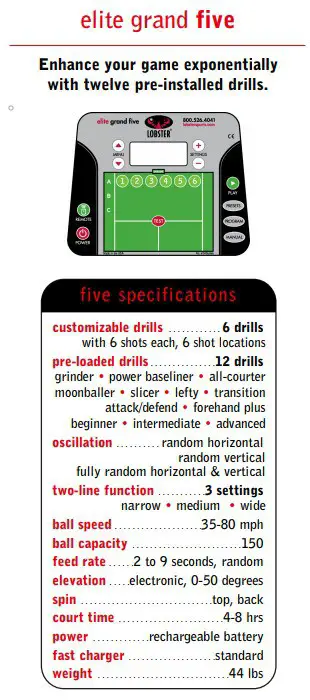 The Grand 5 is the little brother of the Grand 5 LE.
It has similar capabilities and features.
The only difference is that it has only six six-ball drills. The different shots can all be customized, but the locations where the machine can send them to are decreased down from 18 to 6.
The Phenom product line represents the commercial-grade tennis ball machines.
The Phenom has three six-ball drills that are fully customizable.
The machine can provide a fully random oscillation that can cover all areas of the court. The Phenom
runs on electricity.
shoots the balls from a height that is closer to what you will experience when playing against a real opponent.
has a capacity of up to 250 balls.
The Phenom two is significantly heavier, weighing about 99 lbs (45 kg).
It comes with fully customizable 12 six-ball training drills, fully randomized oscillation shots, including random speeds, feed rate, and spin.
It can deliver tennis balls at speeds of up to 80 mph (128.7 kph). It can hold 250 balls and can be used with an optional remote control.
This is definitely one of the top-end tennis ball machines.
Customer Opinions
As you can see now, Lobster offers a number of different tennis ball machines which can offer something to all tennis players.
Now it is only natural to wonder what Lobster's customers think about the company and its products.
Pros
One of the things that the majority of tennis players liked about Lobster tennis ball machines is that they have very long-lasting batteries. Even the basic models offer a long playtime of up to 4 hours. And the more advanced machines can go for as long as 8 hours, which is really impressive.
In other words, it is highly unlikely that you will be worried about the machine running out of juice in the middle of your workout.
And even if that happens, you can always get an extra battery.
Some customers find the option to buy the machine with a remote also very helpful as it is very convenient.
Customers also appreciate the fact that Lobster machines are very portable and take very little space. This is a common problem with many of the other tennis ball machines, which are very inconvenient and awkward to carry or fit in a car.
Despite Lobster's machines being lightweight and compact, they produce lots of power and speed, which is on par with other bigger machines.
Some customers were quite pleasantly surprised as the support from Lobster is on point and very professional. Even in the case of a technical problem, their support team is very responsive and willing to take the necessary time with you to fix the issue.
Some customers really appreciated the fact the high-end machines were highly customizable, allowing them to design a lot of different and highly specialized training routines with a wide variety of shots.
Cons
Some customers found it very frustrating that their remote control was not connecting properly with the tennis ball machine, and sometimes it was not reaching the machine as the transmission range was not long enough.
The customers' main concern was that some of the higher-end models were having a limitation on their preset training drills. 
They also found that It was challenging to properly calibrate the machines in windy weather, and even changes in humidity and air pressure were affecting the trajectory of the balls.
Other customers were also dissatisfied that there were no machines with auto-calibration or internal oscillation capabilities.
In addition to that, the fact that the remote is not included with the machine and is sold separately was also a complaint many customers had—with that being said, the machine can be used without the remote, and this will in no way affect its performance.
Another thing that some customers may find annoying is the power options. 
For example: The Elite Freedom and Liberty models are sold with batteries only, while the Elite 1, 2, and 3 can be used with an additional external battery, an AC module, or even a hybrid mode. When we get to the Elite Grand 4, 5, and 5 LE, we are back to using just a battery to power the machine. The commercial models, on the other hand—the Phenom 1 and 2—are electric only.
Final Thoughts
Undeniably, Tennis ball machines are an expensive piece of equipment, but if you are serious about stepping up your game, a tennis ball machine is a great tool.
Lobster machines are one of the best value tennis ball machines out there. 
It is true, there are better tennis ball machines, but they are also more expensive. When it comes to what you get for each dollar you spend, the Lobster tennis ball machines easily take the top place.
Exactly which machine will be worth getting will depend on your allocated budget, needs, and skill level. Lobster's product line is all-encompassing, and it can offer high-quality practice drills even to advanced tennis players.
You can read more about Best Tennis Ball Machine.
Alternative:
Read more: