If you are an avid tennis player with high arches, you need shoes with arch support. Patients and athletes hail them as the perfect remedy for pain relief and foot control since they provide extra foot stability. Therefore, if you want a good tennis shoe with arch support, you can consider the Adidas Barricade Classic Bounce. It has ample cushioning and well-constructed arch support to relieve pressure, giving you the comfort you need. 
Read on as we review five of the best tennis shoes with arch support. We will also highlight the importance of tennis shoes with arch support and factors to consider when selecting arched shoes.
Here are some of the best tennis shoes with arch support in the market today.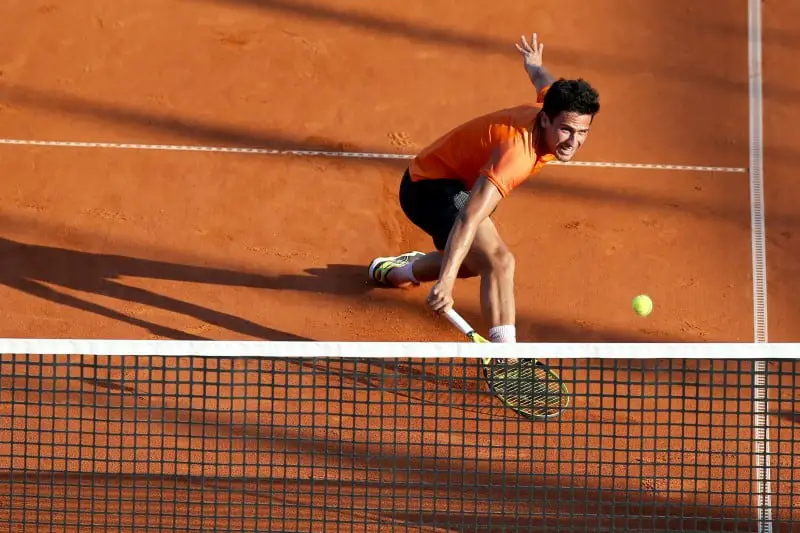 5 Best Tennis Shoes With Arch Support Reviewed
Few brands focus on arch support, making it tasking to find proper shoes in the market. However, we take the hassle away by discussing some of the top choices alongside their pros and cons to help you select a befitting option depending on your arch size.
A brand like Asics is among the most renowned tennis footwear manufacturers, and the Gel-resolution shoe line doesn't disappoint. They keep upgrading the newer generation models for high-performance shoes that focus on your well-being. With this release, they incorporate impressive technology on the sole to provide you the ultimate arch support but without sacrificing comfort. 
Therefore, if you are a competitive tennis player with high foot arches, then this shoe will give you the balanced and painless landings you need. First, the ventilated upper aerates your foot to keep it dry and healthy. Secondly, the shoe is made of FLEXION FIT tech that prevents lateral movements in the midfoot, offering you a snug hold while keeping you balanced. 
Also, the heel cup locks your foot in place to stop movements around the arch area that may lead to pain underfoot. In addition, the footwear features TRUSSTIC technology that makes it light, robust and helps it retain its structure. At the same time, the outsole contains AHAR PLUS (Asics High Abrasion Rubber) for durability, and it helps that it has a six-month warranty. 
Pros
The shoe's outer sole comes with a six-month guarantee
The shoe is exceptionally durable due to the AHAR technology
Cons
It doesn't allow for optimal breathability
It is a bit stiff and may cause abrasion on your feet
If you are a tennis player who loves great footwear designs, this model may be ideal. When playing tennis, this sneaker will give you support, stability, durability, and comfort, while remaining lightweight. The toe box and heel areas have enhanced cushioning for maximum support underfoot. 
Similarly, it gives you a spring-like return in each stride while the upper leather material prevents slips and stabilizes you by holding your feet snugly. The midsole is thick and raised to offer your arch a soft landing.
Also, the Shock Spring design aims for extra cushioning. Additionally, the toe region has a Helcor guard to prevent abrasions otherwise caused by excessive dragging of the toe tip on the court surface. 
Also, the EVA midsole resists impact and provides firm support to your foot arch. Moreover, the material used to construct the footwear is light in weight, reducing extra weight on your feet and improving your responsiveness. The shoes also have well-built treads to provide maximum traction on various court surfaces.
Pros
The shoe offers maximum ankle support.
It uses the Helcor technology to prevent abrasions in the toe region
Cons
The shoe's heel reinforcement isn't very sturdy
It isn't suitable for individuals with wide feet
If you love high-quality footwear, you must have come across the Adidas brand. By looking at this shoe, you can tell that its design focuses on arch support and comfort. It has a durable and robust rubber sole that offers you stability on the court. At the same time, the firm material and traction on the outsole ground you for maximum support and helps improve your performance. 
The upper is of flexible mesh that incorporates the Torsion system, making it breathable and comfortable to hold your foot in place. If you have any foot deformity causing you pain, the well-constructed arch support relieves the pressure to give you effortless gameplay or exercise. Your sensitive feet will also shelter behind the Adituff layer; hence, will stay safe from abrasions.
Moreover, the medial forefoot will help you avoid unnecessary lateral movements as you play. We love that this footwear has many satisfied customers who are happy about how effective the arch and ankle support is. They also hail that all the shoe parts have cushions, from the chunky heel to the padded collar, all working together to facilitate shock absorption and softer landings. 
This shoe will serve you if you are a recreational player that experiments on different courts because it is comfortable, supportive, and high-performance. From its name, it will offer sufficient bounce for excellence on the court.
Pros
It has ample cushioning, thus very cozy.
It is relatively durable thanks to the Adituff technology
It has a breathable and flexible mesh upper
Cons
Some users find it a bit bulky
The small plastic covering reduces its breathability
Your weight needs equal distribution from the heel, midfoot, and toes. However, concentrated pressure in a small area of the foot may lead to severe pain, especially if you have very high foot arches. The New Balance 806V1 not only supports your arch but also offers a cushion on the heel and toe regions for superior balance. 
Such features will help you navigate the court effortlessly and relieve your foot of excess pressure. The footwear also comes in various sizes to fit any foot size; there are normal, narrow, wide, and extra-large sizes. Additionally, the ABSORB cushioning system distributes impact underfoot for a soft and smooth landing on the midfoot and protects your arch from injuries. 
Similarly, the C-CAP midsole adds to the overall cushioning since the rubber material is sturdy, offering reliable support on your arch. If your lateral support is weak, your foot is likely to slide over and compromise stability.
Therefore, the shoe has robust upper and side rails to position your foot. However, the footwear has some downsides, such as a little stiffness, low breathability, and narrow toe box on the standard sizes.
Pros
The shoes are flexible and attractive 
They are lightweight and slip-resistant
The shoes are versatile for use on or off-court
Cons
The shoe isn't true to size for some players
Some users complain that the toe box is too narrow in certain shoes
We take a different route with this one to introduce you to the little-known Mishansha sneakers. You will love the sleek design it has over thirty colors depending on your preference.
They are fashionable, versatile, and have arch support for stability. You can use it for everyday fitness to run, walk, play tennis, and other indoor and outdoor sports. Their stylish design will also help them stand out as casual fashion sneakers. 
We call this a caring shoe since it takes care of your feet in various ways. First, it has a soft interior to protect your feet from abrasions due to rubbing in the interior. Secondly, the footwear has a shock-absorbing cushion that keeps your feet safe from impact. The outsole, on the other hand, is long-lasting and has a non-slip feature for maximum performance. 
They have a breathable upper of knitted material for maximum comfort. However, one feature we love most is the careful attention to arches. Not only is it elevated at the midfoot, but it also comes with an additional removable insole for more support.
Each pair has extra arch supports for pain relief and checking other foot complications. Moreover, since they are removable, you can detach them if the shoe offers enough support. 
Pros
It comes in dozens of colors and designs
Each pair has an extra removable arch support insole
Cons
It may run narrow for some players, especially at the toes
Importance of Arch Support in Tennis Shoes
From padded to rigid molded material, arch supports are the shoe inserts that manufacturers place inside the shoes for extra elevation and cushioning. The feet of individuals with high arches are usually raised such that the hollow region doesn't contact the ground. Therefore, only additional cushioning can offer maximum support. 
Athletes and people who love to exercise but have high arches need more support, but even those with medium arches find the additional support a great way to improve stability. It explains why more people are inclining to supported shoes. However, there is more to arch support than stability. 
The first benefit is pressure distribution. Wearing regular shoes engages the foot's ball and heel, meaning that the pressure exerts on a small surface. On the contrary, with arch support, the entire foot contacts the surface; hence, the force doesn't concentrate within a small region but distributes evenly throughout the foot. Secondly, reduced pressure implies that you won't feel pain on your feet due to the strain. 
Podiatrists advise patients with foot complications like bunions, flatfeet, or heel spurs to switch to shoes with arch support for best results. It can also work for patients with hip, spinal, or leg-related issues thanks to the foot support. Also, if you spend hours on your feet while playing or working, you may need the extra cushioning for stamina. 
Arched shoes will go a long way to protect your feet from injuries and help you battle fatigue. If your arches are comfortable, you will always have a soft landing whenever you walk. Besides, covering the foot gaps will always stabilize you leading to better performance on the court.
Do I Need Arch Support?
Shoes with arch support will mostly benefit players with high arches; however, even those who don't need it for medical reasons will still appreciate the extra cushioning and stability. 
Not many players are aware of their arch. Luckily, there is a simple way to tell, known as the "wet test." Taking a bucket of water, wet your feet, then step outside on a paper letting the dampness seep onto the surface to leaving a footprint. If you only notice the ball and heel but a hollow space between, then you have a high arch and may need arch support in your shoes. 
Otherwise, if you are medium-arch, there will be a line connecting the two parts. Alternatively, you can consult a podiatrist about your foot type to get an accurate diagnosis. The advantage of this is that you will get more advice on what to do if you have a high arch. However, experts usually advise that you examine the shoe first before use. One common technique is the four-point guideline. 
For one, the shoe shouldn't bend in half when you fold it along the width or length. Lastly, the arch and the heel should be thick for maximum cushioning. Note that some users complain of discomfort when they wear certain shoes with excessive arch support. Therefore, it would be best to find an alternative if you notice any pain. 
What To Look for in Arched Shoes
Arch supports are custom-made to fit different groups of people. Therefore, what works for one user may not necessarily be the right option for you. Therefore, we dig deeper to help you understand the criteria to use when selecting the best option.
Fit
One regret when buying a shoe is spending on an ill-fitting shoe. It is best to select the perfect size according to your feet because a size larger means a loose shoe, while a small fit leads to discomfort and injuries. People suffering from foot issues are the most affected by sizing because there is usually a thin line between a remedy and footwear that escalates the complication. Manufacturers use different mold sizes in shoe design, explaining why their products are in various dimensions. 
They consider the width of the forefoot, heel, and arch height before they release a model. It becomes easier to buy footwear from a walk-in store because you will get the perfect size according to your foot. However, with online retailers, you may have to be extra cautious since some shoes come larger or smaller. Luckily, the customer reviews on the product may guide you to pick the right one. 
Comfort
Using regular shoes when you have a high arch increases your forefoot and heel pressure since they are the regions that mostly contact the ground. However, with a well-cushioned shoe with elaborate arch support, your midfoot won't keep collapsing; hence, more foot protection. The special shoes will also improve shock absorption making it safe to play due to impact distribution. 
As a result, your stamina increases because you will effortlessly go the extra mile without the worry of the heel or fore-foot pain. The arches are also responsible for a smooth heel-toe transition, which improves your gameplay. You will no longer dread exercising because of sore feet, and in case you have any foot issues, the shoes will significantly counter the discomfort. 
Weight
Apart from the support level it offers, it is also important to consider the shoe's weight. If you wear the pairs for many hours a day, your best bet would be lighter options to reduce fatigue. Otherwise, dragging around bulky footwear will only exert excessive pressure on the ground. 
In some cases, arched shoes are heavier than the standard alternatives because of the extra cushioning material. However, some brands ensure that they use extremely lightweight products and incorporate technology in the upper and outsole to make the shoe easier to lift. If you find a lighter option, even by a few ounces, it will significantly improve your performance. 
Takeaway
If you have a high arch, you may need as much support as possible, and based on our findings, the Adidas Barricade Classic Bounce will give you that and more. It has a sleek design, uses the latest technology in construction, and will offer you the needed support and cushioning to protect your feet from any impact. The entire shoe is cozy from the toes to the heel to keep you safe from injuries and abrasions. It is also durable thanks to Adituff technology.
Alternatively, we find the K-Swiss Ultrascendor an equally supportive shoe. It has a thick outsole, EVA for maximum cushioning, and prevents any abrasions due to friction between the foot and the shoe.
Read more: