It is crucial to have the right tennis shoe when playing as it links directly to your performance. Athletes with wide feet often find it tasking to pick the right option since the market is flooded with narrow shoes. Since the tiny space for your toes can be uncomfortable and expose you to injuries, it is best to purchase a pair with a wide toe box like the New Balance 1006 V1.
Read on for the best tennis shoes for wide feet and everything you need to consider when selecting a good pair for yourself or a loved one.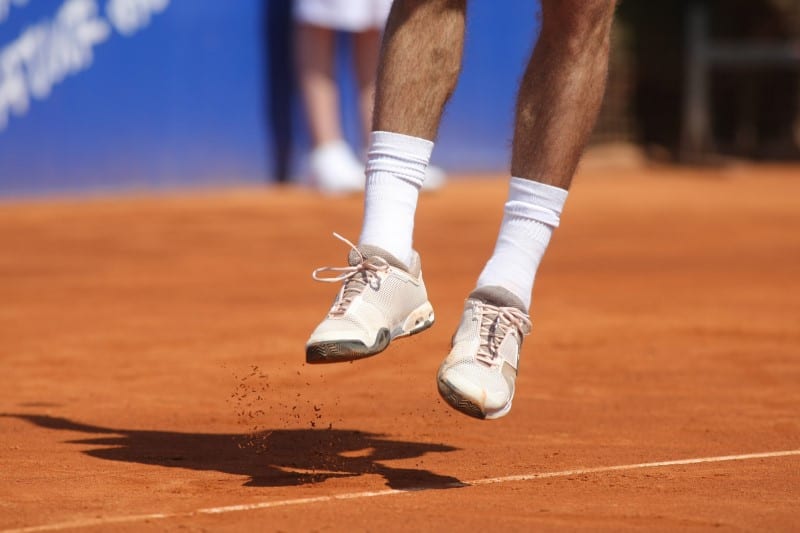 5 Best Tennis Shoes for Wide Feet Reviewed
Tennis shoes come in different lengths and widths, making it pretty tasking to find the perfect pair. We understand how time-consuming it is. Hence, this article aims to make your search easier by presenting the top picks for wide feet in the shoe market. 
Over the years, ASICS has endeavored to design perfect tennis shoes by frequently introducing newer generation models. Their current footwear is more improved and has fantastic features, with each release being better than the last. Therefore, you can expect Resolution 8 to perform better than the previous versions.
If you need excellent results on the tennis court but are uncertain of getting the right shoes for your wide feet, ASICS has got you covered. Generally, this sneaker offers you the ultimate performance, unlike most tennis shoes. The footwear has a glove-like fit, with added cushioning, more room for your toes, comfort, and durability. 
The shoe structure has encompassed innovative technologies such as the GEL technology that offers maximum cushioning on both the rear and forefoot to make every step comfy by absorbing shock. The midsole is also made of lightweight material, which is durable, and cushions your feet thanks to SOLYTE tech. 
One feature we love is that the shoes are wider at the toe box, a  feature that protects your forefoot from injuries. The shoe is stable and offers lateral support as you glide across the court. Additionally, the upper has FLEXION FIT for snug-fitting on your foot without sacrificing comfort or stability. 
Moreover, the outsole incorporates AHAR components to minimize wear and tear while improving traction on the court. ASICS Resolution 8 will also promote responsiveness and offer you a close-to-the-ground feel to give you unmatched stability and balance your movements. 
Pros
The shoes are very comfortable
It is ideal for professional tennis players
Cons
Some users complained that the collar is too short
The mid-foot is a bit rigid for some players
Another tennis players' favorite is this New Balance 1006 V1. This popular shoe comes in different colors and widths to cater to different players' needs. Therefore, you are sure to get your best fit whether you have wide or narrow feet. Secondly, the sneakers have superior comfort, cushioning, stability, lightweight, and breathability, all required qualities of a great tennis shoe. 
All these factors come into play to ensure that your feet are safe from injuries, especially at the toes. The shoes upper uses synthetic and mesh material to enhance breathability while checking that your feet are dry throughout your gaming. Also, this model favors players with wide feet as each pair comes in three different size options. 
For instance, there is a size nine, nine wide, and nine extra wide. Additionally, the shoe guarantees your comfort through the REVLITE tech on the midsole for cushioning and is lightweight while maintaining foot support.
On the other hand, the outsole is made of a durable NDURANCE rubber with herringbone tread patterns for maximum traction on the court. You will also appreciate that the toe tip is robust to keep your feet from injuries while you move across the court. 
Pros
The shoes come in three different colors and designs
The outer sole is non-marking
Cons
They aren't perfect for a hard court
Some customers complain that they are not true to size.
These shoes offer an impressive fit and stability, especially for individuals with wide feet. It has all the great qualities that you may need in tennis footwear, whether on or off-court. It's great that you can wear them immediately since they don't necessarily need any breaking-in. The new Babolat design is larger and more comfortable than previous models, making them a top choice for many athletes.
Most users commend the sneakers because they are durable and come with a high-end insole that is double-layered for maximum cushioning. The improvements on the upper also ensure that you get an outstanding fit and comfort on the top part of your feet. Besides, the sole technology in the footwear, Active Flexion, enhances your agility on the court but doesn't sacrifice your cushioning and stability. 
This model features the Kompressor system that provides a soft landing on the heel and cushions the athlete. Furthermore, the outsole is made of Michelin technology to offer traction, stability, and longevity while on the court.
Babolat SFX3 has also stepped up the lightweight threshold for tennis shoes alongside its numerous unique features, such as the premium cushioning. Lastly, the toe is impressively spacious for free movements, while the upper layer is meshed to improve aeration inside the shoes to maintain dry and healthy feet throughout the day.
Pros
They are slightly heavier than most standard shoes
They are flexible, hence easier on your feet
Cons
It doesn't offer adequate lateral support 
Its stability is questionable due to the extra space in the shoes
The Mizuno Wave Inspire 15 is an excellent option if you need the best tennis shoes for wide feet. The sneakers are versatile for use on the tennis court, other sports, or casual wear. The model comes in different sizes and designs to suit their broad feet client base. You can consider Mizuno when you need stability, responsiveness, and flexibility in your tennis shoe choice. 
Additionally, the shoes offer maximum cushioning and extra support that any pro or recreational player needs. Therefore, this model is ideal for elites and newbies. The upper part is designed with mesh for breathability, and it is durable enough to manage high-performance levels. The shoe tongue is also perforated for additional aeration to keep your feet well ventilated even when it gets too hot. 
Most users appreciate the sneaker's sock liner that provides premium comfort and wicks away excess sweat. The MIZUNO WAVE technology ensures that the shoes are sturdy enough for a stable ride and consequently gives confidence to users suffering from issues such as overpronation. The midsole features incredible shock absorption and reliable rebound for every move, which saves you energy. 
On the flip side, it is best to try out the footwear first before buying or confirm your foot measurements because some shoes aren't true to size. Some players get lucky by ordering a half or full-size larger when purchasing online.
On the contrary, one downside is that the sneakers are low-top; hence, they are only ideal for sportspersons with low feet arches. Also, the rubber sole's durability is questionable, thus may not last longer as expected. 
Pros
It has Cloudwave cushioning for maximum rebound.
The shoes are ideal for players with flat feet or overpronation
Cons
The shoe sole is subject to fast-wearing
The upper layer is thinly meshed, hence not very durable.
You would want a shoe that energizes, improves your agility, and enhances your performance on the court. This FILA model does all that for you while still maintaining your responsiveness and lightweight. For optimum fit, the Axilus 2 has an arch-supporting sock liner and a heel cup for a snug fit. 
Besides, the outsole engineering boosts your energy while providing incredible cushioning, stability, and speed. Also, the upper layer has mesh for breathability to prevent sweat from accumulating in the shoes.
Similarly, it has a molded sock liner that absorbs sweat. This sneaker is lightweight and gives you a ground feel to help you gain control of every step while on the court. 
As a result, you gain a competitive advantage over your opponents. Another advantage is that the footwear doesn't require break-in time, unlike other tennis shoes. However, given that the shoes are wide, they may be may not adequately support your feet. 
Pros
The shoes provide unrivaled traction 
Its upper is flexible for speed as you run 
Cons
The shoes have minimal padding that can cause abrasion
Buying Guide: Factors to Consider When Buying Tennis Shoes for Wide Feet
Few manufacturers design their shoes to cater to players with wide feet; as a result, you may struggle to find the perfect pair. We are here to make your search easier. Read on as we take a look at the key factors to consider when purchasing the right tennis shoe according to your feet. 
Comfort
Comfort is paramount whether you are on or off the court. One challenge for players with wide feet is that they frequently find regular shoes uncomfortable as they are too tight and narrow. Your chances of injuries increase unless you have a fitting and well-cushioned shoe. The first way to tell that a shoe is comfortable is by considering the toe box. 
You need enough room to accommodate your toes, and the shoe should also be flexible enough to expand whenever your feet stretch. Most shoppers look at the upper's design to determine whether their footwear will be comfortable or not. Always consider well-ventilated and flexible material like EVA foam or gel in the midsoles and heels because they are usually stretchy and easier on your feet. 
Support
Players with wide feet need as much lateral support as possible. Therefore, it is advisable to go for shoes with a robust design because they have a ground feel and provide a firm hold on the ground. Also, consider the shoe's sole to ensure that it is powerful, durable, and with good treading. Proper traction on the court surface makes you more stable and prevents slips and sideways rolling. 
If your shoes don't offer stability, there are high chances of injuries, especially when you have other foot complications like flat feet, weak ankles, or overpronation. However, note that some pairs with solid designs are usually heavier than other regular alternatives. Although you need a stable shoe, it is best to avoid these excessively bulky options.
Right Fit
One trick that players with wide feet use when buying shoes is selecting a half or full-size bigger to accommodate their toes. The only challenge with this criteria is, in most cases, the pairs fit at the toe box but are broad at the midsoles and heels. Consequently, the shoe fails to hold and doesn't offer enough overall foot support.
Fortunately, some shoe designs are purposely wide at the front but still fit snugly at the other parts of the foot. One way to tell is by checking what other buyers say about it. If the box is wide enough for them, but the shoe still fits perfectly, it may indicate that it is the right shoe. 
Do You Need Specific Shoes for Wide Feet?
Given the nature of tennis or any other high-activity sport, the athlete needs to be very comfortable and well-cushioned. There are many twists, turns, jumps, and lateral motions in gameplay; therefore, your feet need enough room. Moreover, you must be highly responsive when playing tennis. 
If your shoes are too tight and restrictive, you won't have the freedom to move effortlessly on the court. If you have wide feet, you must have noticed that regular shoes are uncomfortable. It becomes too painful to walk in them and can cause abrasions or blisters. We always advocate for proper-fitting shoes because, apart from the injuries and interference with performance, you can suffer excruciating pain due to severe foot issues. 
If the toe box is too narrow, your toes cramp in a small tight space, limiting free movement due to the compression. Secondly, regular shoes exert a lot of pressure on your feet, especially on the sides. As a result, your feet hurt, and you become too uncomfortable to play. The strain then throws you off your game because your focus shifts to the discomfort on your feet.
Therefore, besides the pain, you also risk performing below par; this is a high chance to take, especially if you play competitively. Besides, excessive use of ill-fitting shoes is the leading cause of bunions and other severe foot complications. 
Frequently Asked Questions
How Do I Know That I Have Wide Feet?
Not many people know that they have wide feet. One way to tell is if you find most standard shoes too tight at the toe box. Similarly, the chances are high if your feet feel too cramped at the front preventing your toes from wiggling freely. However, to be sure, you can measure your foot's size then compare it with regular sizing. 
Taking a piece of paper and a pen, place a foot on it and trace the outline. Next, you can measure the widest foot part then match it against standard sizing charts. Alternatively, you can go to a shoe store to ask where your foot size lies to know whether you have to buy wide. 
What Do the Letters in Shoe Sizes Mean?
Manufacturers design different shoe sizes for their buyers. They strive to make the sizes fit across all spectrums regarding length, width, and gender. For length, they have unique letters for men's and women's shoes. However, since users in the same length category may have different shoe widths, they have to create broad and narrow versions of the same shoe length.
It is easier to determine the width sizes in women's shoes since they are in alphabetical order from A to D. While shoe size A fits women with narrow feet, D is for those with wide feet, and B is the standard. On the other hand, men's sizes are pretty confusing because the labels are in different letters. If you have wide feet, you will fit in the ZE/ E/ W category. Otherwise, D/ M/ R will do if you have a standard size, while B/ N/ C would fit narrow feet. 
Finally
It may be demanding to find the perfect tennis shoes for wide feet, but we found some great brands for you. We picked the New Balance 1006 V1 as our favorite since it pays close attention to players with wide feet. The shoes are versatile, durable, have a breathable mesh construction, and incorporate the latest technology. It also offers comfort and stability to reduce the chances of injuries. The runner-up is the ASICS Gel-Resolution 8 Wide since it equally offers sufficient cushioning, has a stable construction, a glove-like fit, and a wide toe box.
Read more: