Bunions are deformities at the big toe that are excruciatingly painful, especially when you wear tight shoes. Therefore, as a tennis player, it can be tasking and stressful to find the perfect pair to ease the pain. We understand the struggle; hence, the reason why we conducted more research to find the most comfortable shoes like the Adidas Gamecourt Wide Tennis Shoe for players with bunions.
In this guide, we will highlight the best tennis shoes for Bunions to help you play and exercise comfortably. We also tell about the features to look out for next time you go shopping. Read on.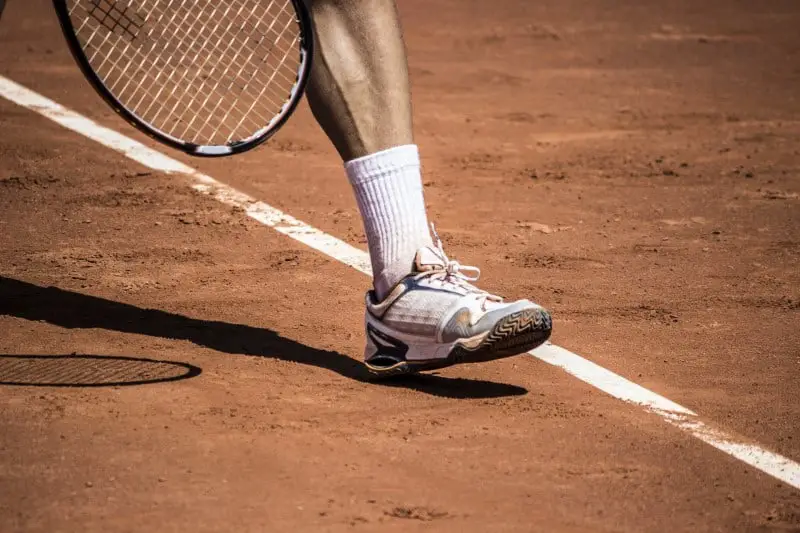 5 Best Tennis Shoes for Bunions Reviewed
Not many shoe designers have bunions in mind. In most cases, it needs keen selection to find the most comfortable footwear to make the pain bearable and keep the foot complication in check. We have selected a few of the top shoes whose creators value flexibility, lightweight, and comfort. Take a look at some of the best tennis shoes for bunions. 
The Adidas brand has always designed great products to suit different customers' needs. The designers purposely made the shoes wider for people with foot complications, including bunions. If you have problems finding well-fitting shoes that won't exert pressure on your delicate toes, these are the suitable options for you.
The toe box is roomy, preventing abrasions on your toes. It is wide and flexible to stretch when you need more space, and it helps that there are different width options for various foot types. Additionally, the collection comes in different designs to match your preference. Besides the wide fitting, the pair also supports your entire foot from the heel to the toes to balance every step and reduce the pressure you exert on the ground. 
The design pays close attention to the upper since it is made of mesh and reinforcements, making it breathable and supportive to your feet. The shoes are also comparatively lightweight, easing your strides. On the other hand, the midsole is well-cushioned for maximum comfort, while the outsole is flexible, lightweight, durable, and of high-quality rubber for stability.
Most users also love that it has exceptional Adituff technology to serve you longer and prevent any injuries on your toes. 
Pros
It has the Adituff toe tech to prevent abrasions
It has Adiwear for added durability
It has a roomy toe box to avoid injuries
Cons
The shoes may be a size bigger
Some users find the heel too wide, causing sliding
Lamincoa may not be a well-known shoe brand, but it has this remarkable pair, especially for people with foot complications. This shoe is one of the most affordable on our list, but it still competes with the other prominent brands.
They come in different colors to choose from, and it is one of the most versatile shoes on our list. You can use them for walking, playing, running, working, or casual wear since it combines functionality with quality to ensure that it satisfies the customers' needs. 
The best feature is that it has low weight and allows breathability, making it perfect for bunions. There will be little pressure on your feet, and some say that they are pretty minimalistic. You will love the mesh upper, which is flexible and airy to give room for your toes and ventilate them. In addition, the shoes are easy to wear and take off, thanks to the low-cut collar construction and elastic cuff. 
The outsole also has great treading for traction to grip the ground as you walk, and we love that it features a non-slip technology. The soles are of durable and have quality rubber that is flexible to ease every step you take.
When you wear these shoes, you will first feel the soft midsole, which will help absorb shock upon any impact on the ground. Moreover, there are pads on the ankles to always protect your feet. 
Pros
It is affordable
It is versatile and comes in different colors
It is lightweight 
It is easy to wear and take off
Cons
The upper's durability is questionable due to the light material
It may not offer enough support when playing
This shoe protects your feet in all planes while offering comfort and stability; hence, ideal for bunions. K-Swiss has designed the Bigshot Light to ensure your feet are safe from injuries without compromising the shoe's functionality. First, the midsole has sufficient cushioning for optimum comfort, while the sock liner guarantees that every step is relaxed. 
Next, the upper material is flexible, made of synthetic leather that doesn't constrict your feet' movements in all angles. You will also appreciate that the toe box is spacious to give your foot adequate room to avoid rubbing against each other, which can worsen your bunions. The shoe's inner lining is a soft textile to create a cozy surface for your toes, and the sneakers' upper allows air into the footwear to keep your feet dry and healthy. 
In addition, the outsole is made of durable Aosta and Dragguard rubber for durability. Similarly, the midsole uses the CMEVA technology for maximum cushioning and is lightweight to enhance your speed as you run across the court.
If you are concerned about not getting the perfect fit, the footwear's closure system is lace-up that allows you to adjust the shoes to get a comfortable glove-like fit. Furthermore, the sneakers manufacturers used DuraWrap material for additional foot protection, making Bigshot one of the best shoes for tennis players, even those with bunions.
Pros
It supports the ankle to counter Achilles tendons issues
The padding in the shoes keep your feet comfortable
It has a wide toe box to prevent abrasions on the toes
Cons
Some users complain that the shoes are heavier than expected
It isn't ideal for players with narrow feet
Tennis players suffering from bunions require shoes that have an abrasion-resistant upper, wide forefoot, and adequate cushioning for maximum foot comfort. This ASICS footwear has top-notch features making it a highly-sort after shoe among tennis players and even those suffering from bunions. The outsole, midsole, and all other parts are well-put-together using high-end technology to enable the footwear to serve its intended purpose.
The synthetic and mesh material allows breathability for unrestricted airflow into the shoe since dampness can make your feet soft and vulnerable to friction. Unlike its predecessors, this model has enhanced cushioning to reduce the foot impact, create reliable rebound, and saves your energy while on the court. The outsole features an AHAR PLUS technology on vital areas for unmatched durability better than the standard AHAR tech.
Moreover, the FLEXION FIT upper snugs your feet, but the shoe remains comfortable and supportive, offering you the stability you need to maneuver the tennis court. Other technologies are the PGUARD toe protector, which ensures that your affected toe is safe, and the TRUSSTIC that minimizes the shoe's weight, consequently improving your speed. Lastly, the soles are flexible for relaxed movements, and shoes also come with a six-month warranty to assure durability. 
Pros
It has impressive durability with a six-month guarantee
It has a forefoot protection mechanism 
Cons
Some user are skeptical about its lateral support
Brook Adrenaline GTS 20 is a blend of all the features that the best tennis shoes should have. Crafted with high-standard technology, the GTS 20 offers you support and the stability you need on the tennis court without compromising foot comfort. It is also a versatile footwear that suits tennis players and other sportspersons on or off-court. Its design also comfortably accommodates individuals with low, medium, and high foot arches. 
Luckily, the upper is made of flexible and durable mesh material for breathability and increased airflow in the shoe. It also has 3D Fit Print engineering that maintains the shoe structure and gives you a snug fit without feeling any drag from bulkiness.
The shoe's cushioning system is elaborate and well-spread to offer exclusive impact control and energizes every move you make. Other than cushioning, the footwear will embrace each stride you take, thanks to BIOMOGO DNA and DNA LOFT crash pads. 
Besides, the sneakers have guardrails to keep your foot from gliding unnecessarily, making them ideal for players with overpronation. The outer sole further has enhanced traction with grooves that promote the shoe's flexibility. On the other hand, the lace-up closure system allows easy shoe adjustment without hurting your affected toes. 
Pros
The shoe aids people with various foot complications such as overpronation
The guardrails help in feet alignment while playing
Cons
The insoles are removable; hence, you can replace them with medical orthotics.
It is advisable to get the correct measurements because there may be sizing issues. 
Why Do You Need the Right Tennis Shoe for Bunions?
Having bunions makes it harder to find comfortable shoes, but there are critical reasons why you need to select the proper footwear carefully.  
People without foot complications can go about their daily activities without pain, and so can you with the proper footwear. With the perfect shoes, you can play, train, run or do anything else because there will be no pressure on your feet. Even if the discomfort doesn't entirely go away, it will be bearable for you, and you can still enjoy your everyday living.
Some great brands incorporate the latest technology in their shoe designs to ensure that they feel as comfortable as possible. They can use EVA, UVA, or other materials to cushion you and offer shock absorption in case of impact. Consequently, the shoes become lighter, which reduces the effort you use to walk; as a result, pressure on your feet reduces, which alleviates the pain.
Bunions can be uncomfortable, and wearing the wrong type of shoes will only make the pain worse. However, if you want to reduce the sensation and gradually recover significantly, it is best to select the right tennis shoes carefully. As a result, you will be more comfortable and go about your daily tasks without worrying about the pain.  
The significant aspect of tennis shoes is that they have a unique design to help support your feet. The midsole, heel, and outsole are usually well-balanced to give the player a ground-like feel for balance on the court, even on slippery clay. The support will eliminate the pressure on your feet, and every step you make will be lighter and bearable.
You wouldn't want your pain to escalate due to a wrong shoe choice. Thanks to great shoe designs, people with bunions can still find excellent footwear to protect their feet. If you find a great pair, they will cover every part of your foot from abrasions due to friction, making the bunions worse. However, with improved technology, your feet will be well-covered, and your big toes will be safe from severe injuries. 
What Makes a Tennis Shoe Good for Bunions?
Finding the proper footwear for your bunions can be daunting since a wrong choice can cause more pain by worsening the bunion. Thus, it would help if you had the proper footwear to help ease your pain and go about your normal daily activities. Here the critical factors to consider before settling on the perfect pair of tennis shoes to assist you.
Comfort
One of the most important considerations is how you feel when you wear the shoes because you want a pair that helps alleviate the pain whenever you walk or run. Some tennis shoes have incorporated great features in their designs for added cushioning to your toes, thanks to technology. For instance, some have added foam for maximum shock absorption during impact for a soft landing to counter further injuries. 
Flexible Soles
Wearing rigid shoes, especially at the soles, can cause a lot of pain when you play or exercise; only a flexible outsole will offer you the freedom to stretch your feet when you need to, thereby alleviating the pain. It will also be easier to run since you won't exert much pressure on your feet when you turn or twist. We always recommend thick and soft rubber soles made of quality material stretchy enough to allow your feet to move freely.
Traction
The shoe's traction is another vital consideration. It is best to use the least energy possible on the tennis court to ease any discomfort from movements. Only sufficient grip will provide the support and balance you need to control your activities; therefore, you can always look at the shoe's bottom to ensure that there are many treads to help grip the ground firmly. 
Since tennis and most other sports involve speed and sideways motion, you need a pair that keeps your feet safe, especially when you slide sideways. Luckily, having a firm grip on the ground reduces the chances of further injuries or escalation of the bunions.
Shoe Width
The greatest challenge with bunions is they get more painful under excessive pressure. Therefore, it is best to consider pairs with wide toe boxes to give your toes enough room to wiggle and eliminate the force when walking. If your shoes are too narrow, your toes will cramp in a small space making each step excruciating. When shopping, you can always ask for different shoe widths to ensure that you get the most comfortable pair. However, remember to get enough extra space because huge shoes won't support your feet and can cause injuries due to slips. 
Breathability
You will feel more comfortable if your shoes are well-ventilated. Provided that your tennis shoes promote airflow in your feet, the interior of the shoes will always be dry and cool to eliminate chances of friction blisters. It is advisable to go for footwear with a breathable upper, preferably mesh material, for improved air circulation within the shoe and your feet. Fortunately, most breathable fabrics are also flexible, giving your toes enough room to stretch, thereby reducing the pressure.
Support
Bunions can be painful without the proper support. Luckily, most tennis shoes have unique construction to ensure that your feet are always well-elevated to ground you when making movements. You can always find excellent footwear that fits perfectly to support all parts of your feet. You can gauge the shoe support by looking at the heel, toe box, and upper but remember to consider the materials used in construction and the shoe weight. 
Final Word
Technology has stepped in to help people with bunions get comfortable footwear. One shoe that has incorporated all the best qualities you need is the Adidas Gamecourt Wide Tennis Shoe. Besides being a trusted brand, it is durable, has a wide toe box, and it helps that it comes in different widths. It also guarantees abrasion resistance, comfort, and unmatched foot support. Alternatively, the Asics Gel-Resolution 7 ticks most of our boxes. Like our top pick, it has the latest tech, a wide forefoot, and an abrasion-resistant upper.
Read more: