If you are in a hurry and just want to find out what the best tennis ball machine under $1,000 is, then we recommend the Sports Tutor Prolite as the best one.
Don't have a tennis partner to hone your skills with? Don't worry – on our reviews of the best tennis ball machines, we will introduce you to 5 great alternatives to a real, human training buddy!
Now, a machine won't fully replace a partner, but it will allow you to train alone. Read on to find out what a tennis ball machine can do for you and how to choose the best one!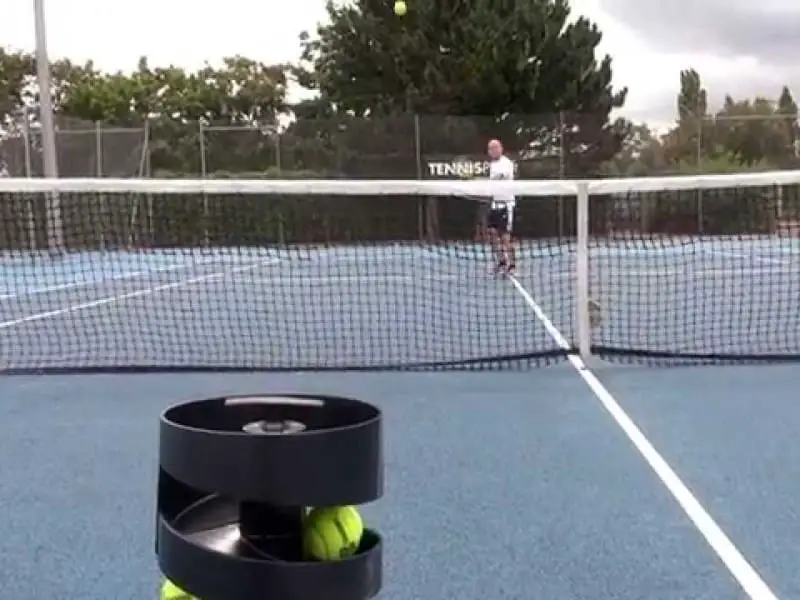 In this article, we're going to review the following tennis ball machines:
What To Look For In A Tennis Ball Machine Under 1,000 Dollars
There aren't too many tennis ball machines under $1,000 out there, so identifying the right machine should not be difficult. Still, it's important to understand what does and does not matter in tennis ball machines.
Below, let's talk about a few key features that you should be looking for when shopping for a tennis ball machine.
Ball flight settings
Under $1,000, you probably will find two ball flight settings:
Ball speed, measured in miles per hour.
Ball feed rate, measured in seconds.
Typically, you can adjust these within a given range, like from 10 to 60 miles per hour. Cheaper machines may have a more limited range of adjustment or have no adjustment at all.
More expensive tennis ball machines have things like top spin, back spin, and ball height adjustment. These allow you to add more variety to your training session. However, you are unlikely to find any of these settings in a sub-$1,000 machine.
Random oscillation
Random oscillation can dramatically increase the price tag, but it's a good feature to have.
Tennis ball machines with random oscillation can randomly adjust the direction of ball flight. Oscillation may be horizontal, vertical, or both.
More advanced machines may also randomize ball speed, feed rate, spin, and height. But when dealing with machines under $1,000, you probably shouldn't expect to get adjustments like these. Horizontal oscillation seems to be the best you can get, which is better than nothing.
Oscillation adds considerable challenge to your training by making the shots less predictable – just like when you are playing with a real partner. A machine with oscillation will force you to react quickly and move around the court a lot to hit the ball.
Ball capacity
Tennis ball machines typically can hold several dozen tennis balls. But some machines may hold as many as 150 balls, while others only have room for 25.
If your sessions are going to last for hours, then you should probably consider a higher-capacity tennis ball machine. A higher-capacity machine would require less frequent refilling and would allow you to dedicate more time to hitting the ball.
With that said, keep in mind that high capacity equals size, so a machine that holds 100 balls will be much larger than a machine that holds 25 balls. So you do need to find a compromise.
Power source
Tennis ball machines are usually battery-powered, but some machines may support AC power as well. One of our picks below comes with a battery but may also be run from an AC power outlet.
When it comes to battery power, make sure to check out its runtime on a single charge. Needless to say, the longer, the better. Your machine's battery life should at least be equal to the duration of your training sessions. Just in case, adding 10% to 20% headroom is a good idea too.
Size & portability
Tennis ball machines are available in various sizes. But no matter what kind of machine you are dealing with, size and portability are important.
When it comes to size, consider the dimensions of the machine. Pick a ball machine that will comfortably fit in your backyard. If you are going to take the machine to a tennis court in your area, make sure that it will fit in your car too.
For portability, tennis ball machines typically feature wheels. Some ball machines may have handles as well to assist with carrying.
The bigger the machine, the more important portability features become. A light and small tennis ball machine may be transported conveniently without wheels or handles, but these features are a must for a larger machine.
You may also like:
5 Best Tennis Ball Machines Under $1,000 Reviewed
The Sports Tutor Prolite is the most advanced sub-$1,000 tennis ball machine we have on this list. it also was the most expensive machine on this top as of the review's writing. But if you do need its features, it's going to be worth the money.
The highlight of Prolite is random oscillation. As described earlier, this feature allows tennis ball machines to shoot the balls randomly to introduce more challenge to the workout.
The Prolite tennis ball machine allows you to adjust the ball feed rate and speed as well. The feed rate may be adjusted from 1-1/2 to 10 seconds, while the speed goes from 10 to 60 miles per hour.
This tennis ball machine also fits 125 tennis balls, so you won't have to stop your session to refill the machine too often. For added convenience, there is an optional remote control available as well.
Prolite is powered by a battery too, so you may use it anywhere as long as it has enough charge in it. The battery is advertised to deliver up to 3 hours of playtime. And notably, Sports Tutor provides you with a smart charger that automatically shuts off when the machine is charged to prevent battery damage.
All in all, the Sports Tutor Prolite tennis ball machine is quite expensive, but it's an excellent choice if you want the most within your budget.
Pros:
Battery-operated.
125-ball capacity.
Random oscillation functionality.
Adjustable ball feed rate and speed.
Cons:
The Sports Tutor Cube tennis ball machine is somewhat less expensive and less functional than the Prolite, but it's a way better choice if you want a compact tennis ball machine. This thing is much smaller than the Prolite, although it accordingly holds 55 balls less.
When it comes to features, the Cube again allows you to adjust the ball feed rate and ball speed. The adjustment range is slightly narrower than in Prolite, however – from 10 to 50 mph for the speed and 2 to 10 seconds for feed rate.
But fortunately, the Cube retains the random oscillator feature to allow you to make your workout more challenging.
Like Prolite, the Cube is battery-operated too, though its runtime is advertised at a shorter 2 hours. Sports Tutor again includes a smart charger as well.
But one thing that the Cube tennis ball machine lacks is the support of remote controls – it's not going to be as easy to use as the Prolite.
Pros:
Adjustable ball speed, feed rate, and random oscillation.
Fits up to 70 tennis balls.
Battery-operated.
Cons:
The Tennis Twist tennis ball machine is an excellent choice for beginners and kids thanks to its small footprint and inexpensiveness. This machine is much less functional than the previous Sports Tutor models, but it's also much cheaper.
Tennis Twist only allows you to change one setting – ball toss distance. It adjusts from 12 to 20 feet, which is pretty nice. The ball feed rate and speed are constant though – 5 seconds and 15 miles per hour respectively.
Twist also holds up to 28 tennis balls and has an interesting spiraling feeder construction. It is precisely thanks to this design that Tennis Twist is so compact and light.
Like previous Sports Tutor machines, the Tennis Twist is battery-operated, but its battery life is actually far longer – up to 10 to 15 hours. This is perhaps because the Tennis Twist is a simpler machine.
With that, the Tennis Twist is an excellent entry-level tennis machine. Though it lacks some of the key features of its higher-end counterparts, it offers great value for the buck.
Pros:
Rather cheap.
Great for kids and beginners.
Adjustable ball distance.
Light and compact.
Long battery life.
Cons:
Ball speed and feed rate are not adjustable.
The Spinshot Lite tennis training machine is the lowest-end option offered by Spinshot. It lacks many of the features of its bigger brothers, but it's also the only model to cost less than $1,000. You have to accept some compromises, but at least it should be within your reach budget-wise.
In terms of functionality, the Spinshot Lite allows you to adjust the flight speed and feed rate. The adjustment range goes from 18 to 37 miles per hour for speed and 2-10 seconds for feed rate. But unlike higher-end Spinshot machines, Lite doesn't have oscillation, ball height, or spin adjustment.
Spinshot Lite also holds 40 to 50 tennis balls, which is pretty good.
What's particularly nice about Spinshot tennis ball machines is that they can be powered by either the integrated battery or from a regular AC socket. In Lite, the battery is advertised to provide up to 7 hours of play. For the corded mode, you'll need to buy an AC power module separately.
Another handy feature is the integrated wheels. Given how bulky Spinshot Lite is, the wheels are a welcome feature.
As for downsides, Spinshot is pretty expensive. But if your budget is big enough, Lite might be a great option if you want a mobile tennis ball machine.
Pros:
Very easy to move.
Can be powered by either a battery or AC power.
Adjustable ball speed and feed rate.
Wheels for convenient transportation.
Cons:
And finally, we have the Billie Jean King's Eye Coach tennis ball machine. This piece of equipment is very different from all of our previous picks.
The previous 4 machines shoot tennis balls at you, while the Eye Coach has a single tennis ball suspended on an oscillating neck mounted on a spring. You use this thing like a boxing bag – you hit the ball, wait until the spring brings it back up, and strike it again.
This simple construction has no electrical components and requires no power for operation. It's very compact as well, so it can be used pretty much anywhere, even at home.
Besides, the Eye Coach requires no refilling and can be used for hours and hours – until you get exhausted.
However, the Eye Coach is not as functional as the previous picks. It doesn't allow you to adjust ball speed, direction, feed rate, and doesn't have oscillation. So it offers more predictable training.
The Eye Coach is more intended to help you consistently hit the sweet spot on your racquet. But it doesn't offer the advanced training that you get with motorized tennis ball machines.
In the end, the Eye Coach is certainly unique, and it's a great choice for training your aim and reaction time. But we think that it would bring the best results if actually combined with one of the machines from earlier.
Pros:
Relatively inexpensive.
Very compact footprint.
Great for at-home training.
Requires no power.
Cons:
Much less functional than previous tennis ball machines.
Final Words
In our opinion, the very best tennis ball machine on our list is Sports Tutor Prolite. It's the most functional machine of the 5, offering random oscillation, the most versatile controls, and the highest ball capacity.
The second best pick would be Sports Tutor Tennis Cube. This machine is very similar to Prolite feature-wise but has narrower feed rate and ball speed adjustment ranges, fits fewer balls, and has shorter battery life.
The Spinshot Lite Tennis Training Machine is a good choice if you want to stay mobile. Lite has integrated wheels, and it may also be powered from an AC outlet if you get an adapter.
Sports Tutor Tennis Twist is a good pick for children and beginners. It's inexpensive, compact, has a long battery life, but it has no ball speed or feed rate adjustment.
Finally, for at-home training and limited budgets, Billie Jean King's Eye Coach would work the best. This thing is compact, requires no power, and may be used anywhere you want.