Black sneakers have always been the go-to color for some sportspeople, whether on or off the court. If you have always had an eye for black tennis shoes but don't know where to start, welcome to the ultimate guide.
We have closely selected some of the best options in the market, like the Adidas Stycon Tennis Shoes. They all have exquisite designs, are of high quality, and will help you stand out on the court.
Read on as we tell you all you need to know to select the best black tennis shoes.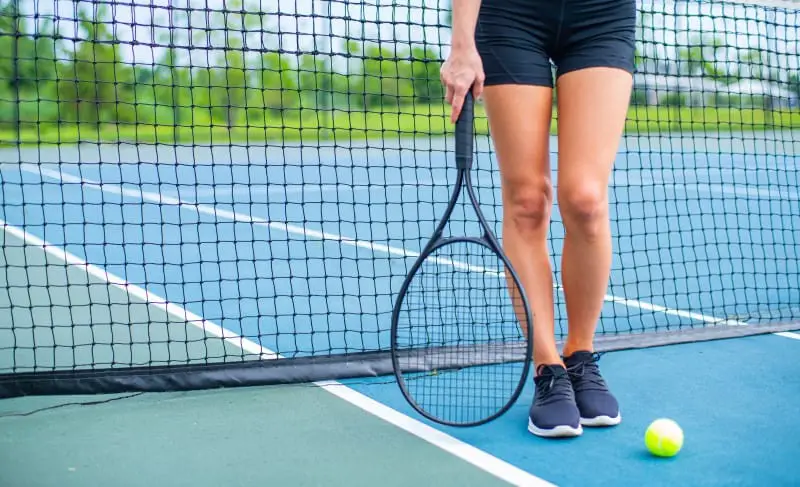 5 Best Black Tennis Shoes Reviewed
There are great products in the market that enhance the tennis player's performance; this includes a well-designed, durable, comfortable, and strong shoe. In this guide, we will look at shoes with all these qualities, but with the same black color design.
Let's take a look at the best black tennis shoes.
ASICS is one of the most famous brands of high-quality tennis shoes. At first glance, you can tell that this product is made for stability and durability. Although the black color makes it pretty masculine, women can still wear it. The dark shade gives it a powerful, yet exquisite aura, for black shoe lovers. Additionally, the outsole has a different look from the upper, given that it is white, but there are some grayish shades on the side. 
However, black still stand out more, even with the white and grey. Besides, you can go for other designs or colors since they all have the same properties. The shoe's material is mesh, which makes it breathable, durable and gives the shoe extra strength for foot stability. It also incorporates the latest technology in the midsole, and the entire shoe called the EVA and TRUSSTIC SYSTEM. Additionally, GEL guarantees that your forefoot is secure enough to endure the punishing court. 
This footwear doesn't compromise on performance or durability. The cushioning is also top-notch to ensure that all the areas of your feet are comfortable. You will particularly appreciate the shoes' stability. They will go a long way to help you accelerate your speed and give you the stamina and confidence you need to go long hours on the court. 
Pros
Its construction uses the latest technology
The shoe is pretty stable
It comes in various colors and designs
Cons
The shoe may need more cushioning, especially on the heel
We also have this exquisite and high-quality FILA sneaker with a black upper, laces, and a greenish sole. The shoe's color stands out, and, in turn, boosts your confidence. If you need a pair that gives you a competitive advantage, you can consider the FILA Auxilus. The black surface is smooth and easy to clean since it hides away the dirt. 
Furthermore, besides the unique color and design, this shoe encompasses all the features you may need from a high-performing tennis sneaker. It is pretty fast due to the flexible uppers and lightweight.
The shoes are feather-light, stylish, and offer your feet a hugging feeling to help you with your stability on the court. You will also find them very comfortable because they have a soft heel cushioning that gives you a soft landing, especially if you are a heel striker. 
Auxilus has sufficient width for the sportspeople with high arches or wide feet. It also helps that it is one of the shoes that are true to size. Therefore, you are certain to get the perfect fit. Generally, this option is ideal with an exciting ground feel, adequate breathability, comfort, stability, traction, and a reliable warranty.
Pros 
The shoes come with a six-month guarantee.
It is true to size; best for players with wide feet
Cons
It may need more forefoot cushioning
Compared to other Adidas sneakers, Stycon shoes have a unique style and design. The shoes have a special construction for gamers playing on a clay court, and since it's all black, it won't carry visible dirt. The outsole is also dark and heavily treaded for maximum traction and stability on the tennis court. The shoe is feather-light and gives your feet a sock-like fitting and support at the same time. Its upper layer is a soft textile with ADITUFF technology on the toe and heels. 
Additionally, the material at the top is elastic to accommodate high arched feet, plus it has a laceless system for easy removal and wearing, saving you a lot of time on the court. The midsole has impressive cushioning to offer adequate support to your foot, and it offers a soft landing to absorb shock. Styron is extremely lightweight.
Therefore, it energizes you while propelling you to move forth and back and make jumps and turns for the ball. Its energy return is exceptional, and you may play longer without excessive tiring.
Moreover, the outsole is hard-wearing, and the shoes can serve you a long time before needing a replacement. Ultimately, these black shoes are exquisite and can intimidate your opponents while boosting your self-esteem and confidence on the court. The Styron shoe hugs your heels, and due to its low sole, you can feel the ground better, giving you maximum control over your movements.
Furthermore, the outsole material is non-marking, and you can be comfortable playing indoors or on hard courts without leaving marks behind.  
Pros
The shoes are very lightweight and responsive.
The shoe collar is high and soft; hence, tender on your Achilles' tendons
The sole material is tough and doesn't leave black streaks on the court
Cons
The toe box is a bit narrow
They lack laces for fastening if they are not a perfect fit
Every player would want a competitive advantage against their competitors, and Mizuno helps you with that. The shoes are attractive since they are mostly black but are partly white on the sole and the logo for more visibility.
Wave Impulse is one of the recently constructed tennis shoes with great up-scale technology. For starters, the MIZUNO WAVE tech disperses impact on the foot and allows a comfortable and stable landing, plus maximum cushioning for shock absorption.
The shoes fit perfectly and provide the support you need to stay ahead of your game. The upper material is elastic but stable enough to hold your feet in position without abrasion. These sneakers are lightweight, weighing about thirteen ounces, which is way below the standard high-performance tennis shoe's mass. 
Wave Impulse offers well-distributed traction that grips the surface, helping you balance as you reach out for the ball. The AP+ midsole propagates bounce-back, and the shoe is relatively more durable. Furthermore, these sneakers may be your perfect choice for a clay court because they conceal dirt, leaving them clean as you keep playing.
Pros
It works for players with narrow feet due to the snug fit 
The shoes offer great traction for effective slide and stride control
Cons
It has a minimal cushion on the forefoot
The shoe isn't water-resistant
Hypercourt Supreme is one Black shoe with special design, versatility, and, most importantly, an elegant look. The color isn't too bright, and its calmness goes a long way to provide you with the confidence you need for enhanced performance. The outsole is black from the forefoot to the heel, but the midsole is green. The bright midsole provides a striking contrast to make your sneakers stand out. 
The two colors blend perfectly to give you the ultimate black tennis shoe that you can rock on or off-court. Other than the striking black tinge, Hypercourt Supreme is still an ideal shoe in lightweight, traction, stability, and cushioning matters. These features make a suitable tennis sneaker that serves both professional and upcoming players. 
The SURGE technology offers an effective spring that every aggressive gamer yearns for to help save energy. This model fits tightly and hugs your feet while allowing your joints to move freely in different angles as you take your serves. This shoe is breathable due to the upper that is porous for adequate aeration. Besides, this masterpiece has a sock liner to manage sweat and keep your feet dry. 
Pros
The shoes are effective on all court types
The toe box is very flexible
Cons
The shoes may not fit individuals with highly arched feet well
The shoes aren't very long-lasting
Why Wear Black Tennis Shoes?
Black shoes can be all black or a mixture of different colors, especially on the soles. Primarily, black soles are from carbon rubber, which is relative; heavy; hence, more durable than ordinary colored shoes. On the other hand, the white soles are usually of brown rubber, which is softer and less bulky. Thanks to technological advancements in construction, white or bright-colored soles are usually more lightweight than the black alternatives unless the manufacturers have devised means to reduce the extra weight. 
If you want to wear black trainers on the court, we usually advise going for options with a different color on the sole, since they are lighter and more attractive. However, if you are going for a more durable option when training on the hardcourt, you can find an all-black shoe. Another advantage is that they are great at disguising dirt. If your preferred court is of clay material, you will find black shoes the right option for you. The court's debris tends to splatter all over your shoes; therefore, you need an option that hides the particles away.
You must have also noticed that black sneakers are much easier to clean than light-colored ones. Your black sneakers will not be as demanding as white alternatives that need daily and thorough cleaning depending on your shoes' material. You will also find black shoes the best colors in pairing with other sports gear. Any shade blends well with it, whether you love dull or bright-colored sportswear. 
They will also come in handy when you have a laid-back personality and would rather go for subtle colors for your sportswear. Lastly, some players love that black tennis shoes are a fashion statement. We particularly love that you can use them on or off the court as casual wear. It doesn't need any special colored clothes because it looks great and easily blends well with any shade.
Black Vs White Tennis Shoes
Both black and white sneakers are great colors for the tennis court. They are one of the few neutral hues that you can pair with any other color. Some sportspeople are also fashion-forward and wouldn't wear clashing colors even when they are on the court. With these two options, you can stand out and still have no restrictions on the color of your clothes because they usually blend in. They will also help if you want your shoes to match your personality because, unlike other light colors, white and black shoes aren't very conspicuous.  
These two colors also come in handy when you need a pair for use as casual wear. They can match different clothes, and you are sure to stand out. You can also wear them off the court when working out, running, or walking. However, black sneakers are better than white in some aspects. First, you cannot wear white trainers twice in a row since they tend to get dirty easily, especially on surfaces like clay. The black options, on the contrary, do a great job in hiding the dirt. 
The only exception is when the outsole is white or any other bright color because the shoes will still get dirty easily. It is easy for white trainers to get scuff marks on the court, unlike the black ones. The dirt will also show more; hence, you will have to maintain thorough shoe cleaning at all times. If you are concerned about getting your shoes dirty on the clay court, it is best to avoid whites and instead go for black sneakers. However, it is all a matter of preference as long as you get the right fit and the right shoe for your court.
Are Black Shoes Non-Marking?
One of the main concerns when picking out an all-black shoe for tennis is the worry that it will leave ugly marks on the court while you play. Some shoes with black soles tend to scratch the court surface due to the friction between the sole and the ground. Mostly, certain black sneakers or leather shoes are responsible for scuffing, especially on indoor courts. They manifest as dark scratches that can damage the floor, especially when the surface is synthetic. 
However, not all black shoes leave their marks behind, thanks to new technology that makes them non-marking. When you select a black tennis shoe, it is critical to consider the sole's color. It is best to go for one whose soul is white or any other color besides black because these designs are less likely to scratch the floor. Otherwise, if the shoe is all-black, it advisable to ensure that it has non-marking properties. 
Generally, non-marking shoes usually have soft soles with large treads. You can also test them using a blunt object or your fingernail. If you press the sole, it should dent at first but soon return to its original shape. Alternatively, you can do the paper test by taking the shoe and rubbing it against white paper. If the shoe leaves black scuffs on it, then it isn't a non-marking shoe, and frequent use of it on the court can cause damages.
Therefore, it is essential to consider the shoe quality before you purchase it. Luckily, some well-known brands always manufacture quality shoes and would never compromise on the construction material. They may be more expensive than other less famous brands, but, in the long run, getting high-quality footwear is worth every penny of your investment. 
Final Word
Black shoes are a bold statement, especially on the court. One pair that stands out from our list is the answer Adidas Stycon Tennis Shoes. It is a classy, all-black option with lots of treading on the outsole for maximum traction. It fits like a glove thanks to the lace-free design, and, most players say that they are lightweight and durable. Alternatively, we find the Fila Auxilus 2 Energized a decent black pair due to its durability, breathability, and true-to-size properties, and you can go for it if you need a black yet colorful option.