Adidas is one of the big brands that has been present for years and produces high-quality tennis shoes. They are famous for top releases like our favorite Adidas Adizero Club. To cater to the high demand, the company has released several shoe models repeatedly, making it tasking to select one.
However, our focus is to help you purchase the best Adidas tennis shoes by shortlisting some top-of-the-line shoes from the brand.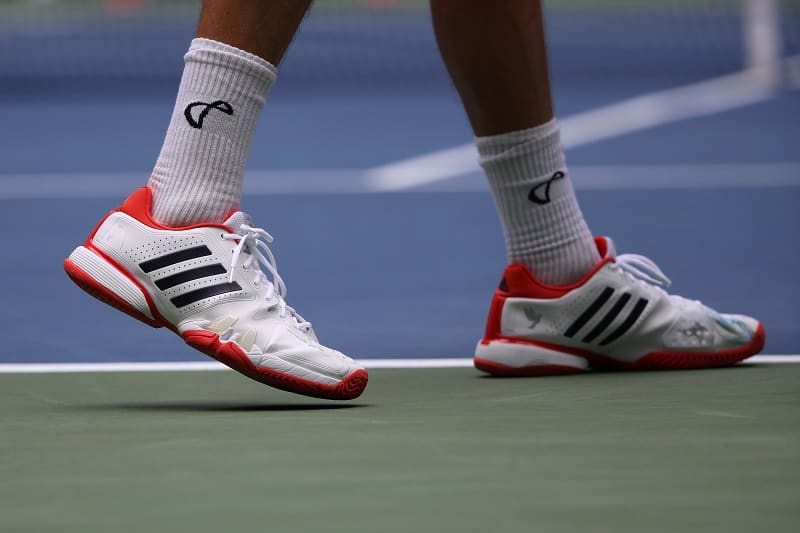 A total of 7 pro tennis players who ranked in ATP 50 wear Nike shoes, they are Dominic Thiem, Alexander Zverev, Stefanos Tsitsipas, Lucas Pouille, Fernando Verdasco, Jo-Wilfried Tsonga, Simon Gilles.
Check the details below:
Here are detailed reviews.
The Courtjam model is an excellent Adidas choice if you want a cozy and comfortable shoe that meets your court demands. Most find it very comfy for other sports or exercises due to the superior soft material in the interior. From the breathable mesh upper, the lace closure, to the smooth linings, you will get your money's worth when you buy this shoe. 
An added advantage is that it is also exceptionally lightweight, great for players with foot issues or past injuries. Although it is a featherweight shoe, the construction materials are of high quality, ensuring that it is durable to serve you for long, even when you spend hours on the court. 
It also boasts of a Vamp design, alongside TPU and meshes technology, to guarantee long-lasting footwear. Thanks to these innovative technologies, the shoe offers support in case of unnecessary turns, giving you the ability to withstand the punishing hard court. Additionally, the signature Adiwear tech on the outsole resists wear to maintain the same level of traction even after a long time of use. 
Therefore, the herringbone pattern remains intact and gives you a firm hold on the ground and the extra support you need. These shoes would be a worthy buy, especially if you value high performance and endurance.
Pros
The shoes are lightweight
They are comfortable for use on different courts
They are durable thanks to the Adiwear tech
Cons
They are not very stable
There are concerns about the upper material being too flimsy, especially at the eyeholes.
One aspect we love about the Adizero model is its mindfulness of all players and their abilities. These shoes are a fantastic choice for first-timers or veteran players, and you can use them on or off-court because they support any other high-adrenaline activity. Most reviewers hail it for its lightweight design, making them easier on the feet and doesn't drag you as you play. 
With these shoes on, nothing stops you from accelerating while on the court, meaning that they help improve your overall performance. Regardless of your preferred court surface, this footwear will offer support and maintain your stance even when you make fast turns.
Another loved feature is the breathable upper. Due to it, you won't have to worry about sweaty or smelly feet when you wear these shoes as the ventilation will dry out the dampness. Professional players are also drawn to the shoe's outstanding support to maintain the player's balance throughout the gaming session.
Others also adore that the shoes are comfortable enough for multipurpose use and effectively step in to prevent injuries due to the added cushioning. Therefore, investing in these shoes will guarantee excellent gameplay, all thanks to the structure and possession of the most coveted features in excellent tennis footwear.  
Pros
The shoes don't require break-in time
The shoe's upper stretches to accommodate various foot sizes
They help the player accelerate when playing due to their feather-light weight
Cons
The heel support may be lacking to some users
Some find the collar too high, causing abrasions on the heel
The Solematch is an improvement of the classic barricade, making it a favorite among loyal users of the predecessors and prospective buyers. Like the barricade, this pair still focuses on stability and high performance. From the second you wear them, you feel a firm hold of your feet that boosts your confidence to take on your opponent. 
You won't worry about slips or lateral movements, improving your gameplay. It is a favorite among players due to the comfy manufacturing materials and the superior support of the design. For instance, the shoes have incredible cushioning on the midsole to ascertain that you feel comfortable even as you play on the unforgiving hard court.
If your playing style involves many starts and stops, these shoes will provide the balance you need. Secondly, you can pump up your speeds as often as you like because they are lightweight; hence, they won't ground you excessively while on the court. 
Professional athletes also love that these shoes will be practical on any court type due to the elaborate tread design underfoot. Therefore, if you are a professional player who visits different courts for tournaments, the sole match is a great place to start.
Pros
They are very stable on the court
You can use them on all court types
Cons
They are not as durable as their barricade predecessors
Some find the shoe slippery at the heel due to its lace design
These shoes' design, especially the color, is primarily for females, but there are other subtle shades for males. Suppose you love a colorful shoe that makes you stand out while on the court, the Adidas Defiant may be a great pick.
You can tell from the bootee construction that it offers a snug fit to hug your foot, especially on the upper and the heel. It also has a lace closure while the upper is of several mesh layers and canvas. It is one of the few options on our list that has a sock-like fit for maximum support and slip resistance. These shoes will stay put and maintain your body's balance regardless of the court you are using.
The outsole is also hard-weared to serve you long and maintain the shoe's grip on the ground. In addition, their solid construction resists abrasions and provides the support you need as you play.
On the other hand, the midsole has sufficient cushioning to keep you comfortable and prevent severe injuries in case of impact. Therefore, you are confident that your feet will be safe even when you use the hardcourt. 
Most users also find them lightweight to facilitate fast-paced gameplay. Ultimately, the Defiant Generation is one pair that will relentlessly combine support, comfort, and great design to serve any tennis player. 
Pros
The bootee construction gives the user a snug fit for balance
It offers adequate support and stability
Cons
Some shoes are too narrow or have a tight fit
They are slightly rigid
This Adidas version is a sleek, high-performing shoe design that works effectively for most players. It is durable, supportive, stable, comfortable on your feet, and an ideal option for those experiencing foot issues. Secondly, the sneakers are low-top; hence, suitable for players with low arches.
Similarly, the top has vents that aid in airflow to dry away sweat inside the sneakers and keep your foot healthy. Besides, the shoe's upper material is lightweight; thus, reduces the total mass resting on your feet. Players also love that its interior is smooth, comfortable, and guarantees maximum foot support.
Next, the midsole is well-cushioned for unwavering impact dispersion and foot protection. These pairs are also surprisingly responsive to enable you to gain speed with every step you make on the court. You will also adore the outsole's herringbone designed that provides remarkable traction and stability on any court type. 
Additionally, the Solecourt Boost has a roomy toe box for free toe movements during turns and twists, making it a favorite among players with wide feet. Lastly, this model has a thermoplastic urethane chassis that will offer you nothing less than the best snug fit and stability.
Pros
The reinforcement on the forefoot upper offer unbeatable lateral support
The shoes have a roomy toe box
Cons
It doesn't support high arches
It may be larger than the standard size 
A tennis shoe that offers a sock-like fit from heel to toe is the preferred option for most players since it means unmatched support to guarantee stability on the court. Gamecourt is one such shoe with these features but doesn't compromise on comfort, cushioning, and traction on any court type. 
The shoes have won over thousands of tennis players and other users due to its top of line features. This pair will be the right choice if you love a great sleek design and top-class performance. The upper layer is of thermoplastic urethane, fortified for smooth and supportive gameplay, and has perforations for increased airflow in the foot to eliminate excessive sweating. 
Furthermore, the midsole is of Cloudfoam tech that offers superior cushioning and comfort. The outsole has impact distribution properties, giving your feet a soft landing on the hard courts. The shoes have elaborate cushioning on the foot's pressure points. This feature makes them suitable for the punishing hard court surface and use by players with injuries and painful foot complications.
The outsole covering is a full-length Adiwear component that improves the shoe's durability, cushioning, and treads for unbeatable traction and stability. Since the game can be demanding, wearing these shoes enhances your stamina as they firmly grip the court. 
Gamecourt also has a Sockliner for snug-fitting hence more comfort. The lacing system additionally complements your support, and you will adore that the shoes come in all sizes, with most of them hardly requiring a break-in period.
Pros
The shoes come in different fits and sizes
Gamecourts are in various colors for both men and women
The shoes have a Sockliner for added support and comfort
Cons
The outsole isn't very durable
The shoes are permeable to water
This shoe model is one of the unique Adidas releases and is different from other top choices on our list. At a glance, you can tell that it is worlds apart from the signature Adidas shoes you see, given the lace-less and bootee design that fits like a sock. From the moment your feet slide into them, you barely remember that you are wearing shoes; no more loose laces that are a tripping hazard to throw you off your game.
First-time and veteran users hail it as a top-class performance and confidence-boosting shoe. The shoe's collar is narrow, yet flexible, and firm enough for snug-fitting and stability while on the court. For players, the Stycon promotes aggressive and high-performance gameplay, especially for those at beginners or intermediate levels, for added stability and support on the court.
Adidas Stycon is a sports champion from the outlook to the technological features that go into construction. For instance, the upper layer is made of delicate textile of a double mesh layer to prevent excessive lateral movements. The underfoot is also of durable rubber sole that absorbs impact. 
Moreover, the shoe's glove-like fitting, lightness, and flexibility make it adapt to your foot movement for powerful slides, sprints, brakes, and unrivaled agility. Styron has a durable herringbone outsole that offers excellent traction and stability on all court types. 
On the other hand, the midsole is of Multi-layered EVA tech for maximum comfort, cushioning, and responsiveness. The heel region reinforcement also aims for added support, while the fortified toe area ensures that your toes are safe regardless of how dangerously you slide or drag them on the court.
Pros
It is the unique design on our list
It has a sock-like snug fit
It is the go-to for players who love lace-less shoes
Cons
The double-layered mesh hinders breathability
The shoes must be the perfect fit since there are no laces for tightening.
The Ubersonic 2 has a unique design to support high foot arches better than most Adidas tennis shoes. Therefore, it attracts many players with this foot type, and it helps that it comes in an impressively sleek design. The material on the upper layer is flexible; hence, it can adapt to your feet as you play.
Players with high arches and other foot issues are particularly drawn to this feature because the shoes mold well on the top of the foot. Besides, the toe area is reinforced with Adituff material for durability and foot protection if you are a toe dragger. 
Also, ventilation on the meshed upper is responsible for aeration in the foot to prevent a foul odor. You will also find the midsole lightweight thanks to the foam tech that significantly reduces the shoe weight while maintaining cushioning and support, which are vital components in tennis footwear.
You will love that this model is featherweight and gives you a close-to-the-ground feel for an aggressive control over the court as you return your serves. Ultimately, the Ubersonic 2 has impressive pads and supportive ankles regions for superior comfort and stability. At the same time, the collar is soft and extended to ensure that it is easy to slip on and off.
Pros
It has reinforced ankles for stability and support
The extended tongue and collar make the shoe easy to put on and off
It is suitable for players with high arches
Cons
The shoes aren't as durable as most Adidas footwear
It isn't ideal for individuals with narrow feet
If you love a simple yet stylish trademark Adidas shoe, you might incline to the game court model. There are more than a dozen shoes, each in three primary colors to suit any tennis player; therefore, if you are reserved about wearing white footwear on a clay court, you can always go for black or blue shades.
They have leather in their upper, but the sole is rubber; hence, durable, flexible, and easy to clean. Moreover, the rubber improves the outsole's grip. Also, they have the classic boot opening for a firm hold of the upper and the heel. It also helps that they have adequate cushioning to protect your feet.
They come with a Cloudform Sockliner, making them one of the most comfortable shoes with the advantage of less weight. This shoe is your go-to if you loved the Stan Smith design but with the contrasting feature of the three side stripes instead of the perforations and the shell toe.  
Pros
They have a stylish leather design
It is easy to put on and take off thanks to the lace design
The shoe collar is firm, preventing heel slips when walking or playing
Cons
The shoe may be too rigid for some players
It may run too narrow
The Decision
All the shoes we have highlighted are great lines from the Adidas brand; however, the Adidas Adizero Club tops our list due to the support it offers, its comfort, cushioning, and breathability. You can wear them on or off-court and on various surfaces regardless of your playing level. Alternatively, we recommend the Adidas Gamecourt and Adidas Solecourt Boost as the models that level up in foot support, traction, protection, and durability.
Read more: