If you are in a hurry and just want to find out what the best hybrid rennis string is, then we recommend the Wilson Champions Choice Duo Tennis String as the best one.
Tennis strings are a crucial part of your racquet. They determine the control, power, and consistency of your shots and if they aren't done right then you might not be able to take your game to the next level.
Tennis strings come in multiple types of material and so, in this article, we will discuss some of the best hybrid tennis strings available on the market for you to take advantage of.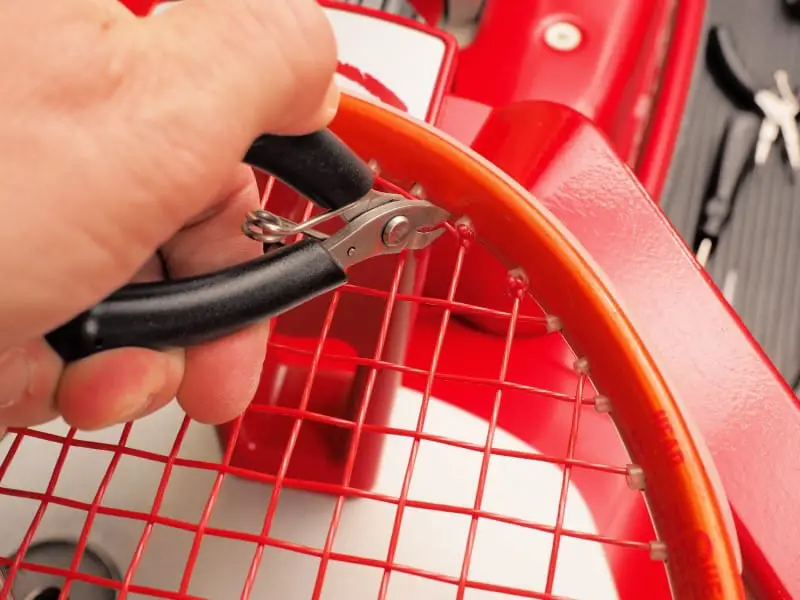 In this article, we're going to review the following hybrid rennis strings:
Everything You Need to Know about Tennis Strings
As an amateur or beginner tennis player, you probably don't pay much attention to your tennis string just yet. But advanced and professional players make sure that their racquets are armed with the best tennis string possible that suits their gameplay. Here are a few things that you need to know about tennis strings.
Tune it up!
Once you're getting serious about the game it is important to know that you need to constantly check your tennis string's integrity. Making sure that it's at the right tension and won't break on you during a game. Professional players even bring an expert stringer with them in the game and make sure that their racquets won't cause any issues in-game.
So, when should you restring? If you play frequently it may be advisable to get your racquets restrung at least two to three times a year. 
Different types of tennis strings
Before we move on to our list of the best hybrid tennis strings, you should be familiar with the different materials used to form these hybrid crosses.
Natural Gut
Natural gut is probably the softest material of all. But they also come at a price. Although these strings are one of the best if not the best for those who are suffering from tennis elbow. They are quite versatile and are used by players from all skill levels plus they maintain good string tension.
Nylon
Nylon is what you can call synthetic gut in terms of tennis strings. They are stiffer than natural gut and you may get them in a variety of shapes and constructions. They are softer than polyester or Kevlar and nylon is quite inexpensive. They are ideal for those who don't tend to break strings often.
Polyester
Polyester strings are popular with pros and recreational players alike. They offer increased spin especially for those with fast swings. They hold the tension for a long time too and are naturally more durable than nylon.
Kevlar
Kevlar is stiff and durable so they are quite ideal for those who break strings often.
Multifilament
These are products of technology and are created to imitate the natural gut for a better spin, control, and power on your strikes. They are also quite durable though not as durable as polyester but are easy on the arm and those suffering from tennis elbow.
Read more about Best Tennis Strings.
What Is Hybrid Stringing? (The Advantages of Using Hybrid Tennis Strings)
So, why go for hybrid tennis strings? And, just what is it, to begin with?
Hybrid stringing is the practice of using two different string types for your tennis racquet. It should be one for the vertical and one for horizontal mains. The most common types of strings used for these hybrid crosses are the ones listed above of course.
Combing the same type of strings but with different gauge or thickness can also be considered hybrid stringing. The practice of using strings with different textures and shapes is also accepted as hybrid stringing. It's just up to you as a player to develop and find the right configuration for you and your gameplay.
So, what is it good for?
Enjoy the strengths of two different tennis string material for your racquet. It's like unlocking a completely different configuration to play the game of tennis.
Added durability for sure. Imagine combining the durability of polyester with the control, spin, and power of a multifilament.
Added comfort. Polyester may be powerful but they aren't the most comfortable type of string to play with at all times. So mix that up with another material that may offer a great feel to your strikes and would eventually be better for your arm. Won't wear it out easily and also be friendly to those nursing an injury.
Reducing cost. You will eventually save money but still avail of the qualities of expensive strings should you cross it with another brand.
Great for transitions. We're talking about training junior players to using polyester for them to get used to the real deal.
Any cons?
Sure, as with everything there are a few cons to using hybrid stringing. But it's only logical that if you want to take advantage of the qualities of two types of the material then you'd also be able to maximize the qualities of each of the string materials.
So, how do you go about hybrid stringing?
There are a few things to consider before delving into hybrid stringing. First is evaluating your current setup and which quality do you plan to maximize on. Power, spin, control, comfort, durability, feel string movement, tension maintenance, or cost. These are the qualities you need to consider.
Next is to select first your main string and then your cross string. And lastly, determine the tension that you desire. In short, determine your priority and find the configuration that suits your playing style and strengths.
Read more about How To String A Tennis Racquet At Home (Step-by-Step Instructions).
Best Hybrid Tennis Strings Product Reviews
1. Wilson Champions Choice Duo Tennis String
The first entry on our hybrid tennis strings review is the choice of the champions. Well, it's the name and we're talking about the Wilson Champions Choice Duo Tennis String.
This set of hybrid strings is the choice of no other than Roger Federer himself. He's been known to use natural gut early on in his career and this set of tennis strings combines that with the uber-popular luxilon polyester and aluminum formula strings.
The surfaces for these strings are dented to then provide a softer feel than most Alu strings. So this is a natural gut for the mains and then the luxilon alu ones are used for the crosses. This combination offers great control and a firmer feel.
Switch your mains and crosses and get a completely different configuration for your game. It's all up to you. These strings are reliable, will last super long, maintains great tension longer, and will elevate your game definitely.
Pros
A very durable set of strings
Nice feel to it without compromising power
Superb control and spin to your shots
Won't wear out your arms easily
Great value for money
Cons
May not be suitable for older players
2. Head IntelliTour 16g Tennis String
Next on our list is the Head IntelliTour 16g Tennis String. This is a top choice for players that prefer stiff racquets but wants a more comfortable feel to it. If we're going to describe it then we would say that it's a hybrid string for power but with a soft feel to it.
This hybrid string uses Head's patented polyolefin ribbon technology for the main string and is infused with a textured coating with its thin inner core. The cross string uses the same technology but just with a hollow core that's meant to be shock absorbent. So you know what that means, it won't wear you out easily and it should be recommended for those suffering from an arm injury.
That's why we said that it offers a great feel plus it maintains string tension for a very long time. It's got elastic properties and it's one of the most consistent strings from our list.
Pros
Brings a great feel to stiffer racquets
Great power potential
Shock absorbent hybrid tennis strings
The innovative design opens up a lot of potential
Great for the elderly or people suffering from any injury
Cons
Will not offer high spin potential like the others on the list
3. Babolat Combo Pack RPM Blast 17 Plus VS 16 Tennis String
Another popular hybrid string set is the Babolat Combo Pack RPM Blast 17 Plus VS 16 Tennis String. If you don't already know, this is Rafael Nadal's string of choice so you know you are in good hands should you choose this variety.
As the name implies, what you get from this hybrid string is a combination of the RPM blast and top quality natural gut. RPM blast is known for creating exceptional control for your racquets as well as tremendous spin to your shots. Mix that up with the power, feel, and comfort from the natural gut, then you have yourself one crazy good combination that is sure to elevate your performance.
The outstanding spin is created by the special coating on the RPM blast and try a lower tension if you want to experience the power that this hybrid brings to your game especially if you use the natural gut as your main string. Also, try the other way around (gut as the cross) if you want a firmer feel on your racquet.
Pros
Great combination of power and control
Adjustable feel to power combination based on your configuration
Choice of the champions
Bestseller and enjoy good reviews
Durable strings
Cons
Loses string tension prematurely at times
4. Tecnifibre HDMX Tennis String Reel
The penultimate entry on our best hybrid tennis strings review is the underdog but top quality Tecnifibre HDMX Tennis String Reel.
Even though this brand has been at the forefront of tennis string development for a while now, they are still often overlooked. In reality, they are one of the most innovative companies across the industry and that shows on this hybrid tennis string set.
This set incorporates innovative hybrid 3D technology in the mix. To explain it in simpler terms, you will enjoy what we can call an internal hybrid for this tennis string is a blended variety of polyester, Elastyl, and Thermostably.
This results in more controlled play but still offers plenty of power plus spin potential that can go with a player's pace. That's the forgiveness and comfort of a multifilament material with the coveted durability and control of polyester. The strings themselves went through the brand's patented anti-abrasion treatment and are meant to take a beating for maximum endurance.
Pros
Very durable set of strings
Innovative design yields fantastic results
Very comfortable without sacrificing power
Great value for money
Great feel and control
Cons
These strings don't maximize the strengths of its blended materials to the fullest
5. Ashaway Crossfire ZX
A favorite of the heavy hitters and string breakers is our last entry, we're talking about the Ashaway Crossfire ZX.
When you're a heavy hitter, you want a set of strings that can handle your strikes. And only hybrids can offer the power that you seek but can still surely take a beating for a long time. Plus, these hybrid strings can also maintain their string tension for a long while.
This is a polyester free hybrid and probably the only one from our list. Instead, this hybrid utilizes Kevlar and multifilament materials. The multifilament component of it offers durability, tension retention, and power almost like that of a natural gut or maybe even better.
While the Kevlar component of it is firm enough and that you won't lose control at all. These hybrid strings are also abrasion-resistant for maximum string life.
Pros
Explosive power
You won't lose a lot of control
Extremely durable strings
Great tension retention
Great price point
Cons
Final Thoughts
Out of all these best hybrid tennis strings, we think that the Wilson Champions Choice Duo Tennis String just edges out the competition by a tiny margin. With the blend of quality natural gut and luxilon alu power polyester material, you need a fine combination of durability and controllable power.
No wonder why top players like Roger Federer use this hybrid string set. We feel that this hybrid string has found one great combination of materials and maximized their strengths. Durable, versatile, and with a nice feel to it.
Truly top class and meant for the pros. Go grab your hybrid strings and enjoy the game like no other.