If you are an avid tennis player, you know that one defining factor for successful performance on the court is the racket's grip.
However, it may be a challenge if you have sweaty hands or your hands keep freezing in the cold. The best way to deal with this is finding a great glove, like our favorite, the Tourna Sports Glove, which keeps you warm and comfortable.
If you are uncertain about where to start looking for a special glove, we are here to help. Read on for the best gloves for tennis, factors to consider when choosing a tennis glove, and why you need a tennis glove.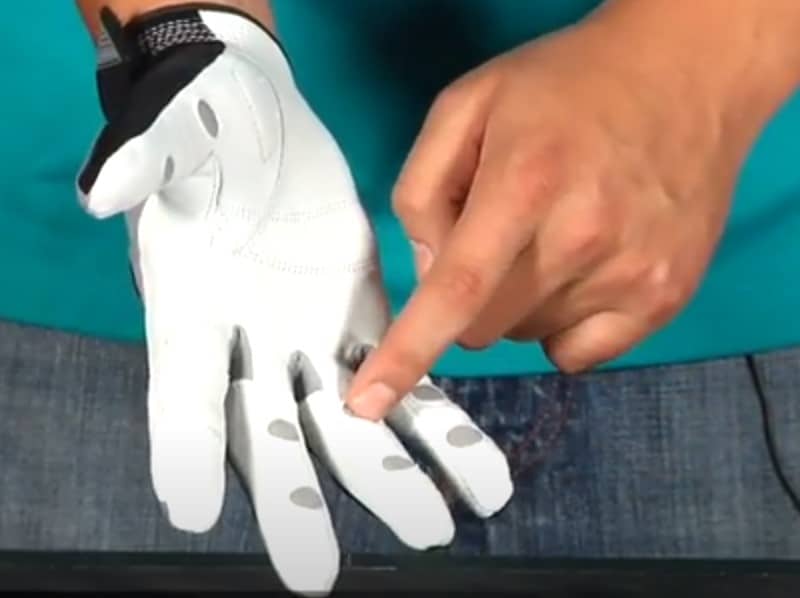 Here are some of the best gloves for tennis in the market today.
5 Best Tennis Gloves Reviewed
If you are stuck in your search for a befitting tennis glove, we've got you covered. Considering comfort, grip, and materials, we have selected a handful of the most coveted products in the market.
Python glove may be more famous in racquetball than tennis but still serves the same purpose. You will find these mitts protective, and they will offer you the grip you need in particular areas on your hands. They ensure that your hands are constantly aerated to dry off sweat and maintain a firm grip. This option may seem bulky at first sight, but it's quite the opposite when you try them on. 
This gear is lightweight, enhances your acceleration while on the court, and fits any user perfectly, whether you have a big, medium, or small hand. These gloves are also sensitive to users with hand complications or injuries. The product integrates nylon and leather in its design. The palm has durable and perforated Cobretta Leather, which manages sweat and allows unrestricted airflow in the interior to keep your fingers dry. 
A Grip Strip Tackified Palm further provides optimum grasp for the racket and gives you maximum control on every strike. Moreover, for additional power and stability, the glove features another grip strip on the palm. Lastly, there is Elastomeric at the back of your hand for an excellent fit and a Velcro Wrist Closure for extra snug fitting. 
The padding on the fingers avoids adding unnecessary weight and provides extra comfort; therefore retaining the feel of contact with your racket. This deluxe glove will not limit your gaming experience; instead, it adapts to your performance. Generally, it combines what you need to protect your hands because it has a super grip, control, is sweat-resistant, and has a personalized fit.
Pros
It effectively shields your hands from excessive heat on sunny days
It has a Velcro Wrist Closure for an adjustable fit
It has a premium grip
Cons
The gloves have few color variations to choose from, limiting your options
Some users find it pretty bulky
If you experience hand fatigue when playing tennis, Bionic gloves are your best bet. It comes with compelling features such as lightness, maximum grip, support, stability, flexibility, control, and breathability to keep off sweat. The Bionic glove has a leather design that sheepskin for maximum grip and durability, combining Coolon Lycra material on the backhand.
It is washable. Additionally, the glove has Terry Cloth Mini-towels that absorb moisture alongside an Anatomical Pad that helps improve grip, enhance control, and prevent fatigue. 
You will also appreciate the wrist closure with a Form-Fitting technology to support your hand without compromising flexibility. Lastly, the glove also features a Pre-rotating Finger Design and Web and Motion Zones innovation to enhance flexible, effortless hand movements in all planes and joints. 
Pros
It is medically approved to reduce hand fatigue and enhance dexterity
It is easy to manipulate in your hands
The Form-Fitting closure supports your wrist and gives a snug fit
Cons
It may cause blisters to some players
The racket's butt area may be subject to abrasion 
There are no limits to what you can do with a glove that gives you a superior feel throughout your gaming sessions. Compared to other Wilson gloves, Sting is budget-friendly; this is a good deal, especially since it offers the user an enhanced grip and unmatched control. The gear works best for all racket sports, although it is more common among racquetball players. 
The gloves are comfortable, with a great feel, and comes with the added advantage of additional cushioning on high activity areas to guarantee safety. With exceptional comfort, you can play tennis longer with the surety of hand protection. Moreover, your will counter excessive sweating, which may cause slippage and throw you off your game.
You will love the thumb section design as it reduces pressure and the soft feel in the interior. This mitt is a unique design of Cobretta Sheepskin Leather, which is supple on your hands, preventing friction and enhancing your contact feel.
The glove also features Dive padding in certain areas for increased protection. In closing, the glove is exceptionally breathable, significantly preventing moisture from pooling within your hands, and is adjustable for a great fit. 
Pros
It's Wilson's modern glove innovation
It is ideal for close to ground shots
Cons
It isn't typical among tennis players
Its diving feature may be too bulky and unnecessary for tennis players
Your glove's material is a critical consideration since durable tennis equipment can serve you for long, especially if you are an avid player. Tourna Sports Glove is a ninety-nine percent leather design, with the remaining material being the Terry component. The mittens come in different sizes, and with specific hand orientations, both left and right. 
This full-finger glove gives the best fit that you can adjust effortlessly for a superior grip. It helps that it is also a soft glove that offers excellent comfort.
One downside is that the leather isn't breathable, but the good news is, it can still wick away sweat to always keep your hands dry, even in aggressive gameplay. Fortunately, the Terry component on the back of your palm is well-ventilated, thereby assisting in moisture reduction. 
It is designed with Cobretta Leather for a super soft feel and grip, for maximum control and stability on the tennis court. The Velcro design on the gloves will also offer you a customized snug fit, unmatched by most tennis gloves. The mitt has an exclusive white color and available for both men and women. Additionally, besides protection, the gloves can keep your hands warm even when playing in freezing environments.
Pros
The leather in the design is extra thin and soft for increased feel and control.
The Terry back offers additional ventilation
Cons
It is demanding to maintain since it is subject to hardening
Head endeavors to provide exceptional tennis equipment to help players excel on the court. The Head glove, for instance, is a unique design for racquetball and tennis sportspersons that many hail as being practical. For many years, Head has engineered several pieces of equipment and apparel for tennis. Currently, the company has invested heavily in the production of ideal gloves for tennis players. 
The hand gears come in different sizes for you to choose from, and you can get them in small, extra-large fittings or a unique design if you are left-handed. It is flexible, offers optimum grip, and is one of the most lightweight on our list.
It is also durable and comfortable on your hands, thanks to its leather design. Besides, the padding is lower than most gloves to reduce extra weight on the glove and improve the racket's feel.  
The impressive grip is courtesy of silicon that wraps the fingers and palm. The knuckles protection further gives you the confidence to play without worrying about your hands' safety. The Cool Tech Spandex fabric also aerates your hands to keep them cool and dry throughout gameplay, regardless of how profusely your hands sweat. On the other hand, if you play in cold weather, these gloves will still offer you optimum warmth.
Pros
It has a rigid leather design
It has a ventilated fabric for breathability and high performance
It has additional padding for maximum comfort
Cons
It isn't very long-lasting 
Some designs have stitches on the interior that may increase friction
How To Choose the Best Tennis Gloves
Before buying a tennis glove, there are some important considerations to make. It has to be a well-thought-out and patient decision because, with the proper selection, you will significantly improve your performance on the court. 
Padding
One of the essential factors to consider is how padded your glove is, depending on its intended purpose. If you want to wear them during winter or when it's too cold, you may consider heavy padding with many insulation layers to keep your hands warm. A cushioned glove will also come in handy if your hands sweat profusely and you need to protect the racket from slippage. 
However, in most cases, players go for thin gloves because they enhance the grip between the hands and the racket. Therefore, you get a better feel since it seems like playing with bare hands. In most cases, players using thin gloves register better performance because they have better control and grip over the racket. On the downside, a problem with the criteria is that most light gloves aren't very comfortable, don't last long, and don't offer adequate cushioning for your hands.  
Design
The glove is an everyday accessory in several sports, each requiring a unique design. Interestingly, you will find tennis and racketball gloves very similar given that the two sports involve rackets. Similarly, various brands synonymous with tennis equipment produce high-quality gloves, each with a signature design. 
Therefore, your choice solely depends on your preference. However, there are two main glove designs for players to chose from, the complete and open finger. For the complete option, the entire glove is completely covered from the wrists to the fingers and is best used when it's too cold, as it effectively protects the whole hand. Alternatively, the open finger is more stylish and ideal for scorching weather since it is more breathable. 
The only downside with the full-finger is that it can get too warm when it's sweltering, while the open finger isn't very effective when it's freezing. On the other hand, you might also want to consider whether the glove has wrist adjustment because such designs are easy to wear and take off, and they allow fastening for a more snug fit. 
Material
Various gloves are made of different materials, from leather to mesh, depending on the purpose. Most tennis players go for leather since they usually come in many durable variations. For one, there is sheepskin, which is exceptionally soft but quite expensive. 
Secondly, you can find goatskin, which is initially equally supple, cheaper, but relatively less durable and eventually loses its softness. Other alternatives include tackified and synthetic leather, which may not possess the natural leather feel but offer an excellent grip on the racket. However, the back material may be of mesh, spandex, neoprene, or lycra.
Most users prefer mesh since it is breathable, maintains airflow in your hands, and prevents excessive sweating. On the contrary, other materials offer better padding but restrict airflow. Regardless of your go-to glove material, it is best to go for the most durable alternative that will serve you longer. 
Comfort
Another determining factor of your success on the court is how comfortable you are while playing. If your glove is too rough or tight, it will throw you off and negatively affect your performance in the process. Therefore, before you settle for a glove, always consider the construction material to ensure it is soft. The best option for you may be sheep or goatskin leather, which is naturally supple compared to synthetic leather. 
Right Fit
Gloves usually come in different measurements since there are varying hand sizes. The perfect fit will go a long way to ascertain that you have a better grip on the racket, thereby improving your gameplay. It should be a snug fit, not too loose or too tight because a wobbly glove will be slippery on your hands, while a stiff one will be too uncomfortable. 
Why Wear Tennis Gloves?
You must have seen many players wearing gloves on the tennis court, particularly during non-competitive games. Although you would hardly see pros wearing them, it is still a critical personal choice to make, one that will significantly influence your performance.
Gloves prevent unnecessary slippage during gameplay, especially if you have an issue with sweaty hands. In such cases, using your bare hands makes the racket grip wet, making it tasking to maintain a firm hold. Therefore, gloves will be a genius idea if you have the condition because the padding will absorb the dampness and prevent it from reaching the racket. Secondly, a glove is your best bet if you have a hand complication like arthritis or any other disease that makes your hands weak or excruciatingly painful during active workouts. 
Not only will it cover your hands, but it will keep your wrists stable. In the same light, gloves are an ideal remedy if you have a past injury on your arm or hands because they protect the spot while preventing escalation. They will also effectively shield your palms from bruises, especially if you spend hours on the court. 
Ultimately, gloves will offer the user the required comfort regardless of the prevailing weather conditions. Therefore, you can play when it's scorching or freezing since you will have insulation to keep you warm and prevent sweat from interfering with your grip.
You won't have to keep warming or cooling your hands off, meaning better performance. On the flip side, gloves are only used in recreational tennis since most pro games have banned them. Secondly, although there are many benefits, there are still high chances of reduced racket feel and loss of grip, leading to a below-par performance on the court.
Final Take
The best tennis racket will go a long way to protect your hands and improve your performance on the court. We carefully selected the best options in the market according to every player's needs; however, two of them are more outstanding.
The top on our list is the Tourna Sports Glove that puts your interest first. It is of durable leather that is soft, comfortable, and offers a perfect fit. It also withstands the elements to ensure that your gameplay remains unaffected. We also find the Bionic Racketball Glove a close alternative since it possesses the same admirable features with the advantage of being medically approved.