If you are in a hurry and just want to find out what the best foam tennis ball for kids is, then we recommend the Gamma Sports Foam Tennis Balls for Children and Beginners as the best one.
As they say, great things start in small beginnings and beginners require a little bit of assistance to break-in into a sport that they love to learn.
In tennis, novice players can start with more user-friendly gears and equipment. So, here are some of the best foam tennis balls for kids so they can learn the game at a pace that's appropriate to them.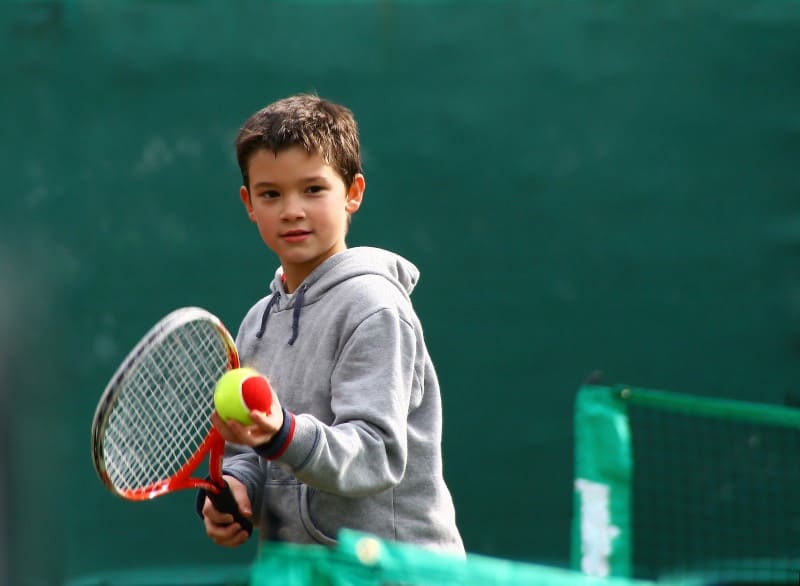 In this article, we're going to review the following foam tennis balls:
Why Use Foam Tennis Balls? (Buyer's Guide)
As mentioned, we need to little by little let beginners and especially kids develop their skills for the game. Not everyone is a prodigy and will excel in the game right away. Some need some time to ease into their potential.
It's important that we as mentors for tennis provide these young players the right guidance and with the right tools and equipment that's appropriate to their skill level. First off, for those who don't know, there are varying tennis balls that are utilized for kids as they learn the sport.
Using the right tennis ball for the kids' development is essential because:
Like using the appropriate tennis racquet, the right tennis ball will aid in your child's skills development.
It will be appropriate to their respective height and strength as they grow.
They will develop all kinds of strokes as well as the much-needed hand-eye coordination.
There will be gradual development and they will get used to the game as they move up and use the tennis balls meant for adults or the standard tennis balls.
They will get used to all sorts of techniques and even experience longer rallies early on.
There are a few types of tennis balls utilized in the development of a young tennis player these are called progressive tennis balls and here are the stages:
We start with foam tennis ball. The largest as well as the lightest of all the progressive tennis balls. And as you'd expect this type of foam tennis ball is the easiest for the kids to come in contact with and to practice. They are specifically designed for 36 feet tennis courts and for kids that are 8 years old and below. Due to their size and weight, they are not that ideal for windy situations.
Speaking of windy situations, if that poses to be a major problem, you may proceed with the red tennis ball. They are just slightly larger than your standard tennis ball but are 75% slower. Still, designed for a tennis court of 36 feet and kids 8 years old and under.
The next type of progressive tennis ball is the orange tennis ball. These tennis balls are already of the same size as the standard tennis ball but are 50% slower. They are now designed for 60 feet tennis courts and are meant for kids 9 to 10 years of age.
Last on the progressive tennis balls category is the green dot tennis ball. It's of the same size as your standard tennis balls but are 25% slower. They are then designed for your full-length tennis courts at 78 feet and are meant for kids that are at least 11 years of age.
Other Considerations
Aside from the type of tennis ball and the court's length that you need to consider in parallel with your child's age, there are also a few aspects you need to look at to aid them with their skills development.
We are talking about the tennis racquet that they are going to utilize. Kids 5 to 8 years old are recommended to practice with a 23-inch tennis racquet. Kids aged 9 to 10 are then expected to handle a tennis racquet that's up to 25 inches. And lastly, kids 11 years old and up are expected to take on tennis racquets of 27 inches or the standard size (pretty much).
Pair the right tennis racquet with the right tennis ball then your child's development would gradually go smoothly.
What Are the Basic Things Kids Should Learn about Tennis?
As a bonus section, we think it is important for you to know the most important technique your kids should learn early on in their tennis journey. With the right tools such as a foam tennis ball, they can quickly learn a few things or fundamentals that they will still use later on as they advance.
Proper stance
Your child must learn the basic stances early on. You have four basic stances overall. The closed stance, squared or neutral stance, semi-open, and open stance. Through these stances, they will see the ball better, increase their focus, and learn the basic footwork necessary too. They will have a greater chance of then hitting the ball.
Swing
Kids should also learn the proper way to swing. They must know the proper path for their swings and the correct follow-through needed for their shots.
Grips
They should also know that there are a variety of grips that they can learn. The six common grips are known to be the continental, eastern, semi-western, full western, backhand, and the two-handed backhand.
Serve
And lastly, they should know how to serve properly early on. Incorporating all of these basic aspects like the stance, grip, and swing, your kid will then develop the proper way to serve early on.
Best Foam Tennis Balls for Kids Product Reviews
1. Wilson US Open Starter Tennis Balls
The first entry on our best foam tennis balls for kids review is the popular Wilson US Open Starter Tennis Balls. Kids need proper guidance and they need the right equipment too and these tennis balls will help shape their game.
This set of perfect for kids aged 5 to 8 years old and for 36 feet tennis courts. They are larger than your standard tennis balls but slower and of course armed with wonderful bright colors for the kids to see and hit them easily.
Sale
Wilson US Open Tennis Ball - 3 Ball Can
Large, low compression tennis balls for 10 and under tennis. Perfect for ages 5-8
Newly developed 75mm felt surface
Balls are 75% slower than normal tennis balls
Designed for stage 3- Red Starter tennis
USA approved
This will not only help develop their skills but will also boost their confidence. As we all know, kids are energetic but they can easily be disappointed and these set of tennis balls are perfect to build their esteem as they get better with the sport.
These are low compression tennis balls for stage 2 play and are USTA approved.
Pros
Suitable for all tennis courts
Versatile and meant for kids from all age-brackets
Affordable but top-quality tennis balls
USTA approved
Great compression tennis balls
Cons
The low bounce may not be to other player's liking
2. Gamma Sports Foam Tennis Balls for Children and Beginners
The Gamma Sports Foam Tennis Ball is right up next on our list. These tennis balls are designed to be 75% slower than your usual tennis balls to serve well on practice for the kids.
It's got a low compression core plus a lightweight layer to make it easier for kids and beginners alike to learn the needed fundamentals for the game. These high-quality tennis balls are meant for kids 8 years under with their lower bounce as well as slow speed.
Soft and lightweight these tennis balls have a magnacore meant to provide consistency in their bounce that is almost similar to that of standard tennis balls. Its foam construction also makes sure that these tennis balls are compatible with either outdoor or indoor play. Plus, the material is tough enough to take on a beating to ensure great value for your investment.
Gamma Sports Quick Kids 36 Foam Low Bounce Training and Practice Tennis Balls for Kids and Beginners, 75% Slower than Standard Tennis Balls (Designed for 36' Tennis Courts, 12 Pack, Yellow/Red)
75% SLOWER SPEED: Featuring a low-compression core and lightweight outer layer, this training tennis ball flies 75% slower than standard tennis balls, making it easier for young children and beginners to learn the fundamentals of the game.
TRAINING TENNIS BALLS: Designed for players 8 and under learning the game, these beginner tennis balls are a great choice for use when instructing children or adults new to tennis. The slower speed and low bounce makes them easier to hit.
LIGHTWEIGHT FOAM MATERIAL: Soft and lightweight, these foam tennis balls feature a magnacore that provide a consistent bounce similar to standard tennis balls. The foam construction makes them safe to use indoors or outdoors.
MEETS USTA/ITF STAGE 3 SPECIFICATIONS: These tennis balls are rated as Stage 3 balls by the USTA/ITF, making them a great option for tennis for children 10 and under playing on 36' courts.
MADE FOR 36' COURTS: Designed for use on 36' tennis courts, these foam tennis balls are great for teaching young children. More experienced players can use these balls to warm up or practice volleys and drop shots.
It meets ITF and USTF stage 3 required specifications meant for tennis courts 36 feet in length. These tennis balls are also perfect for practicing volleys and serves during warmup.
Pros
Lightweight foam material without compromising on the quality of construction
Great value for money
Perfect for practice even for advanced players
Duracoat surface for durability and consistent bounce
User-friendly tennis balls
Cons
May be a bit pricey for some
3. Penn QST 36 Tennis Balls – Youth Foam Red Tennis Balls for Beginners
The next entry on our best foam tennis balls for kids review is the affordable Penn QST 36 Foam Red Tennis Balls. This set of tennis balls are bestsellers and one of those that are high in quality but won't hurt your budget a lot which makes it perfect to practice on for beginners and kids alike.
It's got low compression that is responsible for that low bounce so it will be easy for the kids. It speed is also adjusted at 75% slower than your usual tennis balls which makes them ideal for 36 feet tennis courts and kids aged 10 years and younger.
Penn QST 36 Tennis Balls - Youth Foam Red Tennis Balls for Beginners
AMERICA'S #1 SELLING BALL: The product of 100 years worth of testing and perfecting; Penn produces the best selling line of tennis balls in America.
GREAT FOR BEGINNERS: The QST 36 kids' foam tennis ball features a higher density for controlled bounce and reduced speed. An ideal beginner ball for playing on a 36' court.
MASTER THE BASICS: With a red and yellow 2-tone felt design that allows players to easily track spin, Penn junior tennis balls are great for young players still mastering their hand eye coordination.
OVERSIZED: An ideal first tennis ball, the QST foam has an oversized diameter for simplified training and practice.
USTA APPROVED: A high quality and consistent ball, Penn QST is approved by the USTA for the 10 and Under Tennis Program.
Master the basics at your own pace. These tennis balls have a two-tone foam design (red and yellow) that will allow for easy spin tracking. They will learn how to master control and generate power as they master a few other of the basics with these durable, USTA approved, and consistent tennis balls.
Pros
A popular choice for mentors and coaches
Bestseller and quite affordable
Very durable tennis balls for their price
Ideal weight and speed
Great for practicing power and control
Cons
It may be too soft for some
4. Tourna Low Compression Stage 3 Tennis Ball
The penultimate entry on our short review is another affordable and popular choice the Tourna Low Compression Stage 3 Tennis Ball.
Meant to fly slower and bounce lower, kids will have a great time practicing while developing the skills they need for the long run. These tennis balls are also 75% slower than standard tennis balls and are easy to hit with their yellow and red aesthetics.
These are low compression training balls for practicing long and full strokes which is possible because it bounces at the appropriate height. Kids will experience longer rallies with these tennis balls and so they will have more time to practice some advanced techniques.
Tourna Low Compression Stage 3 Tennis Ball with Mesh Bag (18-Pack)
Stage 3, 75% reduced bounce tennis balls are made to bounce lower and fly slower than a standard tennis ball.
Low compression training balls help beginning players learn tennis at an early age by promoting long, full strokes, and with a height appropriate bounce.
Enables players to achieve longer rallies and practice more advanced techniques because of the low compression, helping them transition to a larger court more succesfully.
Ideal for ages 8 and under and on a short 36-foot court.
Meets USTA/ITF Stage 3 Youth Tennis specifications.
These balls are best if you want your beginner to transition fast to larger courts. These are ideal for 36 feet tennis courts and kids 8yeas and younger. These are also USTF approved and they are as affordable as they come.
Pros
Great value for money
Soft and lightweight and flies at the right speed for beginners
Yields longer rallies
It may be used for all kids age categories
Ideal for practicing some advanced techniques
Cons
It may not be as durable as advertised
5. Gamma Sports Kids Training (Transition) Balls
The last entry on our best foam tennis balls for kids review is none other than the Gamma Sports Kids Training (Transition) Balls.
This is a yellow and green dot variety and is meant to aid kids that are slightly older in their transition to the real thing. These are highly visible training tennis balls for your junior player to hit the ball easily.
They can track and learn how to put some spin on your shots as well as learning how to do some curveball thanks to the green dot. These are lightweight but extra-durable foam tennis balls and are perfect for camps, clinics, as well as recreational balls for everyone.
These tennis balls are also USTF and ITF approved and are meant for kids 10 years and under. These tennis balls are also not just meant for practice but also for tournaments so you know that the young ones learn the right way. They are still a bit slower and have a low bounce to them to aid in your kid's transition.
Pros
Visible colors and design meant for practicing advanced techniques
Durable construction
Nice speed and low bounce meant for older kids
Used in tournaments for kids
Great price point
Cons
Could use a bit of upgrade on its consistency
Final Thoughts
Out of all these top-quality products we think that the best of the best foam tennis balls for kids is the Gamma Sports Foam Tennis Balls for Children and Beginners. This is a top choice for coaches and parents alike for these tennis balls have such well-rounded features that will serve as a great aid as your kids learn the sport of tennis.
With the right weight, speed, and foam material, these tennis balls won't be too intimidating and will serve your kid's skill level, physical strength, and stamina, as they practice to become better athletes.
So go grab a foam tennis ball, step on the court, and learn the basics of tennis the right way!
Read more about Best Tennis Balls.