Ever since the legend Fred Perry stepped onto the court adorning wristbands, the accessory seems to have taken the tennis world by storm.
Currently, the market is flooded with them, making it overwhelming to settle on a pair. However, we conducted our research to find amazing pieces like the Nike Swoosh Wristband, which has amazing moisture absorption features.
Read on for the best tennis wristbands, the benefits of wearing wristbands in tennis, and factors to consider when choosing a tennis wristband.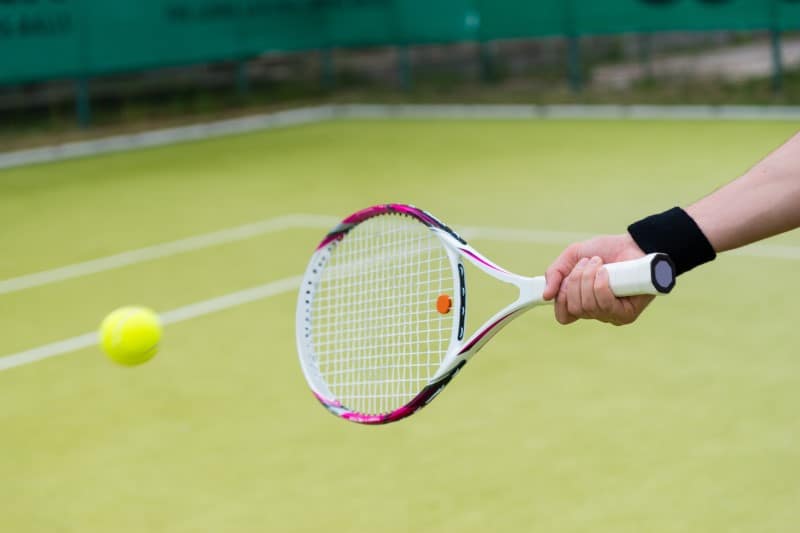 Here are some of the best tennis wristbands in the market today.
5 Best Tennis Wristband Reviewed
The decision to wear a wristband can make or break you, especially if you sweat excessively on the court. We understand how tasking it can be to find the perfect pair; therefore, we went to the market to find a few top options to make your purchase easier. 
Bememo is one of the great brands that have maintained their reputation over time in creating trusted sweatbands. Its tennis apparels and equipment are top of the line, and their outstanding features give it a competitive edge in the market. This wristband, for instance, is one of their products that have gained fame among tennis players. 
It comes in a pack of twelve, measuring about three inches each. You can use two on the same hand for a longer six-inch wristband or wear a pair. The bands may initially seem small, but they are pretty elastic and fit all wrist sizes. Furthermore, this band is available in about six different colors, including red, blue, black, and grey. 
The cotton, nylon, and spandex material that go into construction make it exceptionally soft and comfortable. It is also lightweight, durable, and offers a snug fit. Its sweat absorption ability is superior, as it lets you focus on having a great performance. 
Additionally, the material wicks away excessive moisture without socking up, and it helps that it dries out quickly. This band is surprisingly easy maintenance because it is washable by hand or machine while still retaining its shape, color, and flexibility. Lastly, since it is a pack of twelve bands, you can use them for a long time before making a replacement purchase.
Pros
It is a multipurpose wristband
It is soft and comfortable
It is very affordable and has great quality
Cons
The wristband comes in a limited color range
The Willbond Wrist stands out due to its non-slip features that you would hardly find in most bands. It has a double layer for maximum comfort while on the court, and you can easily machine or hand-wash it.
Secondly, this wristband is your go-to if you need a long wristband, given that it is six inches long, able to support a larger surface, and wipe off more sweat than traditional three-inch wristbands.
Another aspect we love about the band is that you can still use it for other reasons besides being effective for sports. For instance, it comes in handy to apply pressure on injured areas of your hand to keep them intact.
The wrist band is made of small percent nylon, eighty-five percent cotton, and twelve percent spandex for optimal flexibility. All these components work together to give you an exceptionally lightweight, comfortable, and durable model. 
Besides, it is a favorite band that is easy to care for, and you can use it in any high-performance activity to manage profuse sweating. You can try this fabric when playing soccer, cycling, baseball, or working out at the gym.
It offers impressive and reliable cushioning, and you will appreciate that the product packaging has six pairs of bands. Therefore, you will enjoy using them for a long time. 
Pros
The wrist band retains warmth; hence, a viable choice during cold weather
It offers premium breathability
It has a high sweat absorption rate
Cons
It may slip under high pressure as you use it to wipe away sweat
It may not be very effective if you sweat too much
This band is a darling to athletes because it possesses great features that enhance your performance on the court. The Suddora Sweatband is ideal for all exerting activities that make you sweat or those that need a constantly dry grip, like racket sports. The product is available in several hues to choose from, including some non-traditional colors on the tennis court. 
These attractive and super comfortable bands will let you stand out among your counterparts and boost your confidence. A single set has two pieces that measure three and three and a half inches, but there are other bigger options. Although it may seem smaller, it will fit any user thanks to its elasticity. 
The band is flexible enough to help support your wrist and improve your stability, with the added advantage of a great look. This band also integrates the latest tech to make it functional and competitive in the market.
First, it has a moisture-wicking design to keep your hands super dry. The innovation comprises cotton, nylon, and spandex that draws in all the sweat to eliminate dampness and offer a glove-like feel for stability. Secondly, Gritty Endurance optimizes its durability, comfort and maintains its normal shape despite frequent use. 
Pros
It is of Terry material for comfort and sweat management
It comes in over fifteen different colors 
Cons
The sewn-in tags make the wristband a bit uncomfortable
It may start to wear after a few washes
Nike products are known to be top-notch, and this tennis wristband doesn't disappoint. The manufacturers integrate high innovation levels in crafting to create functional bands that go a long way to improve your gaming. Its molding encompasses impressive fabrics for great comfort and superior moisture absorption. 
With this band, you will always be ready to spring into action since you have all the support you need. The fabric is both hand and machine washable, but, fortunately, remains fade-resistant. The product comes in a package with two pieces that you can use as short single pieces or combine two to get a longer, more protective band. 
The material has spandex components to make it flexible and provide a comfortable and snug fit. Moreover, the wrist band easily adapts to your hands; you can easily forget that you have it on.
However, you may take a little while before getting used to it as a first-timer. Some users have confessed their great experiences on the court while wearing Swoosh, and you will likely enjoy your tennis sessions with them. 
Pros
Nike is a famous brand for high-quality products
The wristband is quite attractive and stylish
It is very elastic due to the spandex material
Cons
Some players find it too small
Being in the tennis industry for quite some time now, Under Armour understands a lot about players' needs, especially regarding safety and how to improve gaming. Since they want the best for every tennis player, they always ensure that their equipment puts your interest first. For instance, this wristband focuses on improving your gameplay for better performance. 
It is primarily available in black, grey, and white colors that are neutral to match any player's personality and blend well with different sports outfits. They are also the standard three inches long and come as a single pair. This UA wristband stands out due to its construction material, which is about ninety-six percent polyester and a bit of rubber (elastodiene). 
It also features a multi-channel performance fiber innovation that prevents sweat accumulation from leaving your hands wet at all times. The Under Armour Logo embroidery on the wristband is easily noticeable on a contrasting background, and this option will automatically express your sense of fashion. 
We find it remarkable that the UA has a special technology to immediately wick away sweat because a dry hand and face will allow you to concentrate on your game. Additionally, you won't lose your grip; hence, maintain your stability and challenge your opponents. 
Pros
It makes a great fashion statement.
It has unmatched Multi-channel Performance Fiber technology. 
It is highly absorbent and can replace the use of towels during strenuous exercise.
Cons
The product's durability is questionable
It may drench if you sweat excessively
What To Look for in a Tennis Wristband
A wristband isn't just an accessory but also practical tennis clothing essential for your playing sessions. Therefore, it is a good idea to invest in a high-quality and effective wristband if you want to avoid sweat disruptions on your forehead or palms. Here's what to look for in a tennis wristband.
Brand
There are several brands in the market synonymous with innovative constructions and high-quality tennis wear. Most people would automatically go for famous brands since they usually guarantee the best materials and designs. However, there are still some less-known manufacturers that produce state-of-the-art apparels that you can try out. 
In our choices, we purposely mixed various brand products in the review to include wristbands across all boards to widen your options. However, note that the famous brands may be relatively pricier while the less famous designs may be of lower quality. However, you can still find a great quality product at reasonable pricing, regardless of the brand name.
Design
Every player has a preference regarding what to wear on the tennis court. Luckily, there is a wide range of wristband designs to choose from to cater to all the players' needs. Most of them come in one pair, but some brands sell several at a go for better value. However, don't forget that besides functionality, the aim is also to be stylish. Most brands understand this and embroider their logo at the front to make the users always stand out on the court. Additionally, others go a step further to design custom-made bands such that you can tag them with your name or your preferred words. 
The best part about the quality wristbands is that the manufacturers ensure that they are light, durable, elastic, and have high absorbent properties. They also make them flexible enough to give each user a snug and supportive fit. 
Measurement
The standard wristbands are usually 3 inches and are flexible enough to fit any player's wrist widthwise. The flexible design ensures that both men and women can wear it regardless of their wrist measurement without compromising a snug fit. 
However, there may be slight differences in length according to the brand, but some are double-sized, measuring around 6 inches. The dimension is a matter of choice, but the key is to have a band that offers full support and works effectively to absorb the sweat.
Material
Manufacturers know that the most absorbent materials in the market are cotton, polyester, rubber, nylon, spandex, elastane, or terry cloth. Therefore, before you make a purchase, it is advisable to consider the band's material. The above materials are the best in collecting moisture and dry quickly. 
They are also very comfortable, elastic, lightweight, and easy to clean; hence, low maintenance. We always advise going for a wristband blend of any three high-absorbent materials, especially cotton for maximum absorption and spandex or nylon for more elasticity. 
Benefits of Wearing Wristbands in Tennis
You must have seen pros wearing wristbands on their hands. As it turns out, these accessories can significantly improve your gaming, Read on to understand how.
Sweat Removal
As a tennis player, you tend to overexert yourself on the court because the game requires speed and strength to run across the court to receive the ball, leading to excessive sweating in the process. Biologically, the sweat helps to cool you off, given the vigorous exercise. Although it prevents your body from overheating, it also has adverse effects on your performance. 
Excessive sweat may trickle down from your arms into your palms resulting in the wetness of the grip, which becomes too slippery, affecting your swings in the process. The racket may also keep slipping off, ruining your great scoring chances. Therefore, you need an absorbent band that will form a barrier between your arms and wrist to prevent your palms from getting damp.  
Secondly, players use their wristbands to wipe off excessive sweat from their brows. Since sweat is salty, it is critical to prevent it from running into your eyes because it can be uncomfortable and interfere with your vision. You may need a high-quality wristband with high absorbing properties to keep off the distractive sweat.
Support
Tennis is one of the highest adrenaline sports demanding of your entire body, especially your wrist. The racket is a piece of essential equipment, meaning there are lots of wrists, twists, and turns that strain the sensitive skeletal bones in your hands. Fortunately, wearing a wristband will be the ultimate support you need, and you will notice the stress easing away from your wrists. 
The good news is, the modern-day bands are not just sweat-absorbent but are also purposely thick to offer maximum reinforcement on your wrist. This feature goes a long way to prevent injuries due to excessive wrist bending. Besides, they will be of great help in protecting your hand if you had an injury recently. 
Statement Accessory
Nowadays, professional tennis players use their wristbands to make strong statements about themselves or their positive ideas. You can also find a statement piece that resonates with your personality and style. Several fashionable options are at your disposal, and famous brands have further incorporated stylish materials like silicon in their band construction. 
You can also take advantage of this by buying the most current fashionable gear to make you stand out on the court and radiate your sense of style. Alternatively, you can support your favorite brands by wearing their gears as professional players do. Companies take advantage of the high media attention to ensure that famous players advertise their products. 
It explains why the world's best tennis players always have a famous brand logo on the bands or equipment. Another admirable reason to wear headbands is for awareness causes. If tennis players want to support a charity, they would adorn the band and attract millions to contribute to the noble cause. The best part about using your wristbands as a statement piece is that you get to use a practical piece but still express yourself while you're at it. 
The Verdict
If you need a practical but still stylish wristband, your best bet is the Nike Swoosh Wristband. Other than being a product of a famous sports brand synonymous with high-quality products, it has superior moisture absorption properties, offers your arm the support you need, and keeps your wrists comfortable. Thanks to the spandex material, the wristband is very elastic and provides a snug fit.
However, if you want a longer alternative at 6 inches, you can go for the Willbond 6 Inch Wrist Sweatband with a large surface making it more effective and highly absorbent. It is also practical but with the advantage of being versatile and breathable.