If you are in a hurry and just want to find out what the best tennis vibration dampener is, then we recommend the ADV Max Sorb Tennis Vibration Dampener as the best one.
Today, we are going to introduce you to what we think are the 5 best tennis vibration dampeners.
You've probably seen plenty of pros use dampeners on their racquets, and you may be wondering – what's their benefit? Are they going to make you a better tennis player?
Well, read on to find the answers to all these questions!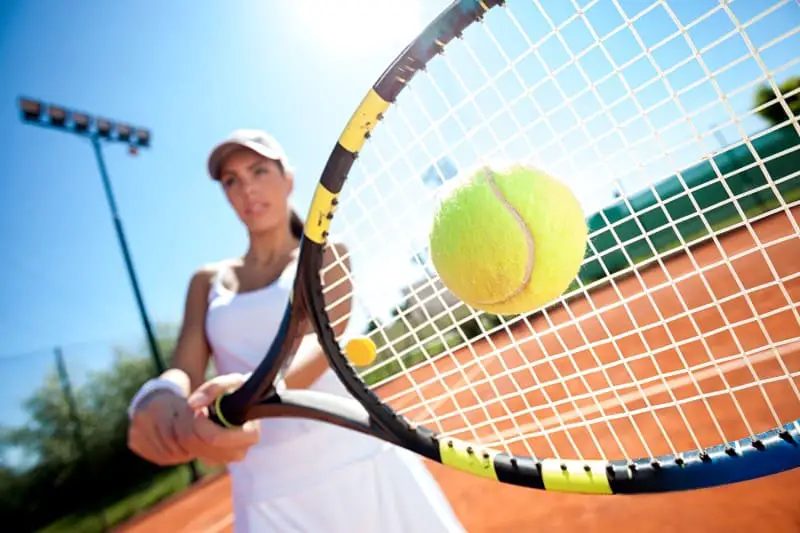 In this article, we're going to review the following tennis vibration dampeners:
What Are Tennis Vibration Dampeners?
The very first tennis vibration dampener was made in 1964 by Rene Lacoste. Called Tanti-Vibration Dampener, its purpose was to reduce the load on the arm when the player stroke the ball and thus also reduce the risk of injury.
But do vibration dampeners actually work – do they really keep your wrists and elbows healthier?
Well, it appears that string dampeners do not actually reduce the amount of vibration transferred from the racquet into the forearm. In other words, they do not offer a measurable benefit when it comes to the reduction of injury risk.
With that said, vibration dampeners affect the feel of the racquet quite significantly. So much so that it may make the racquet more controllable in your hand! However, this will vary from racquet to racquet.
Types Of Racquet Vibration Dampeners
Tennis vibration dampeners are available in two main types:
Button dampeners.
Worm dampeners.
Button dampeners look like oversized buttons, hence their name. As for worm dampeners, they are long and therefore cover more strings. Thanks to their larger size, worm dampeners better absorb shock, although do remember that vibration dampeners generally don't reduce vibrations enough to have a big impact on the long-term health of your joints.
These days, you can find vibration dampeners in various sizes and shapes. There are plenty of classical button and worm dampeners available out there, but manufacturers continually come up with more and more designs to hopefully improve shock absorption.
Where Do You Place Tennis Vibration Dampeners?
You might think that you may place a vibration dampener anywhere on your racquet, but you can and should actually only place them at the very top, bottom, left, or right of the racquet head. There are two reasons for this:
Tennis rules restrict the placement of vibration dampeners on tennis racquets.
You don't want the ball to hit the dampener.
If you are a professional tennis player, then you should definitely follow dampener placement rules. Rule 4 of the ITF rulebook does allow dampeners, but they may only be placed outside the pattern of crossed strings. So basically, dampeners are only allowed at the very edges of the tennis head.
Even if you're not a professional tennis player, you still shouldn't place your dampeners in the center of the racquet. You want to keep the sweet spot of your tennis racquet unobstructed so that you can make accurate shots.
How Many Vibration Dampeners Can You Use?
There is no limit to how many dampeners you may stick to your racquet. As far as rules go, you are free to do anything you want as long as there are no dampeners on the crossed strings.
With that said, tennis players rarely attach more than one dampener to their racquets – there seem to be no benefits to that. If you keep adding dampeners, you'll more likely make your racquet excessively heavy rather than see a meaningful difference in how the racquet feels.
Plus, if you want to get a bunch of dampeners, you'll have to dig deeper into your pocket.
With that in mind, just get one dampener and see how it works for you.
Do Vibration Dampeners Reduce Power?
Most dampeners are too small to have any impact on the amount of power your tennis racquet can produce. If dampeners noticeably reduced power, they would also reduce the amount of vibration transferred to the arm, which is known not to be the case.
So don't worry, your racquet won't start making weaker shots once you put a dampener on it.
If you are looking to purchase a dampener specifically to weaken your racquet, then you won't get the effect that you expect. Instead, you should just get yourself a lighter racquet that is head-light or balanced.
Should You Get A Tennis Vibration Dampener?
If you don't like how your racquet feels upon impact with the ball, then a vibration dampener may be worth a shot. A vibration dampener should make your racquet sound quieter, which some people like, and some don't.
But if you're expecting to reduce the risk of tennis elbow or treat an existing condition, you may be disappointed.
If you are actually looking to reduce the amount of shock that goes into your arm when striking the ball, then look for racquets with high flex.
Some people may also look for a tennis vibration dampener to become better at the game, but a dampener won't necessarily turn you into a tennis superstar.
Plenty of tennis stars like Rafael Nadal use a tennis dampener, while others like Roger Federer or Serena Williams do not. So tennis dampeners certainly aren't a key to success in this sport. So whether or not to put a vibration dampener on your tennis racquet depends on how you want your racquet to feel.
5 Best Tennis Vibration Dampeners Reviewed
Up first on our list, we have the ADV Max Sorb tennis vibration dampener 3-pack. ADV actually offers several types of vibration dampeners, with the Max Sorb being the largest and most shock-absorbing option.
If you want to better retain the current feel of your racquet, then there also Sorb and Touch versions available. These cover 4 and 2 strings respectively, while Max Sorb is designed to cover 6 strings.
All ADV dampeners are advertised to reduce tennis elbow and prevent injury, but as research shows, the impact of dampeners is negligible.
ADV tennis vibration dampeners have quite a unique design – they are comprised of two halves that interlock with each other to ensure tight attachment to the strings. These dampeners tend not to come off the strings once placed, which is super-nice.
Made of heavy-duty resin and silicone, the ADV dampeners are quite tough as well and should serve you long. But they are also quite expensive, which may be a dealbreaker for some people. Though you are getting 3 dampeners.
What's also nice about ADV dampeners is that they are available in many colors. But when choosing colors, make sure that you are picking the right style of dampener.
Pros:
Should deliver a more noticeable effect thanks to its large size.
Includes 3 dampeners.
Attaches to the strings very firmly.
Cons:
The emoji tennis dampeners from Tennis USA are an excellent choice for Star Wars fans. These dampeners are particularly great as a gift too!
A single pack of these emoji tennis dampeners includes dampeners in the style of Darth Vader's and a stormtrooper's head. The dampeners feature high-quality detail, look super-cute, and will make you stand out on the court.
And by the way, don't worry about the stormtrooper dampener – it won't make you miss every single ball during the game!
The quality of the Tennis USA emoji dampeners is really high as well, but this is reflected in the price – the dampeners are pretty expensive.
When it comes to performance, the emoji tennis dampeners are made of silicone and should absorb impact reasonably well. Like other tennis dampeners, they probably won't reduce the risk of tennis elbow, but they will make the racquet feel different.
Pros:
Star Wars-themed look.
Pretty high quality.
Cons:
The Vibra tennis racquet vibration dampeners are one of those worm dampeners we've talked about in our guide before the reviews. As such, they cover more strings – 5 to 6, to be more precise. This should allow for better dampening of sound and feel, but again, don't expect benefits when it comes to tennis elbow or injuries.
Vibra vibration dampeners are inexpensive too, and one pack includes 6 worm dampeners. These dampeners offer pretty good value for their price, although the low price is reflected in flimsiness and potentially lower longevity than more expensive tennis dampeners.
The Vibra dampeners are easy to install on the strings – you just need to tuck them between your racquet strings. These dampeners probably won't hold onto the strings as well as the ADV Max Sorb dampener we reviewed at the very beginning, but they should be fine.
In the end, if you want tennis vibration dampeners that offer hassle-free installation, perhaps the Vibra dampeners are a good buy. Just remember that their quality is on the lower end.
Pros:
Cover 5 to 6 strings.
Includes 6 vibration dampeners.
Pretty good value for the money.
Cons:
The Babolat vibration dampeners are interesting in that they are somewhat customizable to allow you to personalize the feel of your racquet. You may add a steel ball capsule to the washer to dampen vibrations even more. The removable capsule is a pretty neat idea, and the Babolat dampeners may work for many people precisely thanks to it.
Also, the Babolat Custom Damp dampeners are used by Rafael Nadal, which may be a good reason for some of you to buy them.
There is one issue with these dampeners though – they are more difficult to install than other dampeners on this list. They tend to fall off as well if not attached to the strings properly.
Pros:
Customizable.
Includes two dampeners.
Cons:
Tends to fall off the racquet.
Finally, we have this cute 10-pack from BusyBee. The kit includes 10 brightly-colored vibration dampeners with fun quotes like "Smash It!" or "Trust In Yourself". The BusyBee dampener 10-pack makes for a great gift for children or tennis junkies.
This 10-pack is very affordable as well, so you are getting plenty of value for the money.
When it comes to actual performance, we'd expect these dampeners to perform worse than our previous picks. They are pretty small and also cheaper, but they should work if you only want to slightly dampen shock in your tennis racquet.
BusyBee offers 100% refunds for unsatisfied buyers, so you could return this kit if you don't like it.
Also, these dampeners sit pretty snugly against the strings, so they should not fall out during practice.
Pros:
Really inexpensive.
Have fun and cute quotes.
Great for a gift.
Includes 10 dampeners.
Cons:
Nothing to complain about.
Final Words
In the end, make sure that you understand what you are shopping for. Tennis vibration dampeners may not help you with tennis elbow, but they may make your racquet's feel more pleasant, and they may increase the amount of control you have over the racquet.
Anyway, in our opinion, the very best tennis vibration dampener on our list is the ADV Max Sorb Tennis Vibration Dampener. This dampener covers a whopping 6 strings, is durable, and sits very tightly against the strings. You will probably struggle to find anything better than this.
If you are new to the world of dampeners, then maybe try the Vibra Worm Tennis Racquet Vibration Dampener Pack. This pack is inexpensive and allows you to get started with dampeners at a low cost.
If you are looking for dampeners as a gift, then strongly consider the BusyBee Tennis Vibration Dampener 10-Pack. The BusyBee dampeners are cute and are a particularly good choice for children. You could purchase them for personal use too!
The Tennis USA Emoji Tennis Dampener 2-pack is great for a gift as well, but it is are pricier than the BusyBee dampeners and has higher quality.
Finally, Rafael Nadal fans and players who want to have more control over the feel of their racquets should consider the Babolat Custom Damp Vibration Dampener. This dampener is customizable and thus should allow you to adapt your racquet to your needs and preferences.