If you are in a hurry and just want to find out what the best tennis trainer rebounder is, then we recommend the Tourna Fill & Drill Tennis Trainer as the best one.
If we want to excel at sports then we need to be ready to put in the work necessary. Tennis is fun but if we want to be the best at it then we need to practice, practice, and practice. Here are some of the best tennis trainer rebounders that can help you achieve your goals.
Here are some of the best tennis trainer rebounders in the market today.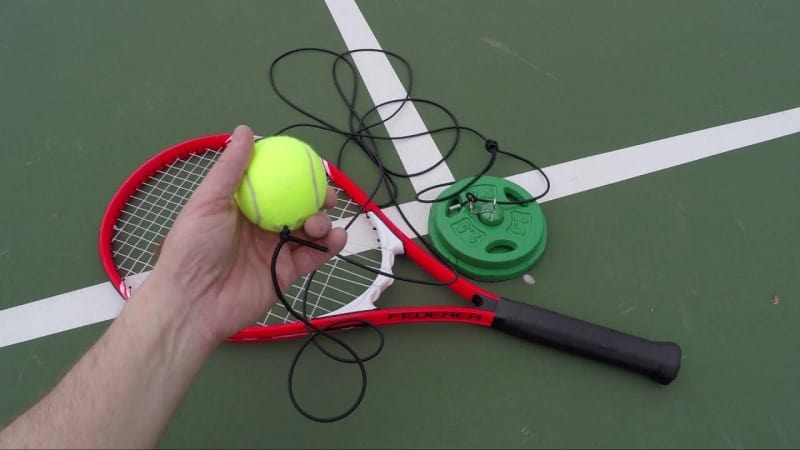 5 Best Tennis Trainer Rebounder Product Reviews
1. Tourna Fill & Drill Tennis Trainer – Best Overall
Let's start our best tennis trainer rebounder review with none other than the Tourna Fill & Drill Tennis Trainer. This product is my favorite one not really because of its innovativeness but because of its simplicity yet effectiveness.
This tennis trainer rebounder ball is the very definition of a portable training aid that any tennis player from all skill levels would definitely benefit from. You can initiate instant practice sessions practically anywhere with this trainer.
Just fill it up with water or sand and with its non-skid pads at its bottom you can then practice anytime and anywhere. It's very stable and no matter how strong you hit the ball, due to its cord, the ball will just bounce right back to you giving you the fundamentals training you need day in and day out.
Take note that the harder you hit with this trainer the faster the ball comes right back. The cord may be 15 ft. long but it will stretch up to 30 ft. accommodating your hard hits. You can just easily wrap the cord around the base if you want to shorten the rebound depending on what you are trying to achieve.
Perfect for training anywhere, portable, and lightweight. And most of all, very affordable.
Pros
Relatively durable for the price
Convenient and fast set up training
Indoor and outdoor use
You get to practice all tennis skills necessary
Set up anywhere and fast
Cons
There's a bit of a learning curve to fully take advantage of it
2. Deuce Tennis Trainer Rebounder Ball
There are tons of tennis trainer rebounder balls in the market and to be honest, they are all alike with probably very little difference. But if you're going to invest in another rebounder ball then go for the Deuce Tennis Trainer Rebounder.
Why did we then choose to review this one over boatloads of rebounder balls? Well, for one, this trainer looks really cool. Kidding aside, if the previous rebounder ball we reviewed looks too cheap or not that durable for you and you have a few bucks to spare then go with this one.
This is guaranteed to be a sturdier and more stable version of the two. It's got an innovative design that's not all for show but also to accommodate your training. It's a lot stable partly due to its better grip on the ground.
It's easy to use and no matter what type of ground it is on, it will stay down. It also comes with 2 balls and 2 strong rubber elastic cords that's why it stands out above the crowd. It's got dual swivel connectors to boot.  
Its stability is key for you to practice without any delay nor hassle with your fundamentals and consistency.
Pros
Great value for money
Cool looking design
Durable and versatile
Stays on the ground no matter what
Good quality cord
Cons
The balls are pretty inferior in terms of quality
3. Billie Jean King's Eye Coach
We could've just opted to review another rebounder ball but as mentioned above, they are all alike so while not really a cord and ball setup, this one is one of the most effective tennis trainers in the market today. We're talking about Billie Jean King's Eye Coach.
This particular trainer is perfect for players from all skill levels, kids, teens, adults, and pros alike. It's actually recommended by tennis pros if you want to improve your skills and fast.
The contraption sways back and forth and you may practice 17 different shots with it. It's highly adjustable to accommodate your needs. Practice all skills necessary with it. All you need is a little bit of space and 5 minutes to set it up.
You can carry it around easily and you can practice anytime and anywhere. With only 5 minutes of drills with it, you can improve your skills significantly plus you can get 7 times more repetition with it compared to on-court practices.
It's made with durable materials to boot.
Pros
Convenient and versatile
Needs very little space to operate
Easy to setup
Components last a long time
Can help you hone all skills necessary
Cons
4. Rukket Tennis Practice Rebounder Net
Let's jump into the tennis trainer rebounder nets this time around and start with the Rukket Tennis Practice Rebounder Net for our last couple of product reviews.
This rebounder net is so much fun and won't take up a lot of space, plus it's one of the most affordable out there that guarantees durable materials. It's perfect for practicing your focus and repetition of your strokes to hone your fundamentals.
It weighs only 19 pounds, it's easy to carry around, and the materials used are top quality meant to give you hassle-free training and a long-lasting rebounder net.
It's got an adjustable angle to ensure that you'll get the bounce that you'll need for your training.
Pros
Versatile and functional design
Can accommodate all the skills and shots you want to develop
Durable
Good value for money
Easy to set up and won't take up much space
Cons
5. RapidFire Mega Tennis Rebounder
The last entry on our best tennis trainer rebounder review is none other than the popular RapidFire Mega Tennis Rebounder.
Definitely one of the most sought-after rebounder nets in the market today, if you need intense training on your own and if you have a few bucks to spare then this should be perfect for you.
To us, this is the ultimate training rebounder net out there and it will help you hone a lot of strokes and essential tennis skills. It offers perfect rebounds with its 2mm knotless polyethylene and 28mm mesh.
The frame is made out of galvanized steel and is guaranteed to last a long time worthy of your investment. It's got a black powder coating to boot to protect it from all sorts of elements so you can use it outdoors anytime and anywhere.
If you have the space to spare then this is the right choice for you.
Pros
Guaranteed durable frame and net
Looks stylish and you can bring it anywhere
Great value for money
Meant for intense training even for the pros
Highly adjustable angle and stable
Cons
You'll really need space for it
Things You Should Know About Tennis Trainer Rebounders
What we need to know first when it comes to tennis trainer rebounders is that there are two main types of it. You have the tennis trainer rebounder ball and then the tennis trainer rebounder net.
Many reviews or online sources don't clearly mention this distinction leaving a lot of readers confused. Rest assured that in this article, we reviewed products from both types so you'll have enough options whether which fits best your situation, skills, and training needs.
A tennis trainer rebounder is basically a training device with a heavy bottom that can stay on the ground by any means necessary and will have a cord attached to it for the dangling ball. The heavy bottom usually has a container-like design that can be filled up with liquid for it to have enough weight to stay on the ground. It will also most likely have an EVA layer attached on its bottom to further let it stay down and won't move as you practice.
It's either concrete for weight or as mentioned, filled with water or sand. They are quite affordable and you'll have tons of options to choose from. Some models will have more than one cord or balls attached to them for more efficient training. And, they are very simple to utilize and can teach you or let you hone the fundamentals of tennis really fast and on your own.
On the other hand, a tennis trainer rebounder net or backboard is pretty straightforward and also quite perfect for training all by yourself as well. They might require more space than the tennis trainer rebounder ball but it will be worth it.
They can also be more expensive but anything that helps you early on to practice your strokes, fundamentals, and develops consistency should be worth the investment. This is perfect if you don't have any partner or coach to work with and most of all, these types of rebounders are what professionals use as well.
Benefits of Using a Tennis Trainer Rebounder
Not everyone can afford a coach or be in a practice facility at all times. Heck, not everyone can afford or have access to tennis courts all the time. Good thing tennis trainer rebounders were invented, here are a few other benefits it can bring to you and your game.
Easy Setup and Versatility
There's practically no setup needed for either a tennis trainer rebounder ball or net. If any, there's just a bit of a learning curve to learn how to properly utilize them but that's nothing a little bit of online tutorial can help you with.
As mentioned, you usually just need to fill up the base of a rebounder ball with sand or water and then tie the cord accordingly to it and the other end to the tennis ball. Then you may practice your swing for as long as you like.
The net or backboard would require you to set it up in your backyard or any open space. But smaller nets can be used in the driveway.
They are also quite versatile as most of the time the materials used to manufacture these rebounders can handle the elements indoors and outdoors. Rough flooring, wet, or dry, you don't need to worry about damaging them anytime soon. Just be sure to buy trusted products so you can rely on them to last a long time.
Improve your skills fast
These trainer rebounders are very effective in assisting players in improving their fundamentals. It's the perfect way to train by yourself with or without a coach. You don't need to go to a training facility for it. You can use it anywhere.
Hand-eye coordination, keeping your gaze on the ball, and consistency in your strokes are just a few skills that you can train with these rebounders. All you need to put in is hard work, time, and dedication.
Practical
You don't need to pay a coach or mentor to start practicing with a tennis trainer rebounder. The rebounder ball is very affordable and the net/backboard is a long-term investment. It's a win-win situation no matter what.
You don't need to travel so no transportation expenses, you just need to set it up in your backyard maybe. Alone? No worries, the trainer rebounder can help you out.
They are also really easy to carry around and transport. So if you do need to bring them to a park or tennis court, they won't be a hassle. Again, all you need is some patience and you'll hone your skills in no time.
Read more: How To Practice Tennis At Home Alone
Final Thoughts
Tennis trainer rebounders are perfect practice tools for players at any skill level. Whether you are an amateur or pro, you need all the right tools to help you get to your desired destination.
We listed only reliable, tried, and tested products so you may get the most out of your money. Tennis is fun but we're not playing around here if you know what we mean.
For myself, my favorite one is Tourna Fill & Drill Tennis Trainer. It is perfect for training anywhere, portable, and lightweight. And most of all, very affordable.
So always keep in mind to buy the right tools for your development, invest when necessary, and of course, don't forget to enjoy the sport that you love. Once again, practice is key with every endeavor. Stay active and have a blast!