If you are in a hurry and just want to find out what the best tennis sunglasses are, then we recommend the NIKE Skylon Ace P Sunglasses as the best one.
Tennis is a versatile sport that can be played both indoors and outdoors. Given that the players' reflexes and hand eye coordination are paramount on taking the advantage on any given game, different gears are necessary to set yourself up for success.
Sunglasses are extremely valuable, so here's our guide for the best tennis sunglasses for you to choose from.
We're going to include the following tennis sunglasses reviews: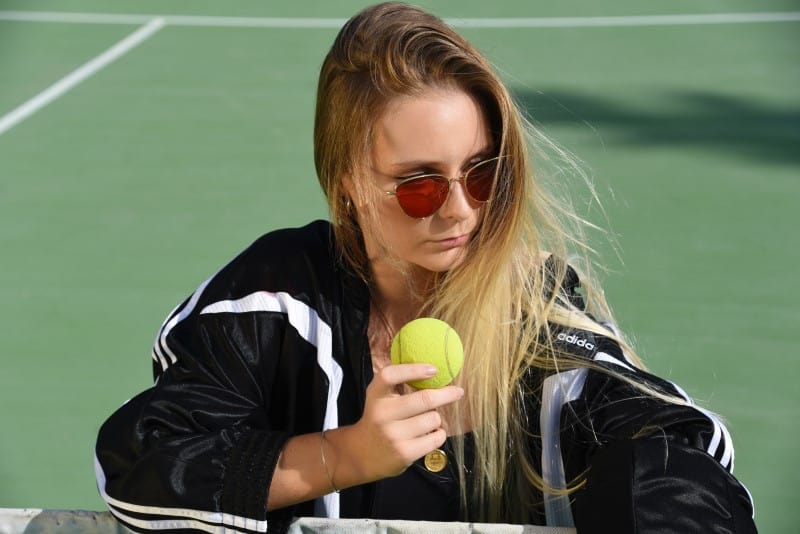 Buyer's Guide (Know what to look out for)
Tennis Sunglasses FRAME
Fit, Grip, and Comfort

Needless to say your tennis sunglasses should fit you perfectly, given how active you can get when the game is in progress. It's important that the sunglasses has good grip and won't slip and be a distraction and at the same time is not too tight to give you good ventilation, some sunglasses can literally give you headaches.
Purchase something that's easy on your temple, nose, and ears and something that still works perfectly for you even if you're full of sweat.
Semi-rimless frame can be a good option as it provides the protection needed but at the same time is comfortable to wear.
Material

Nylon

Extremely flexible and resistant to changes in the temperature

Metal

Common material for sunglasses, corrosion resistant and should be adjustable.

Polycarbonate

Tough material used for lenses too. Should be durable and flexible.

Titanium

Expensive but highly durable, scratch resistant and premium quality.

Acetate

Lightweight, stronger and more flexible than your standard plastic material.
Tennis Sunglasses LENS
Size

First thing we need to consider about the lens is its size. This simply refers to the length and the width of your sunglasses lens, the larger it is the more coverage it gives maximizing the various protection it provides.

Base Wrap

The base wrap is also very important as the higher the base wrap the uninterrupted your vision is leading to a higher level of performance during a match.

Contrast enhancement

There are high quality sunglasses that works very well on specific light conditions. Contrast enhancement will bring the needed depth to color and will highlight texture differences.

Polarized lens

Polarized lenses are designed to eliminate glare. Technically it works by only allowing vertically oriented light to pass through using a laminated filter. It's a great way to protect your eyes from bright lights or the sun.

Transition Lens

Transition lenses are perfect for varying light conditions. Simply put as more UV rays hit the lens it darkens, the lesser it lightens.

Material

Optical Glass

Scratch resistant, polished lenses that assures distortion free vision and very durable.

Polycarbonate

Anti-fog, shock resistant, scratch resistant, and offers high level of clarity even the most intense games. This type of sunglasses are perfect not just for tennis but for any sport.

NXT Polyurethane

A somewhat hybrid of the optical lens and the polycarbonate type. Offers superior clarity, high level impact resistance and lightweight. Can be a bit pricey though.

Acrylic

The cheaper choice, not as durable and long lasting.]
Lastly, the best tennis sunglasses should be very durable, you don't want to have any face injury because of a pair breaking when hit. Or you don't want to keep on buying new ones, these can get pricey.
Why should I use tennis sunglasses?
UV protection
This alone should be more than enough for you to consider purchasing a good tennis sunglasses. The sun's radiation can be nasty harmful and we definitely need protection from it, especially when as an athlete you soak in its bright lights for a long period of time.
UV can cause eye and skin problems and even cancer so getting the right protection should be imperative.
Better clarity of vision
Glare and all sorts of distractions can get to you and as you need to have full concentration during games you need to avoid these as much as possible. With light adjustments and additional shields from optical distractions during gameplay, a good pair of sunglasses will give you the edge.
Debris
Your sunglasses should also serve as valuable protection for your eyes against any elements that it might come in contact with. May it be dust, dirt, moisture, a good pair of sunglasses should be able to fend them off.
Correction lenses
More than just used for sports or tennis a good pair of sunglasses should be able to help you just see clearly and better at any time. There are a lot of people suffering from maybe color blindness or poor vision or light sensitivity that greatly benefits from a good pair of glasses.
You should be able to enjoy the sport you love while experiencing comfort and ease.
And lastly, here's a video explaining how wearing sunglasses, in general, can be beneficial to all of us:
Best Tennis Sunglasses Review
Key Features:
Polycarbonate flexible frames
Oakley Plutonite lenses
100% UV protection filtering (UVA, UVB, UVC, Blue light) of up to 400mm
Patented (HDO) High Definition Optics
O Matter frame
Unobtanium ear socks and ear pads
Interchangeable lens
Made in the USA
Equipped with Oakley's signature lenses the Oakley Men's OO9154 Half Jacket 2.0 XL is of superior quality. Lightweight, comfortable, and provides super clarity, extra sharp vision in all angles.
It is super durable, strengthened and flexible, making it comfortable to wear all day and will last you for a very long time. Ear socks and Ear pads have great grip and are comfortable even when sweating. The interchangeable lens feature is definitely going to make this pair very versatile and great for any condition.
Has 8.75 base lens geometry with HDO and comes in polarized, Iridium, and photochromic options to choose from.
Oakley as we all know is a giant in this market and is a well-known great quality manufacturer of sunglasses, especially in sports.
Pros:
The best quality for polarized lenses available
Very durable, long lasting, and low maintenance
Versatile, great for any condition
Overall high quality sunglasses
Maximum UV protection
Cons:
Polarization has room for improvement in spite of how it is advertised
Not well suited for people wide wider faces
Key Features:
Signature UA storm repellant coat
ANSI Z87 plus rated
Under Armour AutoGrip technology
Multi-position nose pad
Anatomical Fit
Gray, Gray Polarized, and Blue mirror lenses
Filter Category: 3
Visual light transmittance of 12% – 16%
100% UVA, UVB, UVC Protection
Under Armour is well known for tough and durable products and their Under Armour Igniter 2.0 sunglasses is no different. Provides high protection from this model is the perfect choice for an athlete, an outdoorsman or even just for the fashionista in you.

Trusted for eye protection and tough built for rough abuse. Gives assured high clarity of optimum performance and cuts through glare like a boss.
Pros:
Superb glare reduction
100% UV protection
Durable and sturdy
Great quality frame
Lightweight and comfortable to wear
Cons:
A little bit improvement needs to be done on the nose pads
Key Features:
Acetate
Maui Jim Sunglasses Polarized plus 2 lens technology
Polycarbonate lens
Dimensions at 64 mm width, 39 mm height, 17 mm bridge length, 130 mm temple length
Clearshell scratch coating
12% – 16 % light transmission varying per lens available
Maui Jim Sunglasses Ho'okipa B407 takes pride in its Polarized plus 2 lens technology which blocks glare from all angles and provides superb UV Protection. Assures crisp optics for intense sports activities especially tennis.
Manages blue light too and boost unmatched color and contrast. Lens are also superbly scratch resistant. Each type of lens available for the Maui Jim Sunglasses Ho'okipa B407 is suited for different situations and should benefit you greatly.
No direct or bright sunlight can stop you. Pretty comfortable wear and a really great brand. Plus Maui Jim was just awarded the Skin Cancer Foundation Seal of Recommendation because of its very effective UV filter.
These sunglasses are perfect for tennis and anyone into an active lifestyle. You won't be wanting for anything more. It's an overall great buy.
Pros
Slick design, beautiful lens color
Very stylish
Comfort at its finest
Sturdy and highly durable
Cons
A bit pricey
Bit flimsy look compared to competitors
Key Features:
Plastic
Oakley Plutonite lenses
100% UV protection filtering (UVA, UVB, UVC, Blue light) of up to 400mm
Patented (HDO) High Definition Optics
O Matter frame
Unobtanium ear socks and ear pads
Interchangeable lens
Soft Vault sunglass case
Another great product from a great company, what else can we say about Oakley's superb line of sunglasses? Not a lot of complaints about it for sure. The Oakley Men's OO9290 Jawbreaker Shield Sunglasses is one superb sports sunglasses.
It's slick and stylish design is just awesome. Paired with Oakley's patented technology to provide maximum protection to your eyes. You can't go wrong with this one.
Mean looking, super durable pair that is worn by athletes worldwide and across all sports that are required or allowed eyewear. The Oakley Men's OO9290 Jawbreaker Shield Sunglasses secures your face and has a very nice grip and fit for you to wear it all day and through intense competitions.
Pros
Extremely scratch resistant
Light weight
100% UV protection
Monster design
Quality and trusted brand
Cons
Slightly pricey but is definitely worth the investment
Key Features:
Polarized
Prescription ready lenses (rx-able)
Max optics
Lightweight and durable frame
Rubber nose bridge is ventilated and will provide fog reduction
Interchangeable lenses
100% UV protection
If you think you can count out Nike for sports gears then think again. The NIKE Skylon Ace P Sunglasses is a top of the line, very stylish and durable sports sunglasses. Perfect for people with active lifestyles and athletes alike.
Designed for great coverage and stability plus comfort the lightweight sports wrap frame is perfect for golf, running, cycling, and of course tennis. It has a secure wrap temple arms and the nose bridge is designed for ventilation making it ideal for that day long activities in the outdoors or intense competitions.
Nike's patented optics technology will surely give you consistent crisp vision and clear images from any angle. The polarized lenses are also a heaven sent as they give you great peripheral vision perfect for playing sports.
Pros
Great stylish and slick design
Tried and tested brand and line of products
Very comfortable, ventilated nose bridge
Superb clarity and coverage of vision
Comfortable wear
Cons
Frame is not the best quality
In Conclusion:
Choosing only the best tennis sunglasses should go a long way for anyone's career. Not only for tennis players but for anyone involved in sports. Our eyes are priceless and our vision should be valued and not be taken for granted. So if you can, go get the best protection for it.
Every day there's a lot of things that may harm or infect it and if you're already suffering from any condition this article should be able to help you decide on what you badly needed. As a tennis player, you put your heart and soul in training to be the best in what you do. Go risk everything in competitions to achieve what may seem impossible. So going the extra mile in protecting your vision should not be considered a luxury.
UV rays, glares, distractions can cost you the game or your career, so especially when playing outdoors equip yourselves with what is necessary sunglasses are simple yet very effective gears that will take you to another level.
There's a lot of brands to choose from, each equipped with its own innovation, and you just need to find what's best suited for your style and needs.
My favorite is NIKE Skylon Ace Sunglasses, which is very cost-effective and also very suitable for tennis.
In addition to sunglasses, you also need to bring some necessary things when you play tennis, check out our checklist here.
Once again, stay safe and keep on working hard for your game.