If you are in a hurry and just want to find out what the best tennis racquets cover is, then we recommend the adidas Men's Club 3-Stripes Tennis Shorts as the best one.
Today, we are going to help you choose the best tennis shorts for your next game!
In general, tennis apparel is easy to neglect. If you've got a good racket, then why splurge money on shorts, right?
Not so fast –seemingly small things such as shorts can make or break your game. To help you at the short front at least, we'll showcase 5 great tennis shorts below and give you a few tips on choosing the best shorts.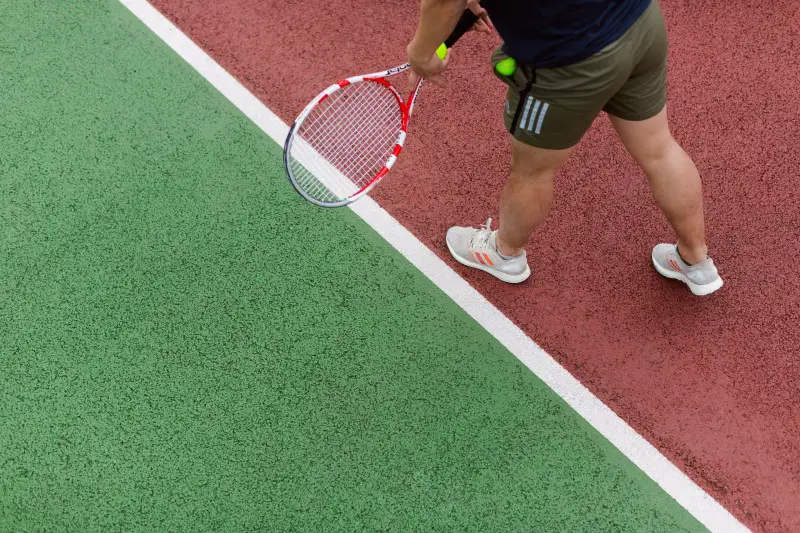 In this article, we're going to review the following tennis racquets covers:
How To Choose The Best Tennis Shorts
Tennis shorts may seem less important than a tennis racket, but you should be no less considerate over tennis apparel than equipment.
With that, let's have a brief look at a few important things to pay attention to when shopping for shorts.
Fabric & Construction
Tennis shorts are usually made of polyester, so there is really nothing to look for here. Polyester is tough, light, dries fast, and doesn't wrinkle. Unless you have some very specific demands, polyester should be completely fine for you.
With that said, you should still consider the overall construction of the shorts.
First up, although tennis shorts are usually made of polyester, they may also contain some amount of spandex (also called Lycra or elastane) for added stretchiness. The more spandex shorts contain, the more stretchy they are.
Most people probably shouldn't worry about stretchiness too much, but it may be better to have overly stretchy shorts than shorts that don't stretch at all. More stretchy shorts will allow you to stay more mobile on the court.
Another thing to consider is the features that shorts have. Among a few good features to look for are:
Moisture-wicking fabric. Tennis shorts with moisture-wicking fabric are really comfortable because they keep you dry by moving sweat away from the skin. We'd say that moisture wicking is one of the best things you can have in tennis shorts, and you should definitely invest in this feature if you can.
Vents on the sides. Some tennis shorts have vents on the sides or elsewhere to keep you cool. Shorts generally are very good at circulating air around the legs, but if you want as much breathability as possible, then getting shorts with mesh vents is a very good idea.
Pockets. Most tennis shorts have pockets that you may use for tennis balls or other small items. Tennis coaches should choose shorts with deeper pockets so that they can hold more balls with them. As for players, pocket depth may not matter as much.
Quality And Durability
When shopping for tennis apparel, you will see tennis shorts at very different price points. Price reflects quality – the higher the quality, the more you will have to pay.
Now, it's up to you how much you should invest in tennis shorts. This will depend on your expectations and budget. But no matter at which price point you are shopping, you should try to get the best quality.
When shopping online, there unfortunately is no way for you to assess the quality of apparel before actually receiving it. You will need to read the reviews of others and also take price as a guide to hopefully get something that offers good quality for the money.
If you go looking for tennis shorts in a local store, then things are much easier – you get to feel the shorts first-hand.
Length
Tennis players typically wear shorts that are above the knees. Such a short length allows you to stay more mobile on the court.
You could go for below-knee shorts, but we think that these would not be optimal for your mobility during the game.
Short length is measured via inseam length, which is the distance between the crotch and the edge of the short on the inner side of the leg. Tennis shorts typically have an inseam length of 8.5 inches, though you could also go shorter if you want. But generally, you should go no longer than 9 inches.
Keep in mind that you'll need to choose the correct tennis short size to ensure that your shorts are above your knees. If you pick a size that's too huge for you, then the shorts may end up below your knees.
Fit
Your tennis shorts should be loose-fitting to allow for greater mobility. Don't go for shorts that fit tightly against your skin – these will annoy the hell out of you on the court and may even rip when you rush for the ball.
Style
Finally, style can be quite important to consider as well. Though we'd suggest that you not pick shorts based on their design alone, style should not be neglected.
If you think that your shorts look awful, you probably will lack confidence in the court. Given that tennis games can be attended by hundreds of people, it's crucial that you feel well about yourself. Skill is a big factor in tennis, but if you are not confident, your hours of practice may not be able to cover you.
Read more about What To Wear To Play Tennis? (A guide to fashion and function).
5 Best Tennis Shorts Reviewed
The adidas Men's Club 3-Stripes shorts are some of the lightest tennis shorts you can find out there. The polyester fabric here is really thin and light, so the shorts shouldn't affect your mobility on the court in any way.
A potential downside of the thinness of these shorts is that they are see-through. Some people may not be comfortable with this, but a base layer will solve this issue easily.
Aside from the lightness, what's also nice about these tennis shorts is that they have ventilated inserts on the back yoke and inner leg areas. Any kind of shorts will keep you cool anyway, but if you want maximum breathability, the 3-Stripes shorts may be excellent for you.
adidas claims that these shorts are made with recycled polyester as well, which may matter to those of you who are environmentally-conscious. The shorts are 100% polyester too and have little to no stretch.
The quality of the adidas 3-Stripes shorts is overall very good too. adidas also offers several color options and styles to choose from, which is really nice.
Pros:
Very light.
Ventilated inserts on the inner leg and the yoke.
Made with recycled polyester, which might matter to environmentally-conscious people.
Multiple colors and styles available.
Good quality.
Cons:
The fabric is so thin that it's see-through.
These adidas tennis shorts seem to be thicker than the previous ones, so they aren't as see-through. Aside from that, what's super-nice about this piece of tennis apparel is that it features sweat-wicking fabric on the inside to keep you dry and comfortable during the game.
The fabric here is ripstop polyester too, so it should not rip no matter how abrupt your movements are on the court. The polyester in these shorts is again claimed to be recycled, so they should be environment-friendly too.
And all in all, the quality in these shorts seems to be a little better than in the previous adidas shorts. But unlike the 3-Stripes shorts, these shorts don't have vents in them, so they aren't going to be as cool and breathable.
Also, note that these shorts seem to run small – you may want to go a size larger. Shorts aren't supposed to fit you tightly anyway, so you should be safe even with a slightly larger size.
Pros:
Sweat-wicking fabric.
Made with recycled polyester.
Ripstop fabric.
Great quality.
Cons:
The ASICS Men's Centerline Shorts are great if you want added mobility. With an inseam length of 8 inches, these shorts are shorter than other picks on our list. This shortness allows the shorts to keep you mobile on the tennis court.
Aside from that, the ASICS shorts feature side vents for added breathability. The fabric here doesn't seem to be moisture-wicking, but the shorts should keep you comfy nonetheless.
What's also nice about the ASICS tennis shorts is that they are more stretchy than previous picks. This is thanks to the 11% spandex content in the shorts. The remaining 89% is polyester.
We like the clean look of the ASICS shorts as well, though some people may think that they are too unremarkable. But there are 5 colors to choose from to spice up things.
The ASICS tennis shorts are fairly inexpensive as well, though some color options are more expensive than others.
Pros:
Rather inexpensive.
Stretchy.
Side vents for breathability.
Short inseam length.
Several color options.
Cons:
The Nike 11-inch Woven Men's Tennis Shorts are a great choice for those players who want longer shorts. With their 11-inch inseam, these shorts may be too long for some people, limiting their mobility. But for some tennis players (especially those with long femurs), they will be just fine.
The inseam length aside, what's also interesting about the Nike 11-inch tennis shorts is that they have a zippered pocket on the side. This pocket should work nicely if you want to keep small items on you.
To keep you comfortable, these Nike tennis shorts feature moisture-wicking Dri-FIT polyester as well. The shorts are designed to keep you cool too, though they aren't the most breathable out there.
Our main complaint with these tennis shorts is that they are only available in one color – black. Though you might be able to find other options too if you look around.
Pros:
Moisture-wicking Dri-FIT polyester.
Excellent quality.
Zippered side pocket.
Cons:
The 11-inch inseam may seem too long for some people.
Only one color option – black.
Finally, we have the HEAT.RDY shorts from adidas. These are inexpensive yet rather comfy tennis shorts.
The highlight of these shorts is the HEAT.RDY fabric that is designed to wick away moisture from the skin and keep you cool. These tennis shorts are just one of the many products in the HEAT.RDY collection – you may want to check it out for T-shirts, footwear, and not only.
Another thing that's remarkable about the HEAT.RDY tennis shorts is that they have a drawcord, allowing you to more flexibly adjust the fit. This is a very nice feature to have in tennis shorts, especially if you aren't sure about sizing.
The HEAT.RDY tennis shorts are rather inexpensive as well, so they are great for those who are shopping on a budget. Although do keep in mind that the quality and durability in these tennis shorts may be lower than in more expensive adidas shorts.
adidas offers 3 color options too, but they are kind of boring. We'd like to see more flashy colors. Black is nice, but not everybody is going to like it.
Pros:
Rather inexpensive.
Drawcord for better fit adjustment.
Keeps you dry and cool.
Cons:
Nothing to complain about.
Final Words
All in all, we think that the adidas Men's Club 9-Inch Tennis Shorts we had at the #2 spot are the best. Though all the other shorts on the list are still great, we feel that these tennis shorts will work for most people.
Although the 9-inch Men's Club shorts aren't as breathable as the Men's Club 3-Stripes shorts we had on the #1 spot, they don't have the see-through problem because they are thicker. Aside from that, the Men's Club tennis shorts have moisture-wicking polyester fabric, which will dramatically increase comfort on the court.
The ASICS Men's Centerline Shorts should be mentioned as well because of their stretchiness. These are the only shorts on the top that are not made entirely of polyester. They contain 11% spandex, so they are going to be stretchy and perhaps less limiting during the game.
For budget-oriented buyers, the adidas Men's HEAT.RDY Shorts will most likely work great. The HEAT.RDY tennis shorts will keep you cool, dry, and the drawcord will also let you more tightly adjust the fit.
As for the Nike 11-Inch Woven Men's Tennis Shorts, they are nice if you want longer shorts. Some people will like the zippered pocket too.