If you are in a hurry and just want to find out what the best tennis racquet for power is, then we recommend the Babolat Pure Aero Tour as the best one.
In tennis, you need focus, finesse, speed, and most of the time, the power to overwhelm your opponents. Powerful racquets will also give you stability as well as freedom in the court.
Here are some of the best tennis racquets for power that are compatible with tennis players from all skill levels that you will enjoy.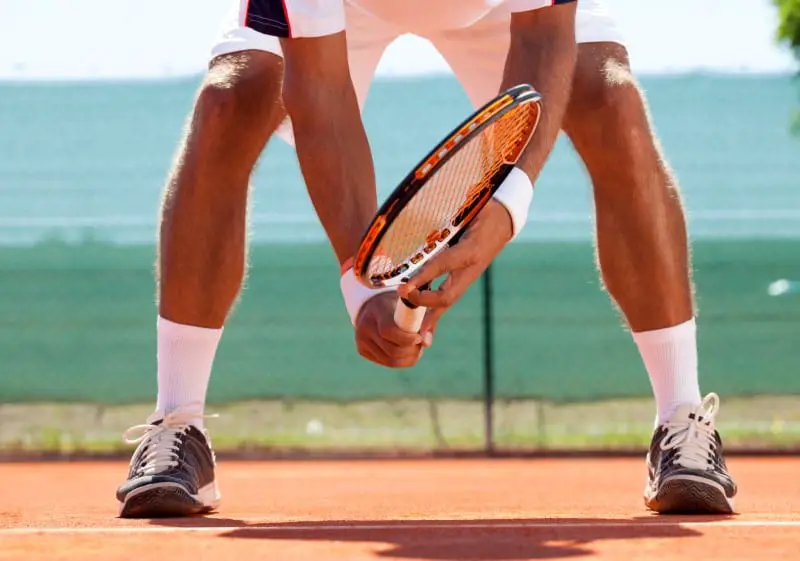 In this article, we're going to review the following tennis racquets:
What Is Considered a Powerful Tennis Racquet? (Advantages of a Power Tennis Racquet)
So, what constitutes a powerful tennis racquet? Take note that when you're shopping around for a tennis racquet you are practicality choosing between power and control. Both choices will have their pros and cons naturally so you just have to find what suits your style and build your game that in such a way you can cover up for any weaknesses.
Consider power and control on both ends of a spectrum but great brands create great products that don't compromise one or the other.
Powerful tennis racquets are usually the ones that have a larger head size. Head size is measured by square inches and anything that's got a head size of over 100 square inches are considered oversize tennis racquets.
Some of the best powerful tennis racquets are at 104 square inches. These tennis racquets maximize on a wide sweetspot that offers more forgiveness, more chances of returning the ball, and stability.
Most powerful tennis racquets are lightweight at about 8 to 10 ounces and have extra length at about 27.2 inches plus a heavier head to give you that extra torque in your swings resulting in more pop when you hit the ball.
For better understanding, control racquets are generally heavier with smaller head sizes lesser than 100 square inches. These racquets offer better control and that's why they are known to be the racquets of choice by advanced players who emphasize techniques like more spin and placement.
So, who would want to utilize a power-oriented tennis racquet?
It's generally agreed upon that power tennis racquets are ideal for those just starting to learn the game. So, that should be a beginner to intermediate level tennis players. Also, these tennis racquets are ideal for older players or those suffering from the common tennis elbow condition.
It's great if you're just polishing on the basics and on your way to learn advanced skills. For full disclosure, power tennis racquets may sometimes lead to bad habits and you can be prone to unforced errors. So be sure to be wary of developing your skills as opposed to relying heavily on power alone.
Which of the Professionals Prefer Powerful Tennis Racquets?
We mentioned that these power-oriented tennis racquets are for beginners and intermediate tennis players but you will be surprised as to which of the professionals used them.
At the top of the list of the best tennis players who utilized power-oriented tennis racquets are the Williams sister. Both Venus and Serena Williams utilize tennis racquets that go for 104 square inches of head size. We all know how these players are the cream of the crop and are just overpowering on the court and no wonder they utilize power racquets.
Back in the 80s and the 90s, players like Agassi, Shriver, and Spadea also utilized power tennis racquets and even also Marion Bartoli until her retirement. This just proves that tennis racquets for power are also for professionals and advanced players alike not just for beginners.
Considerations When Shopping Around for a Tennis Racquet
So, you want a tennis racquet that packs a lot of power but we think you also have to take a look at the other end of the spectrum which is control. Here are a few things to consider.
Head Size
As already mentioned, a smaller head size may mean better control for the player. On the other hand, a larger head size at more than 100 square inches will generate more power for you.
The larger or wider sweetspot will help you return shots at a higher rate even with off-center strikes.
Length and Weight
Nothing influences a tennis racquets maneuverability than its length. Tennis racquets may come in 27 to 29 inches in length and the longer the racquet it will feel heavier to swing but that increases its swingweight as well as range and that's most of the time advantageous.
Tennis racquets for power often have added length and so you have the advantage in terms of reach.
Weight also determines its power and it is simple physics really. Heavier racquets will transfer more power as you hit the ball and adds stability to your strikes. This is also the reason why tennis racquets for power are easier on the player's arms and easy on any injury.
Balance
Balance is important and most especially for serious players. Some racquets are heavier on its head while others on their handle with some evenly distributed. Advanced tennis players should consider handling heavy racquets while beginners should go for head-heavy racquets.
Frame, String, and Handle
The last few aspects that you should consider when buying tennis racquets for power are its frame, string ratio, and handle.
The frame's hardness determines its response as you hit the ball. A tighter string pattern is common for control-oriented racquets while a more open string patterned racquet yields better power.
The handle then determines feel and comfort.
Best Tennis Racquets for Power Product Reviews
1. Babolat Pure Aero Tour
The first entry on our best tennis racquets for power review is the innovative Babolat Pure Aero Tour Tennis Racquet. A popular brand, Babolat made sure to infuse this model with the latest technology needed to help players bring their a-game on the court every time.
Perhaps this racquet is meant for power but it offers control like no other and probably the most on our list. It's got Aeromodular technology and that means that the frame has an updated aerodynamics design to optimize and increase your racquet's head speed.
It's got an open string pattern with oblong grommets and this generates more spin which is not that common with tennis racquets for power either. It seems that this model defies everything a tennis racquet for power should be but still packs a lot of punch.
Babolat Pure Aero Tour Tennis Racquet (4 1/4 Inch Grip) - Heavy Frame for More Control - Designed for Strong Intermediate to Advanced Players
A SPIN MACHINE:  Everything about this 2019 Pure Aero Tour Tennis Racquet lends itself to power and spin. The updated cosmetics are certainly head-turning, and your opponent will know they're in for a battle as soon as they see it.  In the hands of a spin-fanatic, this 100% graphite frame will help you generate heavy, heavy topspin shots - just like our hero - Rafael "Rafa" Nadal. See product description for more details.
RACQUET SPECIFICATIONS: Head Size 100 sq. in. / 645 sq. cm.; Length: 27 in / 68.58cm; Strung Weight: 11.8oz / 334.5g; 12.7in / 32.26cm / 6 pts HL; Swingweight: 327; Stiffness: 68; Beam Width: 23mm / 26mm / 23mm; Composition: Graphite; Power Level: Low-Medium; Stroke Style: Full; Swing Speed: Fast; Grip Type: Babolat Syntec Pro; String Pattern: 16 Mains X 19 Crosses; String Tension: 50-59 pounds
RACKET TECHNOLOGIES: Active Cortex (reduces shock and vibration), Aeromodular3 (3rd generation frame shape that reduces drag and increases swing speed), FSI Spin (less dense string pattern allows strings to bite the ball)
BABOLAT HISTORY: Founded in France 1875, Babolat invented racket strings and is the oldest company specializing in racket sports.Babolat has built its reputation by offering products at the forefront of technology and by supplying equipment to generations of champions who have won the most prestigious competitions.
Authorized Babolat Dealer. SEE SELLER DETAILS FOR RETURN POLICY.
It's got a Cortex pure feel to dampen vibration with the newest material that integrates graphite for an exceptional feel. And lastly, experience stability with its Carbonply stabilizer feature.
Pros
Great control for a power racquet
You can still perform advanced techniques with it
Very versatile
Comfortable and has a nice feel to it
Stable and innovative design
Cons
2. Wilson Clash 100 Tennis Racquet
The next entry on our power racquet review is the Wilson Clash 100 Tennis Racquet. This racquet may be one for power but it will feel really good in your hands and almost become an extension of it once on the court hustling.
Because of the great feel to it when you play with this racquet you won't have to worry about tennis elbow or wearing yourself out easily anymore. This racquet offers a lot of flexibility and still decently offers control amidst the power it generates.
This racquet is also quite versatile and players from any skill level may benefit from it. This racquet will make your shots more precise and your serves, volleys, or groundstrokes will surely improve.
Wilson Clash 100 Tennis Racquet (4 3/8 Inch)
The Wilson Clash 100 Tennis Racquet is a sublimely flexible racquet that maintains a powerful and controllable feel.
FreeFlex
Carbon Mapping
StableSmart
Size - (4_3/8) | Color - (See Description)
It also offers a bit more spin on your serves and groundstrokes and that's quite rare for power-oriented tennis racquets.
Pros
A very flexible racquet with a nice feel to it
Pretty durable frame and handle construction
Generates spin plus decent control
Won't wear you out easily
Easy on tennis elbow injury sufferers
Cons
Players have observed that serves don't have that much power in them
3. Yonex Ezone 98
The next entry on our review is not necessarily an oversize tennis racquet but that's also not a bad thing. The Yonex Ezone 98 at 98 square inches as the name implies is easy to be underestimated but we can attest to its power.
That's power while still having a good amount of control in your swings. Still possess a nice sweetspot, this racquet will give your serves a boosted pop to it. That added kick is also observed in groundstrokes and volleys alike.
If you can get past its stiffer feel then you have yourself one of the most versatile racquets in our tiny group right here. Just a few sessions and we're sure that you'll be good to go. Your shots will be precise and will have a topspin to them.
YONEX 2020 EZONE 98 Tour Tennis Racquet - 4 1/2" Grip
YONEX EZONE 98 TOUR TENNIS RACQUET
The Yonex EZONE 98 Tour deep blue tennis racquet is for intermediate to advanced players looking to dominate with controllable power and comfort.
Head Size: 98 sq. in.; Length: 27 in.; Strung Weight: 11.7 oz.
Racquet Material: M40X/HM Graphite
Racquet Color: Deep Blue
It doesn't suffer from frame bending and yields greater energy transfer to the tennis ball upon impact. Truly one great racquet from an underrated brand so it's high time you get to discover it.
Pros
Precise shots
Great value for money
Great power and control
Very nice feel and balance
Nice shape and aesthetics
Cons
It may not be very suitable for beginners
4. HEAD Graphene 360 Radical MP Tennis Racquet
All right, let's head to the penultimate entry on our mini-review with the HEAD Graphene 360 Radical MP Tennis Racquet. This product is rather one of those beautifully balanced racquets and if you decide to go with this and you'll be in for a treat for sure.
This power racquet yields a good spin to your shots and at the same time gives you a little bit of control. They are relatively easy to swing and return the ball at a higher rate without you straining yourself too much.
This is perhaps the best-rounded racquet on our list. Its weight is relatively balanced from handle to head and it transfers the energy of the impact to the tennis ball with finesse.
Sale
Speed and precision are also some of their strengths and players who like power in their serves will like this tennis racquet very much.
Pros
Great balance
Well-rounded features overall
Will create precise shots with great power
Easy to wield and has a nice feel to it
Easy on the arms
Cons
Stability is not its strong suit
5. Prince TeXtreme2 Beast 100 Adult Tennis Racket
With the last entry on our best tennis racquet for power, we present the Prince TeXtreme2 Beast 100 Adult Tennis Racket.
Of course, when we are getting up there in terms of age we would want a racquet that can still help us keep up with the pace and space of the game, right? That's where the Prince TeXtreme2 Beast 100 Adult Tennis Racket comes into the picture.
This is a very powerful racquet but we must tell you upfront that you will lose some of that control. With the wider sweetspot, you will have more forgiveness on your shots even if you strike them off-center.
They are also quite easy on the arm leading to more playing time on your tennis sessions. Some even say that this racquet has too much power but that's nothing a few adjustments on your stringing can remedy.
They are quite easy to maneuver plus you'll have topspin potential as well. It's definitely meant for older players as well as beginners who are still trying to learn the sport.
Pros
Perfect for beginners
Perfect for older individuals
Great for those suffering from tennis elbow
Extremely powerful
You'll have topspin potential
Cons
Control is a bit compromise
Final Thoughts
Everything we listed down are strong contenders but we must give it to the Babolat Pure Aero Tour and declare it as the best of the best tennis racquet for power from our review.
It's a popular choice for tennis players from all skill levels. It emphasizes all the aspects that a good power tennis racquet should be and most of all, it gives you control like no other.
It's innovative, durable, and yields a great value for your money so you really couldn't ask for more. So keep on shaping and improving your game with only the best tennis racquet for power. Choose one from our list and we assure you that you're going to enjoy the tennis experience.