If you are in a hurry and just want to find out what the best tennis net is, then we recommend the Gamma Premium Tennis Net as the best one.
Tennis is a very popular sport and it's an activity one can take part in whether as a hobby or profession. The setup of its court is one of the most important aspects of it. And the most glaring element of the court is its NET.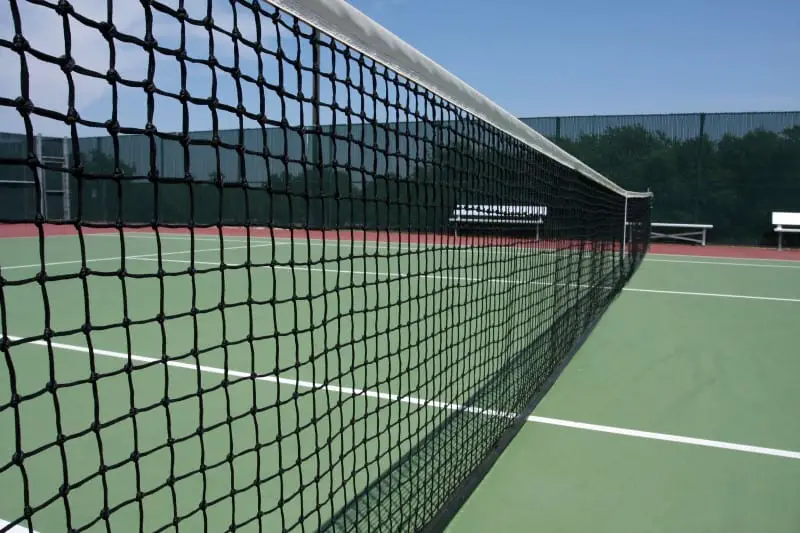 Here are some of the best tennis nets in the market today.
5 Best Tennis Net Reviews
1. Tourna Premium Double Braided Tennis Net
If you're looking for a heavy-duty, reliable, and regulation-size tennis net then go for the Tourna Premium Double Braided Tennis Net. This is a 3.5mm and double braided net with its top 6 rows double stitched.
This is one of the most durable and reliable nets in the market today and made for professional tennis courts and competitions alike. It comes with thick 6mm cables that are virtually unbreakable.
It also comes with ½ inch fiberglass singles sticks that won't bend nor warp anytime soon. The headband is also UV-treated and comes with 4 rows of stitching. Every component of this tennis net is well-thought-out and it's meant to last for a very long time. Honestly, you can't find a more durable net than this.
It is meant for tougher climates and can withstand all sorts of elements and weather so it's definitely meant for outdoor usage. It's got a 145 breaking strength and top grade 500 Denier that makes it top of the line with handmade knots that are sure going to add to its durability.
And, this net is not just all toughness but also quite stylish to it will be presentable no matter the level of competition. Its tapered net will look good on any occasion. Comes with 2 deluxe center strap.
Pros
Durability and reliability guaranteed
Meant to last a really long time
Can withstand all sorts of weather and elements indoors and outdoors
Stylish and versatile
Meant for any level of competition
Cons
2. Gamma Premium Tennis Net – Best Overall
Another heavy-duty tennis net is next on our list with the Gamma Premium Tennis Net. This is also one of the most durable and reliable tennis nets in the market today. One look at it and you know that this net will stand the test of time.
The main difference between this and our first entry is that this one is only single braided yet it's still as tough as they come. As you can see, it's got 6 rows on top that are double stitched. The headband is also mean to be tough and reliable as it's an important component of your net that will keep everything in place.
You have two options for your headband, either get a tapered 4-ply woven duck polyester variety or a vinyl headband that is weather-resistant. If you've read our buyer's guide then you know which one to get if you have a soft court or hard court.
This net is meant for year-round usage and ever-changing climates. It comes with a galvanized steel cable that's vinyl coated and fiberglass lacing rods, and of course, it is regulation size.
Pros
Very tough and reliable
Durability guaranteed
Will look good in any court, pro or amateur
Great quality headband and cables
Optional materials meant to give you flexibility when choosing a net to buy
Cons
3. MACGREGOR Super Pro 5000 Poly Tennis Net (EA)
Another regulation size and durable net on our list is the MACGREGOR Super Pro 5000 Poly Tennis Net (EA). Comes in both 40 and 42 feet sizing this net is tougher than most in the market today.
It comes with an 18 ounce vinyl headband with tough reinforcements as well as abrasion resistance qualities. It also comes with a 3.6mm braided polyethylene that will withstand any of the elements it will encounter all year long indoors or outdoors. Whether it's going to get hit with powerful serves or misses it won't budge and will last for a very long time making the most out of your money.
It comes with fiberglass dowels to ensure that the net is upright at all times and be one solid dividing line no matter the level of competition or no matter how the games gets tough. It's got a lock stitched threading at the top, bottom, and sides for additional strength as well as reliable connection.
This net was then tested and checked for quality of up to 30 pounds of force to ensure that it won't break under any pressure brought about by the game at all.
Pros
Really tough and reliable
Good value for money
Stylish look
All levels of competitions
Durable headband and cables
Cons
Does not come with a center strap
4. Boulder Portable Tennis Net Set – Best For Garden
We've discussed regulation sizes nets so far so for our last two entries let's talk about a few of the best tennis nets for non-professionals, kids, teens, and amateur training. First up is the popular and versatile Boulder Portable Tennis Net Set.
This product has got high ratings on amazon and is very popular, a bestseller we can say and, for a lot of good reasons. First of all, this net is height adjustable and versatile. It's also quite lightweight that you may move it around rather easily.
It's actually not just a tennis net but a volleyball net, soccer tennis net, and Pickleball net all at the same time. It can be utilized for any other sports too as long as you'd need a net. It can be set up really fast in less than 5 minutes. And it's quite durable too.
Pros
Great value for money
Adjustable
Versatile
Lightweight and portable
Lots of fun!
Cons
While the net itself is durable some components are not
5. Aoneky Mini Portable Tennis Net for Driveway – Best For Driveway
The last entry on our best tennis net review is for the aspiring tennis players, the Aoneky Mini Portable Tennis Net for Driveway. We wanted to include something that the family can use or something for recreational purposes too other than just for the pros and here is one of the best in the market.
It's quite affordable and comes in both 10 and 18 feet sizing. It's definitely easy to set up and move around so you may set it up in the driveway or backyard or the park in a jiffy. It's perfect for drills and practices, especially for junior players.
Not only that, but it can also be utilized by adults or pros for a quick training session anytime and anywhere.
Pros
Great value for money
Easy to setup
Lightweight and portable
Indoor and outdoor usage
Can be used for other sports too
Cons
All About the Tennis Net and Buyer's Guide
Before we go to our product reviews, let's first get to know what a tennis net is and some of the aspects that you need to consider when you are planning to buy one.
What are the implications of a tennis net to the game of tennis?
The tennis net is more than just a divider to your tennis court. It's got a lot of functions and it affects the game substantially.
The standard tennis net is about 42 feet and it should be about 3.5 feet high on the post or both ends and about 3 feet high at its center. As mentioned, the tennis net splits the court in half as it runs directly through the center of the court.
There should be a white strap about 2 inches wide right at the center of the net that's going to control its height fastened to the ground. There's no doubt about it, the net needs to be measured carefully once set up on the court or it might affect the game. That just further illustrates its importance.
The tennis net should be naturally a mesh that's fine enough that the tennis ball won't go through it. It should also have a white band at the top measuring around 2 to 2.5 inches.
Now, this is important for players or coaches, always keep a measuring tool with you so before you start a game, especially if it's an actual tournament, you can measure the dimensions of the tennis net so there'd be no complaining later on.
Since we are talking about the tennis net, then might as well discuss the tennis post. There are two tennis net posts on both sides of the tennis court where you attach the net. They should be 3.5 feet tall and 6 inches wide. They fall about 3 ft. outside the doubles sideline.
If the net installed is specifically for a singles tennis game, then the net posts should fall 3 feet outside of the singles sideline still directly at the center of the tennis court.
So, what is a tennis singles stick?
And, to complete our discussion about all things tennis nets, we need to talk about the singles sticks. They are 3.5 inches tall and 3 inches wide. They are placed 3 feet outside of the singles sideline if you are playing singles and you are using a doubles net. Most won't have it but professional games would most often do. 
If you should know, a standard tennis court is 78 feet in length and the net should right at the center of it.
Buyer's Guide
Size
Once again, a tennis court will be 27 feet wide for a singles match and 36 feet wide for a doubles match so your tennis net is expected to wider at 42 feet. For singles, around 33 feet. Take note that if the net you are buying is shorter than the aforementioned sizes then you are not buying a regulation size tennis net.
Anything smaller would then be considered as a practice net or kid's tennis net.
Material
The most common material for a tennis net would be PVC or Polyvinylchloride and PVE or Polyvinylethylene. And then the net should have a metal cable or cord on top used to connect to the net posts at both sides.
The metal cord or cable should then be wrapped in a band that's colored white as well as the strap. As mentioned, this is the strap that should be around 2 to 2.5 inches.
Some tennis nets are made out of nylon and polyester. Vinyl-coated steel cables, as well as fiberglass dowels, are also desirable for added durability for your net overall.
A net can last for years if you've picked the right one and you won't have to invest in one over and over again.
Braiding
Did you know that braided nets are a few times better than twisted nets? They are just stronger and tend to absorb energy efficiently and so they will last longer in the process. You have single braided nets and double braided nets.
Also, when the ball hits braided nets, instead of bouncing off of it they actually fall closer to the net. Polyethylene and polyester material are actually more durable too because of their resistance to fading, the weather, and UV radiation.
You should also consider if a tennis net has got height adjustment capability so it can be flexible for kids or teens. Also, nets with headbands made out of polyester ducks are better for hard courts and the ones with vinyl ducks are better for softer courts.
Final Thoughts
Choose a net that's best for your needs, situation, and level of interest in the sport of tennis. The more knowledge you have about the tools and equipment used for this sport, the better you'll be at it.
These are some of the most reliable products in the market today and they'll definitely yield good value for your investment. For best results, only pick the best products from the best brands.
My favorite tennis net is Gamma Premium Tennis Net, Gamma is a big brand, This is a full size net designed for tennis courts and is perfect for extended use on outdoor or indoor courts and will last for years without damage. If you're just a tennis fan who plays once in a while. Aoneky Mini Portable Tennis Net for Driveway is a good choice. It is affordable and portable. You can put it in the trunk of your car, take it down and play anytime
So keep on honing your skills, never stop practicing if you're really passionate about this sport, and always get the right equipment for your training. Stay active and stay SAFE. Enjoy!