As an avid tennis player, you always aim for the best performance on the court, but this is only achievable if you eliminate all the distractions, primarily due to adverse weather conditions.
In such cases, the best and only option is to wear a hat as a face shield. To save you the time and hassle, we have considered a handful of the most viable tennis hats, finding excellent options such as the Adidas Superlite Relaxed Cap.
Join in as we give you more exceptional alternatives and tell you the key features to look out for in your purchase.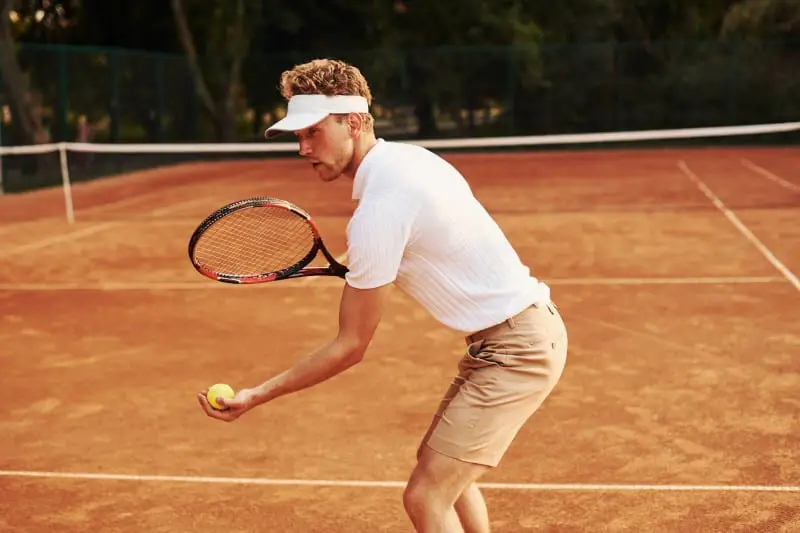 Here are some of the best tennis hats in the market today.
5 Best Tennis Hats Reviewed
You're at the right place if you are looking for the right tennis hat. By mixing up designs and colors, we have hand-picked some great options for you to try out. 
This option is a quick-drying hat that keeps you off sweat. It is comfortable, protective, and well-designed purposely for all types of players. It's quite a comprehensive product, ideal for every aggressive tennis player, and the features give the hat a competitive edge against big brands in the market. 
Its style serves both sexes, and if you fancy different colors, this hat is an excellent option for you. The hat comes in various schemes that blend perfectly with your fashion preference. Despite its unique sweat-drying properties, the cap is also foldable to fit into tiny spaces in your tennis bag. 
Therefore, you can comfortably carry it whenever you want. Another incredible feature is the nylon and polyester fabrics in the construction material, making it breathable and easy to manage sweat. As a result, you will always remain dry and maintain your focus to get the shots right. 
It has a buckle closure design that you can adjust for the best fit and feel, but some come with an improved Velcro strap. Although the hat has a sweatband for additional sweat reduction, it may be difficult to adjust it, especially if it isn't the right fit, making it rather uncomfortable while playing. However, the cap is only suitable for playing in warm weather because its material is too light.
Pros
It is exceptionally fast-drying 
It is foldable; hence, very portable
It has an anti-UV layer
Cons
The  sweatband may be challenging to set in place
It isn't appropriate for cold weather
It is wise to invest in equipment that can aid in your performance to achieve excellence in a tennis game. One such vital item is the visor hat. It is a unique construction, unlike regular caps. Although they don't have a crown, they still perform exceptionally well in drying away head sweat, allowing optimum breathability on your head. 
They ensure that you always stay fresh, even during intense gaming. This visor hat is a creation from New Balance, which considers your comfort and performance a priority. Its role is to protect you from the scorching sun and excessive sweating that may compromise your gameplay. The hat has a wide brim that is soft on your head and overlaps to collect a significant amount of sweat from your forehead. 
Besides, the edge also secures you from the sun without blocking your vision. This hat has an adjustable Velcro fitting for excellent stability and feel, without sacrificing comfort. The Spandex technology also makes it flexible to avoid placing excessive pressure on your head. It is a unisex hat that fits both men and women, and the reflective logo on the front always makes you stand out whenever you step onto the court.  
Pros
It has a reflective logo for visibility
The thick brim wipes a significant sweat amount
It is one of the most durable tennis hats
Cons
It doesn't have a crown; hence, not very protective against the punishing sun rays.
It cannot fit most head sizes; hence, you have to try it out or be sure of the measure first.
An intense game like tennis requires a hat designed for high performance on the court. The Nike Dri-FIT brings comfort and style into your gaming attire and effectively prevents sweating since it wicks all the dampness from your head for a dry and relaxed feel. The hat comes with a lightweight material, and most users testify that you can wear it and forget that it's on your head. 
Being a low-profile cap offers you a snug fit from the crown to the sides, but if you find it extra large, you can adjust the straps and stretch it to your size. The cap is also available in other colors, including black, white, and green, to appropriately match your dressing code. Moreover, it is ideal for male and female tennis players.
This cap design also incorporates the latest tech. First, it boasts of the Dri-FIT tech that manages moisture thanks to the perforated panels that allow for aeration. The hat's optimum breathability will keep off sweat and leave your head cool and dry at all times. It also features the Nike Swoosh logo on the bill and back panel for brand identification.
Furthermore, it is a hundred percent Polyester, exceptional at moisture-wicking, and adds to your comfortable feel. Also, the hook and loop closure system makes the cap a one-size-fits-all.
Pros
The hat has a low profile design for a proper fit
It has a Dri-FIT technology for sweat management
It is best for both indoor and outdoor tournaments
Cons
Sweat may collect under the bill 
It isn't suitable for large head sizes
If you need a product from a reliable brand, Adidas always comes to mind. Some of the best tennis products come from this manufacturer, including tennis hats. Adidas Superlite cap is fashionable and can spruce up your outfit. Furthermore, it is light, remarkably comfortable, and with a perfect fit, blending in different occasions. 
The best part is that it works for the court, for different sports, and you can still wear it as a stylish accessory off-court. It is also very durable, able to serve you for a long time. This cap is meshed for free air circulation, thereby keeping your head dry throughout the gaming session. 
This hat also has high-end construction innovations like the UPF 50 Technology that protects you against harmful lethal sunrays. Additionally, for a better and adjustable fit, the cap comes with a loop and hook closure design at the back. Climalite and Climacool tech also help wick away sweat to keep you cool and dry, preventing sweat from flooding your face to let you focus on the game. 
The material is primarily polyester with a bit of spandex to enhance the cap's flexibility. The hat also has six panels that can absorb sweat too. With the Adidas brand logo sitting straight on the forehead, this cap is attractive, and it helps that it is also quite durable provided that you avoid machine-washing it.
Pros
It can prevent sunburn due to its UPF 50 technology
It is impressively lightweight
The Velcro gives you a tremendous adjustable fit
 Cons
You cannot machine-wash it
The Velcro strap loses its grip overtime
Headsweats Protech is ideal for outdoor activities and other sports besides tennis. From its look, it may seem too bulky, but it is the opposite. It is impressively lightweight, soft, and comfortable with the ability to wick away sweat thanks to its Coolmax Terry technology sweatband. Another fabric is the Coolmax Shell that works together with the Terry material for maximum comfort and dryness. 
The unique flap design on your neck is quite vital. It's lightweight and breathable, just like the whole cap fabric, and it wipes the sweat that flows from the neck to prevent your clothes from getting wet.
Additionally, the flap also flips back and forth during a spirited performance to provide a breeze for enhanced sweat management. The cap can protect you from harmful sun rays using the UPF technology, but one downside is that its adjustment clamp doesn't put enough pressure on the fitting cord to give you the best fit. 
Pros
It provides a snug fit for medium sizes
It features Eventure fabric Technology for super fast sweat-wicking
The hat shades your neck from direct sunlight
Cons
The drape is not detachable
The closure system isn't very effective
Factors to Consider When Choosing the Best Tennis Hat
Besides covering your face from the punishing sun, wearing a tennis hat is a fashion statement that also makes you look professional. However, you may have a challenge when it comes down to the selection process, considering there are various tennis hats designs and shapes suitable for different players. Therefore, how do you know that an option is ideal for you? Read on for factors to consider when choosing the best tennis hat.
Fitting
An ill-fitting sports accessory can significantly throw you off your game. All players have different head measurements, explaining why most hats come with adjustable hooks. If your cap is too loose, it will keep slipping over your eyes as you play, thereby interfering with your vision and performance. Tennis is a game of speed; therefore, losing even a second on the court while dealing with a slipping hat can significantly affect your gameplay. 
Apart from timing, players tend to shift their focus to the faulty accessory, abandoning their purpose. In the same light, wearing a tight cap is uncomfortable and can interfere with your performance. The best way to avoid such mishaps is by buying an adjustable hat that can fit you according to your needs, but even so, you still have to be keen on the cap's circumference, ensuring that it is within your size range.
Material
Your hat's material depends on the prevailing weather conditions. The point of wearing a hat is to shield the eyes from extreme sunlight, but users tend to sweat profusely in the process. It is only made worse given the high-active nature of the game. Unless your hat material wicks away the wetness, you will be very uncomfortable, and it may cost you your game. We often advise buyers to go for synthetic materials such as nylon that easily wipe away the sweat without compromising breathability. 
Your chosen material should also depend on the current weather. While a polyester hat will come in handy when it's scorching, we find a cotton alternative more convenient when it's cold since it is thicker and warmer. Many players also prefer hats of washable material that are easy maintenance and long-lasting. Lastly, it is best to consider a material that improves ventilation since such caps are also highly absorbent.
Design
As with any other sports accessory, design is a crucial factor to consider. Various brands make exceptional products to ensure that they always stand out among the hundreds of choices in the market. It explains why hats have their brand-name logo on the front or side. You will find adjustable hats with hooks or straps for a flexible, comfortable feel, and there are others with a high or open (visors) crown. 
You will also find options with broad brims for maximum sunlight blocking. Other brands go a step further by attaching sweatbands to their products to help with sweat absorption, preventing it from getting into the eyes. Interestingly, some players have their tips in selecting their hat shape. For instance, those with round faces prefer high crown hats because they help increase the face length. 
Versatility
One thing about tennis hats is that they always stand out on the court, explaining why most players use them as strong fashion statements. You can always take advantage of the selection freedom to go for bold caps that improve your look. Besides, there is no rule barring you from using the hat for other sports because the primary purpose is to keep off excessive sunlight. 
You can also wear them off-court as a casual look on a sunny day and even add sunglasses. Therefore, it is best to go for a versatile hat such as a visor. The open-top is still a fashion hit, and it helps that it is more breathable than the crowned alternative.
Color
Besides the functionality, athletes often use tennis hats as fashion pieces. Therefore, they pay close attention to the color, ensuring that it doesn't clash with the outfit. Having the right shades makes you look stylish, but you can also avoid mixing up your color choices. For instance, black and white hats are neutral and can blend well with any tennis wear. 
However, if you love bright tennis clothes, you can go for more toned-down tennis hats or the other way round; either way, the schemes you chose can always match your personality, and in most cases, you'll find women's and men's hats in different colors. Also, players find light colors more tasking to maintain since they need frequent washing. 
Frequently Asked Questions
Why Do I Need a Tennis Hat?
You don't have to wear a hat if you are playing indoors. The only challenge sets in when it's an outdoor tournament under the scorching sun. The cap will come in handy to block out excessive sun rays preventing them from hitting your eyes, and it significantly prevents sunburn. Therefore, you can lift your face however you want and give your best performance.
With a hat, you won't have to worry about the painful sun rays and instead focus more on your game. Besides, some tennis designs also help absorb sweat from your forehead, preventing it from dripping to your eyes. Lastly, tennis hats make a player stand out on the court and be fashionable while at it. 
Should I Buy a Hat or a Visor?
Visors and hats have the same principle role, to shelter you from the adverse outdoor court weather. The only difference is that one has an open-top while the other is full-covered. The visor's main advantage is that it is breathable, allowing maximum airflow on the head, a great way to cool off under the scorching sun. On the other hand, the closed cap is more protective and keeps the user warm when it's too cold. Therefore, it is a matter of preference when it comes to choosing between the two.
Finally
The cap that tops our list for all the right reasons is the Adidas Superlite Relaxed Cap. Despite being from a reputable brand, it is also a functional, versatile, and fashionable accessory that will be effective for gaming. It is flexible, lightweight, durable, and it helps that it is one of the most breathable designs on our list. You will love that it is adjustable and incorporates the latest tech in its design.
Our runner's up is the GADIEMKENSD Quick Dry Hat. It is a quick-drying, foldable, and unisex hat that comes in different colors to choose from and is also very breathable with an adjustable closure.