If you are in a hurry and just want to find out what the best tennis bag is, then we recommend the Babolat Pure bag as the best one.
Looking for the right tennis bag for your equipment? Well, you are in the right place since we are going to overview what we think are the top best tennis bags on the market!
We're going to include the following tennis bag reviews: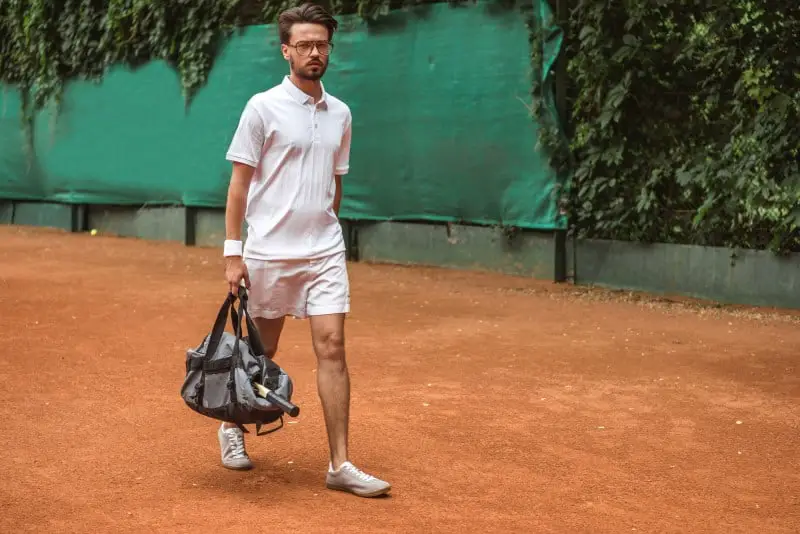 Before that though, let's talk about the things that you should be looking for in a tennis bag.
Types Of Tennis Bags
First of and foremost, let's take a look at the main types of tennis bags available out there.
We will be talking about three types of bags – tennis slings, tennis backpacks, and regular tennis bags (the ones that are shaped like racquets). And while all kinds of racquet covers could technically be considered tennis bags, we won't be talking about those today.
Tennis sling bag
Sling bags are teardrop-shaped bags with one shoulder strap. These bags are worn over the shoulder like a sling, hence the name sling bag.
Sling bags are a decent option if you want an organized but compact tennis back. These bags usually have a main compartment that takes tennis racquets and a few accessory pockets for smaller items.
Sling bags are typically fairly compact, and while they can take racquets along with tennis attire, they tend to be quite limited in space. With that said, if you don't have much stuff to carry in the first place, then a sling bag could work for you.
Since sling bags have only one shoulder strap, they load the back unevenly. But since sling bags can't take too many items to begin with, the lack of a second strap shouldn't be a problem.
Aside from that, sling bags typically aren't big enough to take the whole tennis racquet. This means that you will have to place your racquet inside a cover first, and this is a downside in the sense that the cover needs to be bought separately.
Tennis backpack
Backpacks have two straps and thus distribute their weight evenly. Thanks to this, backpacks are more suitable for carrying heavier loads over long distances.
Aside from better weight distribution, tennis backpacks tend to have higher capacity than sling bags. You can find plenty of tennis backpacks that can easily take 1-2 tennis racquets along with shoes and clothes. And you often still have plenty of space left for other items and accessories.
Like sling bags, backpacks have separate compartments to help you with better organizing your belongings. But backpacks again usually can't fit entire racquets, forcing you to use a racquet cover for protection.
Tennis bag
The phrase "tennis bag" refers to a bag designed for tennis equipment in general, but it's also a specific type of tennis bag.
Tennis bags are the bags that are shaped like racquets and are designed to take them whole. There's thus no need to use any covers for racquets, so you don't have to spend space and money on them.
Besides, tennis bags can take many more racquets than other bag types. You can find tennis bags that can take 3, 6, and even 12 tennis racquets.
On the other hand, tennis bags are inferior to other bag types when it comes to tennis equipment other than racquets. Tennis bags have limited space inside that's often sufficient only for racquets along with some small items.
With that said, if you don't stuff a tennis bag with racquets, it might have plenty of space for other items.
There are some tennis bags that have large storage compartments that can take much more than just racquets. You won't find too many of such tennis bags, but we will feature one such bag below.
Things To Look For In Tennis Bags
Now that we've got tennis bag types out of the way, let's have a look at the things that you should be paying attention to in tennis bags. There are pretty much three things to consider – capacity, compartments, and comfort.
Capacity
First comes capacity. While capacity is very important, it's fairly difficult to assess if a tennis bag will be able to accommodate all your stuff.
When it comes to racquets, sellers do usually provide an estimate of how many racquets their bags will take. The actual number of racquets a bag will take may depend on the racquets, but if a bag is claimed to fit 2 racquets, it will probably do so.
When it comes to equipment other than racquets, things will be a little more difficult. Some manufacturers provide numbers on the volume of their bags though, which could be able to help you if you roughly know how much volume your items take up.
Don't know if there is enough space in the tennis bag? Let's see what to bring when playing tennis.
Compartments
Then, consider the compartments present in the desired tennis bag.
At the very least, a tennis bag will have a compartment for racquets. Then, if you need it, you may look for a bag that comes with all sorts of additional compartments for your equipment and accessories. You may look for:
Dedicated pockets for clothes and footwear. These may be vented.
Accessory pockets for keys, glasses, cell phones, or other items. These may be hard-shelled for additional protection.
Thermally insulated pockets.
Water bottle holders.
Comfort
Finally, we have comfort, a very subjective variable that is difficult to assess without using a bag for a while.
Generally, here are the comfort features that you may want to look for in a tennis bag:
Padded shoulder straps.
In sling bags, a shoulder strap that can be switched from one side to another.
Mesh backs for breathability.
Chest and waist straps for additional support.
We also suggest that you give buyer reviews a read. If there are any big issues with comfort in a bag, you should be able to learn about them from the user reviews.
Tennis Bag Reviews
While this sling bag by Athletico isn't made for tennis specifically – it's for any racquet sport – it's a nice option if you are looking for an inexpensive yet functional tennis bag.
The best thing about the Athletico sling bag is its accessory pockets. This bag has a little bit of everything – it features a water bottle holder, a main compartment that's claimed to hold up to 2 tennis racquets, and 5 accessory pockets (one of which is hidden on the back) for your secondary items.
The second benefit of this sling bag is its size and weight – the Athletico bag is light and can't really take much inside, so it should stay light and be strain-free on your back. This bag should still take your shoes and tennis attire, but it won't do so easily due to the limited capacity.
What Athletico also boasts in this sling bag is the mesh backside to keep your back cool, as well as the padded strap that can be switched from one side to another.
Pros:
Holds up to 2 racquets.
Compact and light.
Plenty of accessory pockets.
Comfortable and breathable.
Cons:

The Babolat Maxi tennis backpack ups the game from the Athletico sling bag's level quite a bit – this backpack is qualitatively and quantitatively far superior to it. You do have to pay the price for the benefits of this bag, but it may be worth it for some people.
The Maxi tennis backpack has a huge main compartment that's designed to take up to 2 tennis racquets and even has a dedicated pocket for a laptop or tablet. Aside from that, the Maxi backpack offers a few other compartments with a total volume of 44 liters, including a dedicated shoe compartment with ventilation.
Since the Maxi backpack has 2 padded straps, it's going to do a better job of distributing weight evenly on your back. And given the capacity of the backpack and how heavy it can get when full, any amount of added support is beneficial. And to further improve comfort, the Maxi backpack has a chest strap along with a waist belt.
Pros:
Holds up to 2 racquets.
High capacity.
Dedicated ventilated shoe pocket.
Fairly comfortable to carry.
A lot of accessory pockets.
Cons:

The Wilson Advantage tennis bag is probably the kind of bag you think of when talking about tennis bags. The Advantage tennis bag is specifically designed to hold tennis racquets, so if the safety of your racquets is of utmost importance to you, this bag might be the right option.
The main zippered compartment is wide enough to take up to 2 racquets. And what you may especially like about this bag is that it takes the entire racquet, meaning that you won't need to cover your racquet like you would with the two bags overviewed earlier.
The Advantage tennis bag also has a zippered accessory compartment to take some additional items. With that said, in terms of capacity and organization, this tennis bag is far behind bags like the Babolat Maxi. You could fit other tennis equipment in this bag, but it's not really made to comfortably fit stuff other than tennis racquets.
No products found.
The Wilson advantage is fairly light by itself and stays light since it can't take too much. Due to this, the single padded shoulder strap should be sufficient to ensure strain-free carrying.
What you may also like is that this bag has 3 color options – black, pink, and red at the time of the review's writing.
Pros:
Not too pricey.
Lightweight.
Fully takes up to 2 racquets.
3 color options.
Cons:
Won't take much stuff other than racquets.

This tennis bag by Athletico is pretty much identical to the Wilson Advantage bag except for one thing – this bag's large padded compartment is designed to carry 3 up to tennis racquets.
The Athletico tennis bag also has a few accessory pockets to take your belongings. The large accessory pocket is claimed to be able to take a canister of tennis balls, while the smaller felt-lined pocket is designed to take smaller items like keys, wallets, or whatnot.
In terms of storage capacity and comfort, this tennis bag isn't much different from the Wilson advantage. Both have fairly limited capacity, and they stay light and easy to carry precisely because they can't take much.
With that said, if you take fewer than 3 racquets, you will have more space for other tennis equipment.
Pros:
Very inexpensive.
Fully takes up to 3 tennis racquets.
Available in 3 colors.
Cons:

The Babolat Pure tennis bag is a good option if you are looking to carry a lot of tennis racquets and even more.
The Pure tennis bag has 2 main compartments that can each hold up to 3 tennis racquets. One of the main compartments is thermally insulated as well, so if you have anything whose temperature needs to be maintained, this pocket should come in handy.
This tennis bag also has large side pockets that should be big enough to take your tennis attire. One of the pockets is vented and is intended for dirty clothes. The Pure bag has a hard-shell accessory pocket as well.
Overall, the Babolat Pure tennis bag is pretty much a mix of the overviewed tennis bags and backpacks – it fully accommodates several tennis racquets, and it also has enough space inside for equipment other than racquets.
All this beauty costs quite the money though!
Pros:
Takes up to 6 tennis racquets.
2 main compartments, one thermally-insulated.
Hard-shell accessory pocket.
Vented pocket for dirty clothes.
Large side pockets.
Available in 3 colors.
Cons:

Final Words
In our opinion, the very best tennis bag from the ones reviewed is the 6-racquet Babolat Pure bag. It's the most high-capacity, the most versatile, and perhaps the most convenient tennis bag on the list. Even if you don't have 6 racquets, you could use the freed up space for other items.
The Pure tennis bag is fairly pricey though, so it would be understandable if you wanted to go for something cheaper like the Wilson tennis bag. You might also want to go for the Babolat Maxi backpack if you'll be carrying your stuff over long distances.