If you are in a hurry and just want to find out what the best oversize tennis racquet is, then we recommend the Wilson Blade Serena Williams Autograph v7 as the best one.
Tennis racquets come in different sizes and each size warrants a certain purpose. We are opposed to the notion that oversize tennis racquets are just for older individuals and not for the pros.
Here are some of the best oversize tennis racquets you can find in the market today that are just as versatile but packs a lot of power with it.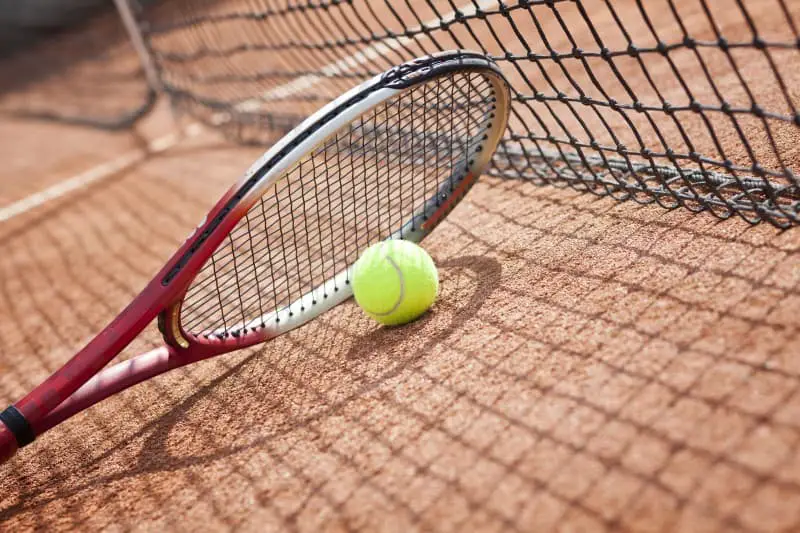 In this article, we're going to review the following oversize tennis racquets:
What Are Oversize Tennis Racquets Good for?
Why choose an oversize tennis racquet? Is there any advantage or disadvantages to choosing one?
Well, the popular belief is that oversize tennis racquets are utilized by older or weaker players. This is because oversize tennis racquets pack a lot of punch, are relatively more stable, and provides a wider than the normal sweetspot.
And, these aspects will indeed cover up for the weaknesses of said older or weaker players. But, if you come to think of it, these aspects can also be properly harnessed and utilized by younger or pro players.
On the contrary, way back in the 90s, oversize tennis racquets were utilized by professional players. They even have signature tennis racquets for said professional players that are relatively oversized.
What's considered as an oversize tennis racquet are those with a head size greater than 105 square inches. And for your information, those with 85 to 90 square inches are considered mid-sized and 95 to 100 square inches are considered mid-plus tennis racquets.
So the general pros for oversize tennis racquets are:
They pack a lot of power
Wider sweetspot
More torsional stability
Greater forgiveness with a larger hitting area plus heavier head weight
Less shock on your arms
But with advantages come disadvantages and for full disclosure these are:
Harder to control
Unforced errors in rallies
So if your game emphasizes power and spin plus a lot of double backhanded techniques then you should consider moving into oversize tennis racquet territory. And no, they aren't just for older or weaker players. Some even say they are just for beginners and we are against that 100%.
Who's Who in Terms of Brand and Pro Tennis Players that Utilize Oversize Tennis Racquets?
So if oversize tennis racquets are so hip then who uses them? And what are the most popular brands that manufacture them?
Back in the 80s or even the 90s top players like Roger Federer used small racquets. Most use around 95 to 100s while Federer would pretty much use the smaller 90 square inches head size. But you'd be surprised to hear that there are also giants in the field that adores using oversize tennis racquets. This trend most likely started in the 90s as well.
Top players like Agassi and Chang all used tennis racquets between 107 and 110. Sabatini also utilized rather large tennis racquets. Seles, at a certain point her career used a super large 120. Both Venus and Serena Williams used a large 110 before moving to mid-plus sized tennis racquets later on.
See? Even the pros know that oversized tennis racquets are superb. And almost all brands manufacture them for all skill levels. Wilson, Dunlop, Babolat, Yonex, Volkl, you name it, they all do it.
Best Oversize Tennis Racquets Buying Guide
So, are you now ready to shop for your next oversize tennis racquet? Well, here are some of the aspects that you should look for.
Skill Level
Beginner tennis players that are still learning the ropes of the game should consider an oversize tennis racquet. This will help you as a newbie to make contact with the ball more and won't wear your arm fast at the same time.
So, if you're indeed a novice tennis player then get a tennis racquet that's got an oversize head size, lighter frame, and can deliver more power.
For Intermediate to Advanced tennis players, you may still consider an oversize tennis racquet but for more control, you may add a little more weight to your frame. Go for a tennis racquet with a head size closer to 105.
Swing Style
Consider your swing style when you are going out to buy an oversize tennis racquet. Again, for full disclosure, those with more flattened or shortened swings will ideally be more fit with oversize tennis racquets but those with vertical swings would be better off with slightly smaller ones.
Strings
Your tennis racquet strings are super essential to the composition of your tennis racquet and it affects your gameplay and skill development a lot.
So, when it comes to stringing your oversize tennis racquet be sure to consider multifilament strings if you are:
An older player
Beginner to intermediate
Or suffering from the dreaded tennis elbow
Consider polyester strings if you are already an advanced tennis player.
Grip sizes
The handle is a big factor when it comes to your swings and strikes plus overall control of your racquet. So you must also be mindful of it.
Measured at 0 to 5 or 4 to 4 5/8 in the US, older women find 4 ¼ grip comfortable while men find 4 3/8 better. Smaller grips sizes generate more spin. If you are unsure of what you would be comfortable with then go with racquets that have smaller handles and then you may use an overgrip to add some thickness to it later on.
Best Oversize Tennis Racquets Product Reviews
The first entry on our best oversize tennis racquet review is no other than the weapon of choice by the champions the Wilson Blade Serena Williams Autograph v7.
Serena Williams has been wielding this racquet for a while now and as mentioned above, the Williams sisters love them oversize tennis racquets. The larger head size does not only bring a wider sweetspot but also brings a booming power.
It is infused with a FeelFlex technology that will make players feel more connected to the ball once they strike. The brand's patented carbon mapping that is strategically situated in the hoop of this racquet makes sure to add flexibility as well as that optimal feel for each of your strikes.
It's got a tri-color coating that adds to its aesthetics and that gives you style and confidence while wielding this innovative racquet by a legendary tennis player.
Additional features include the CounterVail tech meant to maximize the player's energy with added consistency and precision. It's got a top grip taper, reduced spec variance, braided graphite plus Basalt composition, and parallel drilling.
Pros
Legendary racquet by a legendary player
One of the most innovative racquet to date
Superbly comfortable to use with a great feel to it
Super durable frame and overall construction
Tons of power for your strikes
Cons
Slightly cumbersome swingweight due to the added length

The next entry on our review is one of the newest superstars of the oversize tennis racquet category, we're talking about the Head Graphene 360+ Gravity S.
This tennis racquet offers more forgiveness as well as power with a control-oriented frame. It's got 104 square inches of head size and that's enough to give you a wide sweetspot which makes this racquet perfect for novice and advanced players alike but at the same time, should give you enough raw power on your strikes.
This series is actually endorsed by Sascha Zverev and it is infused with the Graphene 360 tech for great energy transfer as well as flexibility. It's got Spiralfibers to improve flex and feel to your shots.
This is also a relatively light racquet, lightest among the series, and will work well on the baseline or at the net strikes. This racquet is ideal for aggressive tennis players. 
Pros
Relatively powerful but still offers better control
Comfortable and very nice feel to your shots
Great value for money
Easy on the arms
Pretty durable framing and construction
Cons
Strung and swingweight could use a bit of an increase

The next entry on our best oversize tennis racquets review is the topspin baseliners' favorite the Babolat Pure Drive 107.
This oversize tennis racquet is actually ideal for beginners and intermediate players. This racquet is relatively lightweight but will pack a lot of punch. It's got an extended length of 27.2 inches that will give you extra momentum on your swings and pop when you strike.
This product in particular gives more balance to the head light making it a faster and more explosive racquet. It is also infused with the FSI Power Tech that includes grommet holes that are diamond-shaped and wider string spacing to give your strikes a nice spin.
The innovative Cortex dampening system that features a specialized rubber should give a soft feel on impacts. With a generous sweetspot, this tennis racquet will give you more stability and should be easy on the arms.
So, looking for a user-friendly oversize tennis racquet? Then go with this one.
Pros
Easy for the beginners and intermediate players to wield
Lightweight
Great power and feel on the strikes
Nice spin on your shots
Wider sweetspot
Cons
Durability is not proportional to its price

The penultimate entry on our list is the innovative Wilson Clash 108. Another product from a top brand there's no doubt that Wilson is a giant in the sports industry.
The Clash 108 is one of those larger tennis racquets that offer superb control to your swings. And guess what? You don't lose any of that power plus these racquets are extremely comfortable to wield.
And where does all of this awesomeness come from? Well, the secret is in its innovative flexibility. It is made of high-performance carbon fiber and has an even balance to it. The FreeFlex tech makes it extremely mobile and off-center shots won't be a problem with that 108 square inches of head size so your sweetspot is wider than usual.
Volley shots would also benefit from a lot of stability and your serves and overheads will have that added pop to them to have quite an edge against your competition.
Pros
Great all-around features
Very wide sweetspot
Powerful without sacrificing much of the control
Flexible and comfortable to use
Nice grip and weight to it
Cons
Still, a beginner to intermediate racquet

And so the last entry on our oversize tennis racquet review is the Dunlop SX 600. If you're a fan of spins then this racquet should be by your hands at all times.
The Dunlop SX 600 is infused with a patented racquet technology. It's got spin boost grommets that will allow you main strings to slide 46% for boosted control as well as spin to your shots. And that's on top of missing your sweetspot.
The Sonic Core Technology, on the other hand, that's boosted with Infinergy comes with an elastic material that is sure to deliver dampening and comfort. And we haven't talked about the innovative stringbed tech that this racquet comes with just yet.
This tech enables you to have wider crosses right on the upper half of the stringbed for a more responsive feel when tennis balls hit it. This way you feel more connected to your shots and you get in the groove of the game even more plus you don't lose focus during longer rallies.
It's got that right head size at 105 square inches and surely you won't miss a beat with this oversize tennis racquet.
Pros
Just the right head size for that sweetspot
Relatively nice feel to it
Easy on the arms
Great stringing tech allows boosted power and great spin to your shots
Very durable frame and construction for its affordable price
Cons
The low swingweight might not strike well with other players

Final Thoughts
We really think that the best oversize tennis racquet in our review is the Wilson Blade Serena Williams Autograph v7. Infused with the technicality and preference of one of the best tennis players and athletes to ever grace the court you can be sure that you are playing with a top-quality tool literally at your hands.
Nothing beats its prestige and track record and it's a tennis racquet that will be with you for a long time because of its durability. It's comfortable and offers a great feel overall with your swings.
So always bring you're a-game once you step on that court and arm yourself with only the best. Have fun and stay active!