If you are in a hurry and just want to find out what the best knee brace for tennis is, then we recommend the Uflex Athletics Knee Brace and Support as the best one.
Your safety and health should always be a top priority when playing the sport you love. Tennis is a demanding sport both mentally and physically so we must do what we can to protect our body from any unwanted injuries.
Here are some of the best knee brace for tennis that you should use to protect yourself when out playing on the court.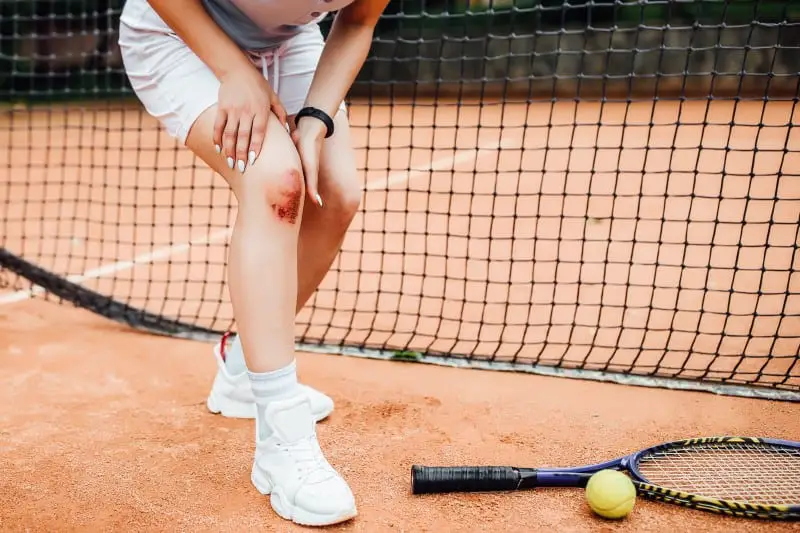 In this article, we're going to review the following knee braces:
Why Should I Wear a Knee Brace When Playing Tennis?
Why and when should you wear a knee brace? Do you wear it as a preventative measure or during the aftermath of a knee injury? We know that we're talking about your knees but please do take note that braces are worn in certain parts of the body that has gone through an injury.
Braces, for example, aren't just usually designed for knees but also ankles and elbows alike. And these are the body parts that are commonly reinforced in tennis as it's a sport that requires a lot of quick twists and turns with movements that might injure or aggravate your knees, elbows, and ankles. See tennis elbow if you're interested in that topic.
But going back to knee braces some trainers advise players to wear it even though they have not suffered from any injury but it's common for those who did suffer a knee injury.
If you're a serious or pro tennis athlete then you may want to consider a knee brace to protect yourself from the excessive strain that your knees have to take when you're playing.
As for those who've encountered knee injuries. Tennis knee braces will, first of all, provide needed support and then stability to the injured area. This, in turn, would not aggravate said injury and will reduce pain as well as inflammation in the area. Knee braces will also pave the way for faster recovery times as it effectively oxygenates your knee or leg in the process.
It's no joke, these best knee brace for tennis are worthy investments.
Read more about What To Wear To Play Tennis? (A guide to fashion and function).
Best Knee Brace for Tennis Buyer's Guide
Here are some of the aspects that you should watch out for when looking for the best knee brace for tennis.
Type
You must notice a few types of knee braces out in the market so let's talk about a few.
Dual-Wrap or Wraparound Knee Braces
This type of knee brace is for those who are experiencing mild to possibly moderate knee pain. Now, you need to know that sleeves and braces aren't the same and braces ultimately provide more support and stability than the former.
This type of brace is also not bulky or heavy and are easy to put on or take off whenever you want.
Hinged Knee Braces
This type of knee brace is recommended for post-surgery. These are for patients or athletes that need more support than usual as well as added protection. This brace will keep your knee in proper alignment to avoid aggravating the injury or adding problems to it.
They are often replaced by another type of brace once the injury is probably closer to healing. They can be either rigid or soft with the former for more intense injuries and the latter when lesser support is necessary.
Patella Braces
Patella braces can either be open or closed. That means it can either have a hole or none at the center. Open patella braces allow knee pressure relief and additional knee cap support for proper tracking and movement.
Closed patella braces, on the other hand, offers better knee compression for additional support.
Function
Take note that there are probably three categories of knee braces. Prophylactic braces, functional braces, and rehabilitative braces.
You should consult a doctor or a physical therapist beforehand if you want to employ a knee brace for your sport. Prophylactic braces are recommended for those who's got a history of a knee injury. Functional braces are the best ones to go for support and stability and as the name implies, rehabilitative braces are utilized when one is recovering from an injury.
Quality and Comfort
Quality and comfort often are determined by the price of a knee brace. But if you know what to look for then you might save a few bucks. In any case, reading reviews or trying out the knee brace if you can give you a nice preview of how comfortable a knee brace is.
It's also important that you know what the brace is made of or if its design is functional enough for the purpose it may serve.
How to Wear Your Tennis Knee Brace?
So that a tennis knee brace may serve its purpose properly, it must be worn the right way. You must feel compression or tightness from wearing the knee brace that in such a way it may provide the support it's meant for.
But, once worn it should still be comfortable and won't in any way provide discomfort or in a worse situation cut off circulation in the area. Please adjust the knee brace based on your individualized needs accordingly.
Best Knee Brace for Tennis Product Reviews
The first entry on our best knee brace for tennis review is the Uflex Athletics Knee Brace and Support. This product is an open patella type of brace, one size adjustable, and is a neoprene sports compression specifically made for joint pain, the dreaded ACL tear, arthritis, tendonitis, and meniscus tear.
As you can see, this brace is really meant for severe knee injuries but can be utilized for mild knee pain too. It is infused with the latest technology and only with the highest quality materials to create one of the best knee braces out in the market today.
This is a knee brace that's specifically designed to reduce inflammation and fight off swelling, soreness, has some heating effect, as well as stiffness. Perfect for muscular recovery.
The open patella design is meant to reduce pressure on your knee but not compromising the compression needed to still provide support on the surrounding muscles. It's got premium quality Velcro fastenings that will make sure to provide a nice fit as well as an easy attachment.
It's one size fits most knee brace, that's up to 22 inches above your knee circumference. The Silicon strips will warm up your muscles nicely and prevent any slipping. It's also designed with an enforced trim to ensure its integrity, high tension, and longevity of the materials.
The 80% Neoprene material is waterproof and will protect the entirety of the brace. The firm compression is then additionally aided by the twin strings great for lateral support and needed shock absorption. It's also perfect for recovering athletes.
Pros
Perfect for all sorts of injuries
Tight fit and grip
Nice compression and the open design makes sure you are comfortable
Perfect if you're recovering from an injury
Perfect for athletes of any sport
Cons
Has a plastic like chemical smell

The next entry on our list the EzyFit Knee Brace. This product is meant to support you while you stay fit and active. It's meant for every one athlete or not who is suffering from arthritis, or even severe injuries like ACL, MCL, and LCL tears. It's got side stabilizers with an open patella design with its Neoprene wrap ensuring a nice fit as well as some adjustability. This brace is perfect for people recovering from any knee injury.
This knee brace is infused with dual stabilizers that will give you strong support but at the same time flexibility for your utmost comfort. It's got three adjustable closures to make sure you get the compression you exactly need.
The non-slip silicone gel also makes sure that it won't slip easily. It's also double stitched so it won't harm your skin in any way with its open patella design still giving you the freedom of movement that you need.
This ain't only for athletes that's why this product is valuable to all sorts of people trying to nurse or support their knees. It's flexible, breathable, and has 3 different sizes to accommodate you.
Pros
Effective for heat therapy
Great fit and right sizing
Breathable and comfortable material
Very popular product and well-reviewed
For all active people out there
Cons
Velcro gives up rather prematurely

One of the best knee brace for tennis that you can avail of today. We're talking about the ComfyMed Winzone Knee Brace. This product is best for athletes and pain relief alike. It's one of the best knee braces in the market for active people and we assure significant alleviation of pain right away.
This knee brace can help someone who's suffering from all sorts of injuries from MCL to mild arthritis. The premium bevel 2 straps make sure of that. Whether you are recovering from surgery, want to pre-empt any injury, or suffering from chronic fatigue on your knees this product is for you.
It fits knee circumference of 12.4 to 21.7 inches and is easy to attach and remove. It is slim and compact you may wear it under your pants if you like. It is fully adjustable and the Velcro straps ensure a perfect fit.
The open patella design should relieve any stress and this knee brace should aid natural recovery. It's an all in one prevent or treat approach with this product.
Pros
Simple but ergonomic design
Also a bestseller product
Helps with a wide variety of knee problems
Fits quite nicely
Superbly comfortable and adjustable
Cons
Poor quality Velcro straps

The Copper Compression Extra Support Knee Brace is one heavy duty knee brace that gives you extra support on your daily activities. Prevent any injury before it even happens. If you're a serious athlete then make sure to wear this brace to protect yourself.
This product is extremely durable and has stabilizers in place to align your kneecap and secure it in place. You'll get all the compression you need but still have ample freedom in your movements.
This knee brace is also made out of extremely durable fabric. It is infused with genuine copper ions and should be durable enough to take on the wear and tear of strenuous activities as well as washing.
This is a one size fits all unit and the straps are adjustable to prevent slippage.
Pros
Long lasting and heavy duty knee brace
Great fit
For the serious athlete
Perfect if you're recovering from any injury
Great compression design and stabilizers
Cons
The copper content may result in a strange chemical smell

The last entry on our best knee brace for tennis review is the Shock Doctor Maximum Support Compression Knee Brace which is a hinged knee brace.
This product is also ultra-popular and has very high ratings online from people who are grateful for it. It prevents and then protects. The bilateral hinge design ensures to prevent as well as heal medial or lateral instability.
It also covers a wide range of knee problems from arthritis to meniscus injuries. It's got vented airflow technology to prevent any odor or moisture buildup so you can go all out anytime you want to on your workouts.
This product boosts your movement and provides needed comfort especially when you are recovering or experiencing knee problems. It's made out of premium materials and you will feel significant relief with the compression that it gives.
Pros
Sturdy knee brace
Very stable design
Great amount of compression
Most popular product on our list
Very comfortable and does not smell
Cons

Final Thoughts
Among the products that we included in our list for the best knee brace for tennis, we think that the Uflex Athletics Knee Brace and Support just barely edge out the rest of its competition.
It's a very popular support brace and also well-reviewed with users attesting to its great overall quality. It fits quite nicely, very comfortable, and most of all, it is quite durable. Plus, it covers a lot of knee problems from mild pain to the worst injuries.
It gives the needed compression without restricting your movements and has a very breathable design. But as mentioned, it barely edges out the rest of the products on our list so you better check all of them and see what suits you best. Stay active and stay healthy!